"Memory can change the shape of a room; it can change the color of a car. And memories can be distorted. They're just an interpretation, they're not a record, and they're irrelevant if you have the facts."

Christopher Nolan's 1998 feature-film debut Following failed to earn much worldwide recognition for the director, but his follow-up project Memento certainly managed to compensate for this. Initially, Memento was shrouded in relative obscurity until it made its rounds at film festivals and people began discovering it, after which momentum steadily built to the point where it's considered a true cult classic. Adapted from the short story Memento Mori (by Christopher's younger brother Jonathan), the film offers a fresh take on the psychological thriller genre. Equipped with a routine plot that unfolds in a brilliantly-conceived manner, writer-director Chris Nolan managed to pull off a stylish, intelligent and taut masterpiece with Memento.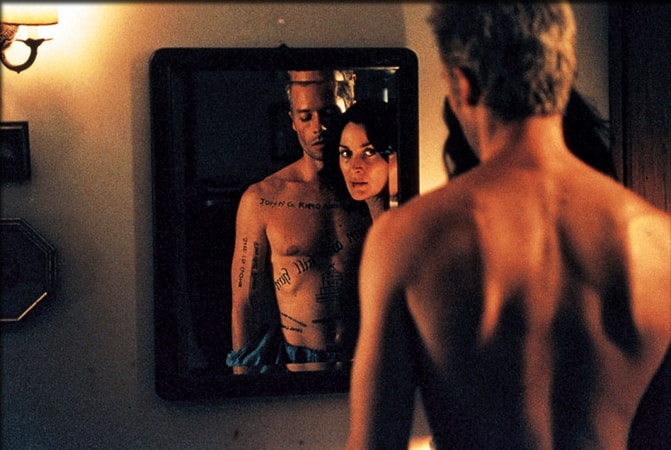 Having witnessed the violent death of his wife in their apartment, Leonard Shelby (Pierce) has one thing on his mind: tracking down his wife's murderer (or murderers) and reaping bloody revenge. Leonard's problem, though, is that he was badly hurt during the attack and has developed a rare form of brain damage known as anterograde amnesia that prevents him from forming new memories. He can remember events preceding the incident, but nothing after it. Unperturbed by this disability, Leonard relies on a system of note-taking to get him through - he carries a series of Polaroids wherever he goes, and he tattoos important facts about the murderer on his body. Essentially, the film tracks Leonard as his investigation intensifies. Along the way, he is aided - or perhaps hindered - by the enigmatic Teddy (Pantoliano) who's always on hand to help, as well as the equally mysterious Natalie (Moss) whose motives may not be as straightforward as they appear to be.


The premise behind Memento is nothing special, to be sure. But the film is such a standout because of the brilliant, innovative structure that conveys the narrative in reverse chronological order. You see, the movie begins with the story's end as Leonard completes his quest, and from there the plot is conveyed in reverse. The film is made up of short vignettes, each of which start at an unspecified time and finish at the point where the previous vignette began. If this confuses you, that's the point, and once you grow accustomed to the structure you'll realise it perfectly complements the premise. See, the unconventional progression of the narrative allows us to get into the mindset of the main character and evoke the feelings of confusion and displacement that's suffered by Leonard. Where is he? What was he just doing? Like Leonard, we know things from the past, but not the recent past, and we are presented with cryptic clues to decipher. If told in a linear fashion, Memento would have been an ordinary mystery/thriller, though still interesting enough to warrant attention. With the gimmick in place, the movie is a potent, twist-laden flick with infinite replay value. This is a potent mind-fuck as well, with various narrative elements left open for endless different interpretations.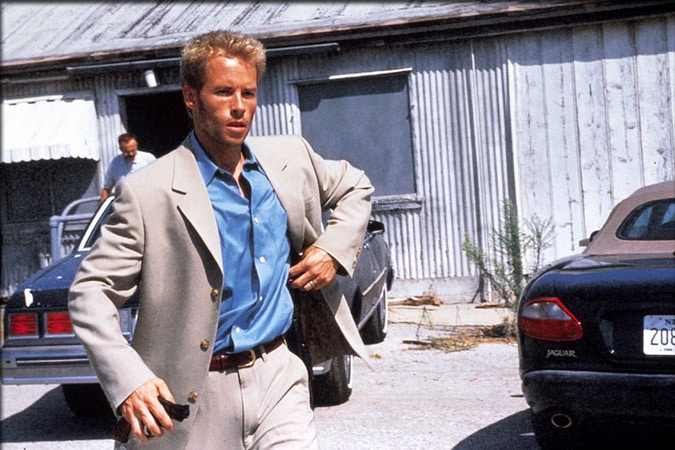 Director Nolan is renowned for being a master of his craft, and Memento is further evidence of his skilled cinematic eye. Nolan's direction is immaculate, while David Julyan's score is subtle yet mesmerising. Unfathomably, the film gets progressively better as time elapses, and it's almost impossible not to inch closer and closer to the edge of your seat with each new scene. Of course, technical excellence is half the battle - the actors needed to sell their characters as well. Thankfully, the incredible assemblage of talent managed to pull off their roles with spellbinding acting ability. At the centre of Memento is Guy Pearce, who delivered an incredibly convincing performance as Leonard. Pearce (once seen as a drag queen in the classic The Adventures of Priscilla, Queen of the Desert) managed to convey the character's loneliness, acute vulnerability and all-consuming conviction with aplomb. The other key actors in the film, most notably Carrie-Anne Moss and Joe Pantoliano, are exceptional too.


Of course, a film like Memento will be hindered by a few easily-spotted plot holes. For instance, how does Leonard know about his short-term memory condition if he's unable to remember anything after the accident? By the same token, how does he keep remembering to check the photographs he has taken? These script holes aside, Memento is a rare cinematic gem that simultaneously stimulates the brain and entertains; it's an immaculately constructed picture that builds suspense and intrigue until the very last frame. Chances are you'll be glued to the screen and hanging on every word.

9.2/10