"I'm gonna pull the whole thing down. I'm gonna bring the whole fuckin' diseased, corrupt temple down on your head. It's gonna be biblical."

Essentially, Law Abiding Citizen is Death Wish meets Saw by way of John Grisham, except not as brilliant as this description would imply. Though the central concept for this motion picture is far-fetched and borderline absurd on paper, director F. Gary Gray (The Negotiator) afforded the film a slick, well-produced look and an excellent pace. In fact, this is one of the most enjoyable vigilante thrillers since 1974's Death Wish, in which Charles Bronson took a Wild West approach to avenge the rape of his daughter and the rape-murder of his wife. Still, the ethics at the core of Law Abiding Citizen are questionable, and a suspension of disbelief is required to enjoy the ride. Whether or not you'll enjoy the film depends on your tolerance and taste for cinematic violence.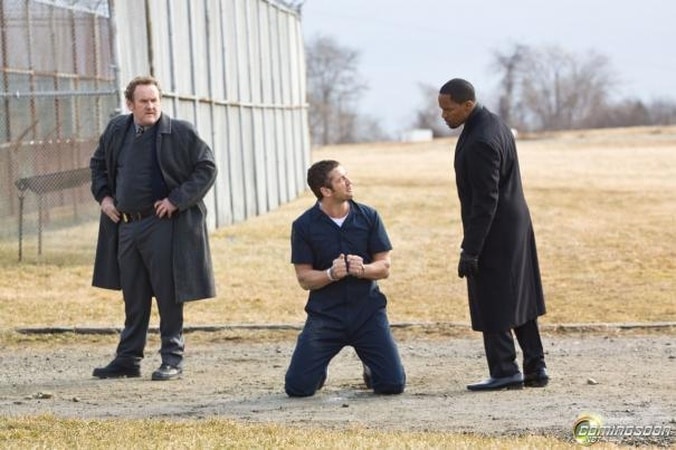 At the beginning of the movie, well-off engineer and family man Clyde Shelton (Butler) survives a violent home invasion, but his wife and young daughter weren't as fortunate. Several months later, the criminals are awaiting trial. However, up-and-coming district attorney Nick Rice (Foxx) is committed to preserving his impressive conviction rate and believes there's a lack of conclusive evidence. Unwilling to gamble on the legal system, Nick strikes up a deal that sees only one of the criminals sent to death row. Shelton, however, views this as a betrayal of the justice system. Disappearing for a decade, Shelton spends years devising a meticulous plot to murder everyone involved in the case ten years ago, including the perpetrators, the judge, and Nick. Though arrested for murdering the criminals in heinous ways, his incarceration turns out to be the beginning of his vengeance. From his prison cell, he continues killing people in the aim of bringing down a system he perceives as broken beyond repair.


Law Abiding Citizen is by no means a masterpiece, but it nevertheless succeeds as a form of sheer entertainment that's armed with an intriguing, unique and engaging premise. It's a competently-woven story constructed using layer upon layer of mystery and fear as a viewer witnesses the city being thrown into utter turmoil by a mastermind who succeeds at every turn from behind prison walls. Among the film's strengths is the ability to surprise with new angles and revelations, with an air of unpredictability pervading each step of Shelton's plan. Though Shelton's scrupulous plot may seem preposterous to some (countless critics have complained about this), one must keep in mind he spent ten years preparing it, and the character's intelligence is revealed to be quite tremendous. Nevertheless, there are a few aspects of the story which are admittedly difficult to swallow.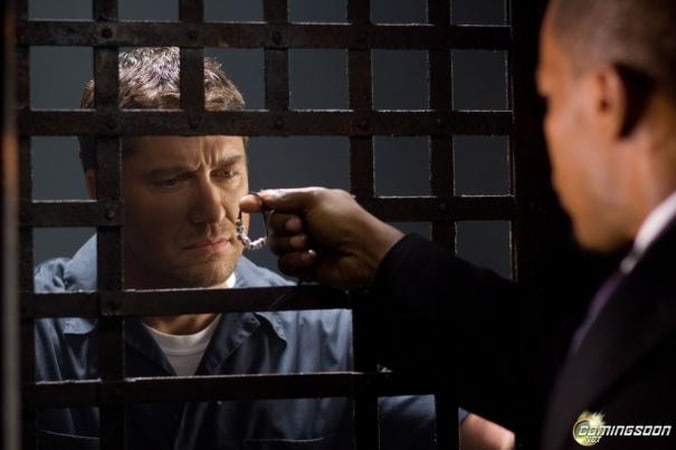 The primary problem with Law Abiding Citizen is a critical one: the filmmakers depicted Shelton, who is the villain of the picture, in a sympathetic light. Worse, Nick, who we're supposed to root for, is portrayed negatively. The opening crime against Shelton and his family is so heinous, and the ensuing perversion of justice so repulsive that you'll want Shelton to win and get away with all of his planned murders. Meanwhile, it's easy to perceive Nick as a villain - he refused to take both criminals to court because of his ego, after all. Added to this, Shelton's plan is so whip-smart that the film fails when it tries to shift our sympathies towards Nick. Who cares if Nick finally sees the light? Shelton deserves his vengeance. It's doubtful that the intention was to make viewers root for Shelton. This leads to a disappointing, abrupt ending which wraps up the storyline in a preposterous, purely Hollywood fashion. It's a shame - if Shelton was in fact the hero of the piece, the film would have been far superior. In this sense, the film is about 80 minutes of awesomeness and 20 minutes of tosh.


Obvious flaws aside, there is not much else about Law Abiding Citizen to complain about. Director F. Gary Gray handled the action and dialogue scenes with competence, while Kurt Wimmer's screenplay serves up flashes of greatness from time to time. This is an R-rated action-thriller as well, which is rare in this cinematic climate. It's refreshing to witness a film such as this that's uncompromising in its depiction of violence. Meanwhile, two fine performances constitute the core of Law Abiding Citizen. Jamie Foxx and Gerard Butler demonstrate good chemistry, and are a terrific protagonist/antagonist pairing. The other members of the cast carried out their duties to a high standard, too, especially Colm Meaney as Nick's partner.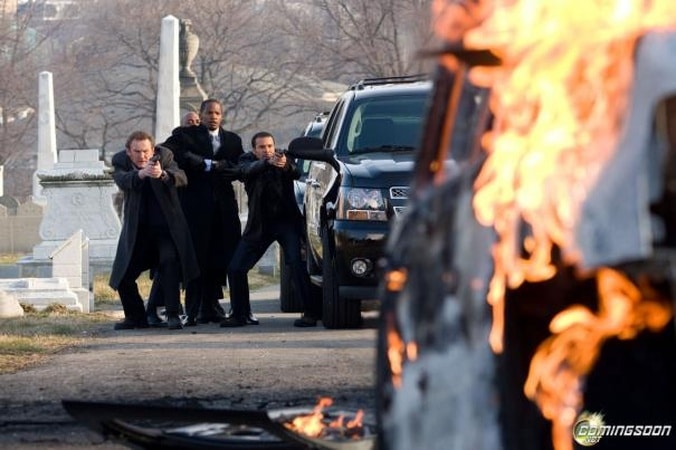 There is not a great deal more to be said about Law Abiding Citizen. The visual effects and action scenes are impressive, while the cat-and-mouse game between Shelton and Nick is engaging. The film is not Oscar fodder, but instead a violent, enjoyably slick thriller that's unable to entirely capitalise on its potential.

6.2/10