The revamped, polished and gore-soaked remake of the cult classic is a worthy successor to the name
The Evil Dead
. The future of horror is now! This marks the third impressive horror film that I've watched, produced in the last five years. Along with
Rare Exports: A Christmas Tale
and
Cabin in the Woods
,
The Evil Dead
serves as a balm to concerns that truly awesome and entertaining horror films were a thing of the past. Granted I haven't watched that many of late but I'm both a bit relieved and hungry for more.
Where the original trilogy was laced with campy humor, this leaves the comedy behind, pulling out all the stops for an edge-of-your-seat, spine-tingling, shock-fest. (Was that enough hyphens for ya?) I have no idea if this is 'The most terrifying film I will ever experience', as the film was touted but it was terrifying. I haven't jumped while watching a horror film in years and I did a couple of times during this.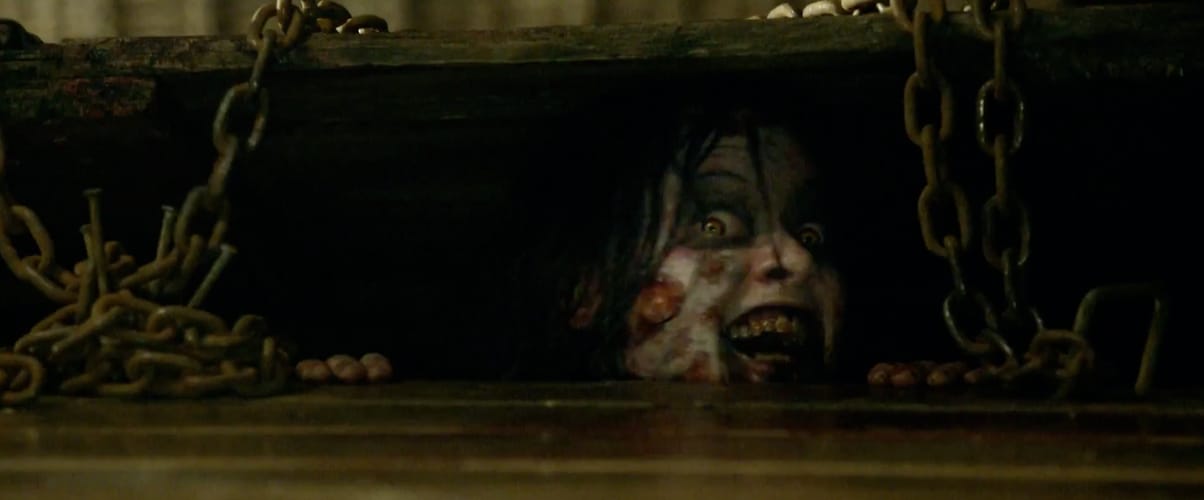 I will admit that some of the gorier scenes had me wincing; it's not really my thing. Yet the film was very well done with an excellent script and dialogue. The actors were all outstanding and it was a personal pleasure to see the beautiful Jessica Lucas again...even if she met her fate far too soon for me. As well, the direction of Fede Alvarez, who I'm not at all familiar with, was quite impressive. This was an all-around, damned fine horror film.
Truly, there were only two things which disappointed me and, while I can understand both, they still had me shaking my head. The first was the excessive use of gore but this was an
Evil Dead
film, so it's to be expected. The difference here is that the Bruce Campbell trilogy was camp and this sooooo was not. The second was the fact that with each violent act they seemed to be trying to imitate what had come before.
The tree-rape scene, locking the possessed Mia in the cellar, the hand-bite/amputation, the shotgun, the duct-tape, the chainsaw (and another hand-capitation), etc... I felt as if this new crew of film-makers had come upon the abandoned playroom of those gone before and simply scooped up their toys instead of bringing their own.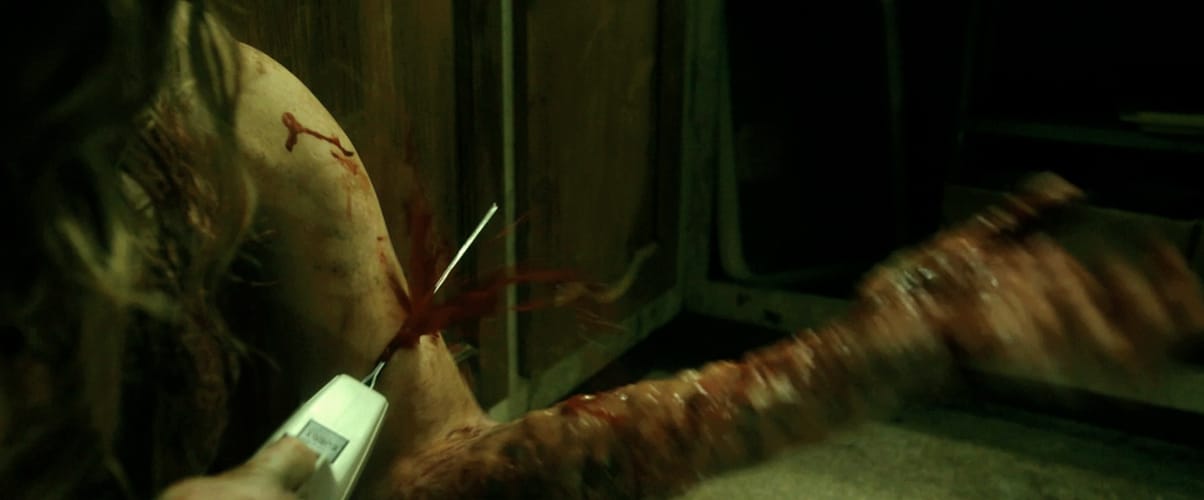 Still, it was a small discredit, in my estimation, and I'm still tempted to give this a higher rating than 8 out of 10 stars. Food for thought... I'll certainly watch this again in the future. Maybe then.
I highly recommend!