Warning: This might be more rambling, than an actual coherent review.
The Hobbit: The Desolation of Smaug
is that difficult second film in this trilogy. It's difficult in the sense that it has to improve on what, in many peoples eyes (not mine), was a quite disappointing first feature. But it's also difficult because we're going to go into this film knowing that it doesn't have a proper beginning nor a proper ending. It's that difficult middle chapter. Just like
The Two Towers
was in the original
The Lord of the Rings
trilogy. But fear not, where
The Two Towers
could arguably be considered the weakest instalment in its trilogy,
The Desolation of Smaug
is better than
An Unexpected Journey
. Even if it's only slightly better.
From what I can see, people seems to be disappointed by these films because they don't feel and look like what we got ten years ago. It's silly criticism. Like I stated with
An Unexpected Journey
,
The Hobbit
is a completely different journey than
The Lord of the Rings
.
The Desolation of Smaug
continues that different journey in a very good, and mostly fluent way. It could definitely be argued that three films are unnecessary, as some of the detours in this film (as with An Unexpected Journey) feel slightly clunky. But seeing as I've grown so much in love with Middle-Earth and its characters, I would take those clunky detours before anything else.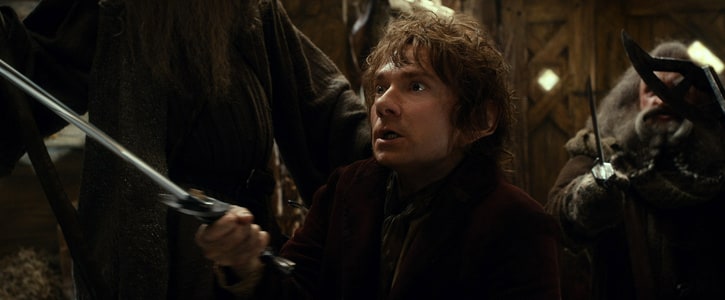 That doesn't mean that
The Desolation of Smaug
doesn't have scenes in it that I absolutely can't get my head around. The opening scene is absolutely dreadful and completely unnecessary. The scene feature Gandalf and Thorin before they went out on the journey to reclaim their homeland from Smaug, and the scene's only function is to give that one person who hasn't seen
An Unexpected Journey
the reason for why they're out on this adventure. It's incredibly awkward and overlong. I'm also still no fan of Azog. He just looks weird. One that also looks slightly weird is Legolas. There's something with his face and attitude that is slightly off-putting.
But for ever minor flaw,
The Desolation of Smaug
does twice as many things right. I love how the film really makes me feel like I'm actually on an adventure. Sure, there are a lot of walking and various locations and characters, but for every new magnificent place, I feel just as amazed as the characters. Every place of beauty amazes me. Every place of terror gives me shivers. It's just an easy world to live in too.
It's strung together by many impressive action sequences. It doesn't take long before we're witnessing Bilbo and the dwarves going up against huge spiders, which is in my opinion, one of the most impressive 3D scenes I've ever seen. This is followed by the equally impressive barrel ride and then finally, Smaug. That dragon is quite simply one of the finest creatures to appear in cinema, like ever. With Benedict Cumberbatch delivering awesome voice work (and mocap) Smaug's screen presence is completely unique. Sly, arrogant and fearsome. The scene with Bilbo and Smaug going up against each other is arguably better than the Bilbo and Gollum scene from
An Unexpected Journey
.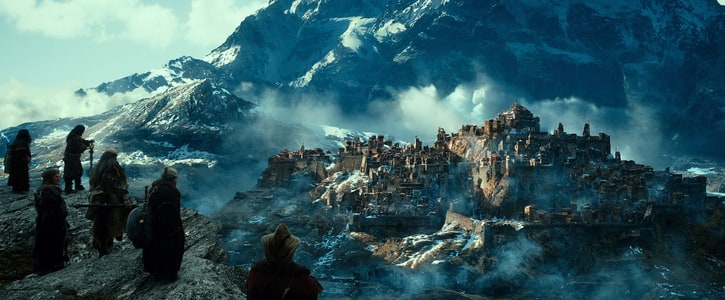 Martin Freeman is very likeable as Bilbo. He's very subtle in everything he does, and he doesn't ever become annoying or tiresome, unlike Elijah Wood as Frodo in
The Lord of the Rings
. Sir Ian McKellen is as loveable as always as Gandalf, but it's easy to notice that he's starting to get a bit old. Which is rather sad. The dwarves are still, for the most part, just there. There are some who sticks out, and everyone does mostly get at least one moment in the film. But one doesn't really care for them. There's hint of a potential love triangle between Legolas, Tauriel and Kili. But it's not fleshed out in this film. Luke Evans is solid, and Stephen Fry is just there. The real star of this film is however Benedict Cumberbatch. Not only does he do an awesome Smaug, but he gives an incredibly sinister voice to The Necromancer as well.
I might sound a bit negative in this rambling review. But like seriously, I thought it was very good. I enjoyed it a lot. And if you liked the previous film, I really can't see why you shouldn't like this one as well. It's a continuation of the same film, and I'm eagerly anticipating the next and final film. It's just a magical experience.
(Saw it in HFR 3D. Had no problem with it.)
9/10