"How long will it last, Woody? Do you really think Andy is going to take you to college, or on his honeymoon? Andy's growing up, and there's nothing you can do about it."

In 1995, Toy Story impacted the realm of cinematic animation forever; swapping sentiment and hand-drawn 2-D images for something distinctly more multi-dimensional. The first entirely digitally animated feature film, Toy Story was a worldwide smash, and, especially after the success of A Bug's Life (Pixar's follow-up feature), a sequel was inevitable. While originally envisioned as a 60-minute straight-to-video effort (reminiscent of the sequels to Aladdin and The Lion King), the folks at Disney sensibly realised that Toy Story 2 was of superior quality and demanded theatrical distribution. Thank God this decision came to pass, because Toy Story 2 is a top-notch follow-up which is larger in scope but retains the charms of the original film. This is also a rare instance of a sequel being more successful than its predecessor both critically and at the box office. It cost $90 million to produce (three times more than Toy Story), and earned approximately $485 million at the box office.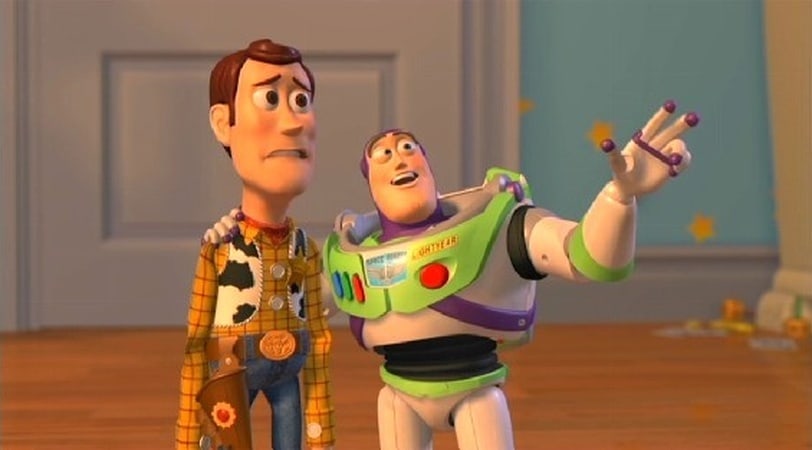 Reminiscent of its predecessor, the narrative of Toy Story 2 concerns the toys in young Andy's room pulling together in order to rescue a lost toy. During a yard sale, the spirited cowboy doll Woody (Hanks) heads out to rescue a friend, but ends up being stolen by diabolical toy collector Al (Knight). See, Woody is a rare relic from the 1950s. Al stole Woody in order to complete the set to which he belongs since he intends to sell the toys to a Japanese museum. Thus, Woody is reunited with the rest of his "Round Up Gang", including cowgirl Jessie (Cusack), horse Bullseye, and Stinky Pete the Prospector (Grammer). Leading the rescue effort is determined action figure Buzz Lightyear (Allen), followed by a motley crew of toys: Mr. Potato Head (Rickles), Rex the dinosaur (Shawn), Slinky Dog (Varney), and Hamm the piggy bank (Ratzenberger).


Once again, Pixar crafted an animated magnum opus with Toy Story 2, with a charming cast of delightful characters and a masterclass screenplay offering spirited humour and high-flying adventure. At its core, the original Toy Story was a movie about friendship and the importance of love in everyone's life, and this quality is retained in Toy Story 2. The toys are important to Andy (the young boy who owns them) because they're his pals, Andy is important to the toys because he lets them feel needed, and the toys are important to each other because life is meaningless without interpersonal relationships. On top of this, Toy Story 2 possesses an unexpectedly potent power triggered by an underlying story strand about toys pondering their fate once they become broken or replaced, or their owner outgrows them. A curious poignancy stems from the knowledge that the characters have a limited lifespan.



While Toy Story slyly poked fun at American pop culture, the filmmakers responsible for Toy Story 2 had an all-out party. Barbie dolls make an appearance here, and the notion of toy collectors gets a sharp grilling. In addition to this, the black-and-white segments of the old Woody's Round-Up television show simultaneously pay tribute and poke fun at the old children's TV shows which featured marionettes. With all these elements in place, those behind Toy Story 2 further expanded upon the idea of what can be done in a toy movie. There's even self-referential humour (such as cameos from the cast of A Bug's Life), and exhilarating set-pieces galore, culminating in a breathtaking finale that's epic in scope and scale.


Thankfully, the voice cast is equally as brilliant in this sequel. The principal actors all made their return here - Tom Hanks as Woody, Tim Allen as Buzz, Don Rickles as Mr. Potato Head, Wallace Shawn as Rex, and many others, all of whom are impeccable in their respective roles. Toy Story 2 also boasts several new additions to the cast: Joan Cusack as Jessie, Kelsey Grammer as Stinky Pete, Wayne Knight as the unscrupulous Al, and Jodi Benson (who voiced Ariel in The Little Mermaid) as Tour Guide Barbie. Additionally, Toy Story director John Lasseter returned to co-direct the sequel with Lee Unkrich (who went on to helm Toy Story 3), meaning the spirit of the original film remains. One also has to marvel how far the animation had come since Toy Story, and how quickly. As the result of four years of advances, movement is far more fluid, humans are more lifelike, and hair is considerably more realistic. The camerawork is more interesting as well, with an effort to duplicate the type of shots obtained through live-action cinematography. For instance, lighting and filters are used to establish a mood (the flashbacks during Jessie's song), and techniques are employed at times to suggest depth of field (background images being blurred).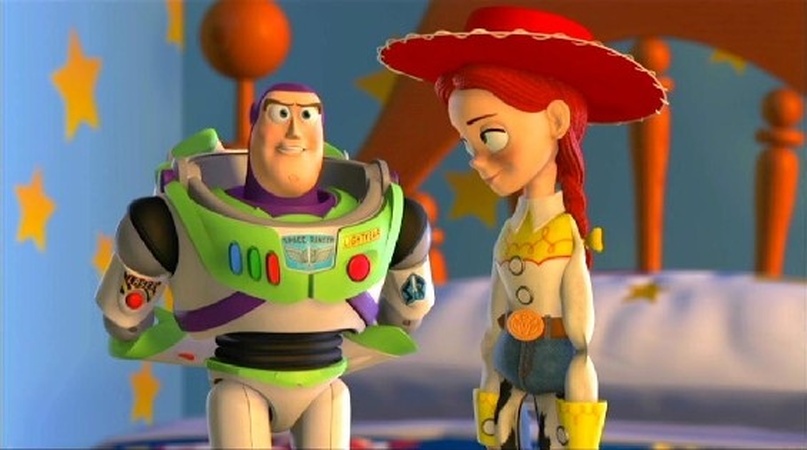 You would have to be a joyless curmudgeon not to be entertained by Toy Story 2. The balance between content for kids and content for adults is almost perfect. Toy Story 2 hits all the right notes, and proves that not all sequels are inferior to their predecessor. In fact, many have called this the Godfather: Part II of the animation realm. Who am I to argue with that? Once again, the film's box office performance prompted a sequel: Toy Story 3 in 2010.

9.1/10