I really dig this game. It's a throwback of early 90's arcade platformers. Most especially an arcade game known as Rastan (the first level of Volgarr is essentially a copy & paste of the first level of Rastan). If you're not familiar with that game, a more well-known, similar game would be Super Ghosts n' Ghouls. However, instead of using the Conan the Barbarian theme of Rastan or the Arthurian Legend theme of Super Ghosts n' Ghouls, Volgarr the Viking utilizes, perhaps obviously, Norse mythology for it's theme. And let me tell you, the brutality of Norse mythology compliments the brutal gameplay perfectly.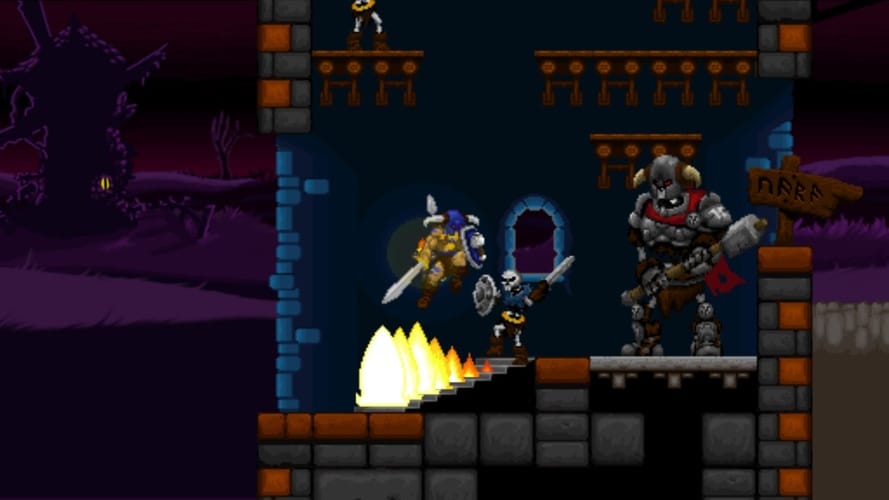 This game is essentially all about pattern memorization. The layout of the levels and the enemy placement never changes. You'll proceed along each level, cutting swaths through enemies, dodging their attacks, jumping over spike traps and bottomless pits, all the while keeping an eye out for treasure chests containing power-ups that will allow you take a few more hits, and will eventually allow you to obtain a fire sword that extends the range and power of your attacks. If you can manage to avoid getting hit after acquiring the fire sword, you can collect mystic stones what will allow you to traverse the Path of the Valkyrie, which is essentially the next level of the game, only on a harder difficulty.
I do like the fact that Volgarr the Viking allows a few concessions to allow players to continue on to any level that they have already reached. Granted, doing so will give you the "not so great ending." To get the best ending, you have to acquire the aforementioned mystic stones and beat the game along the Path of the Valkyrie. Oh, also, you must do this all on one playthrough. But given that there are already quite a few flawless speedruns being posted online, it's apparently not that incredible of a feat. It's just not one that I'm crazy enough to pursue.
8/10