''Unfortunately, no one can be told what the Matrix is. You have to see it for yourself.''

A computer hacker learns from mysterious rebels about the true nature of his reality and his role in the war against the controllers of it.
Keanu Reeves
: Neo
If you wind back the clock to 1999, the closing point for decades of film, you would not have expected the defining part in film would not come from a prequel trilogy regarding
Star Wars
titled
The Phantom Menace
, which actually resulted in disappointing an entire generation of fans.
If you wanted the biggest surprise and revelation, that covered a range of deep thought, sci-fi, effects and choreography, then you would have to turn towards Andy Wachowski and Lana Wachowski, The Wachowski Brothers. Yes, my friends, it is indeed the biblical
The Matrix
I'm referring to.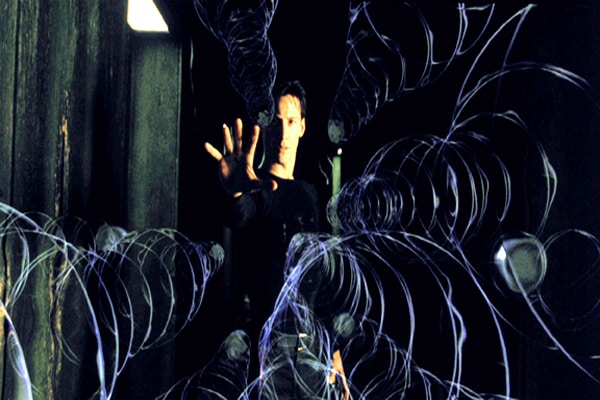 The Matrix
along with
Fight Club
instantly became a cult classic because anyone and everyone could relate to it if they so chose. We have a hacker leading a mundane existence in a job and World that is confined to a system regarding control and boundaries, rules and confinement. When his dreams and thoughts start to eclipse his limitations, Mr Anderson, known as Neo to his revolutionary friends, begins to wake up.
He meets characters that will change his life forever...Morpheus, Trinity and the villainous Agent Smith become iconic representations in themselves.
''How far does the rabbit hole go?''
, you ask yourself, then when Neo chooses between the red and blue pills, you subconsciously choose with him. Essentially Morpheus is not just teaching Neo, he is teaching
us
. We are an entire generation, like Neo, that needs to wake up to a soulless system disguised as a convenient prison.
''...It is not the spoon that bends, it is only yourself...''

I mentioned a handful of the characters, which entails a further mention of the cast. Keanu Reeves playing Neo, truly ends up being the
Jesus
defining figure in terms regarding becoming a prophet and hero from his former life in the office.
Laurence Fishburne as Morpheus, fully embodies the role of tutor and mentor towards the cause of good versus evil, mechanical imprisonment regarding humanity turned into batteries, is truly a character who shows us how we inevitably ended up chaining ourselves to technology.
Carrie-Anne Moss as the love interest Trinity, is the third part regarding the disciple principle, the one, is essentially three, thus one and unity, is in fact two coming together.
Hugo Weaving really perhaps eclipses all others as Agent Smith, thus becoming one of the most iconic and best villains to grace film for a long time. The beauty of his Agent character and his resolve comes from the fact that he speaks truth at times regarding humanity and their destructive natures.
''Mr Anderson!''
, along with echoes...
''There is another organism on this planet that follows the same pattern. Do you know what it is? A virus.''
We are not mammals but an exception, because our volatile natures and intellect result in us spreading and sucking the Planet dry. In this regard Agent Smith is correct.
Gloria Foster plays the Oracle, the being and program that knows what will happen and the pieces upon the chess set.
Joe Pantoliano is Cypher, the Judas of the story, who wants the easy option,
''Ignorance is bliss...''
, he flaggingly retorts as he betrays his friends. The betrayer is later betrayed, Carrie and Joe would later echo this in Nolan's piece
Memento
with a similar psychological analysis.
''You hear that Mr. Anderson?... That is the sound of inevitability...''

In fact,
The Matrix
, has so much in it that it's hard to grasp all concepts in the first or even fifth viewings, no matter what individuals might say, the beauty comes from the journey and message it spurs forth from it's revolutionary way regarding depth.
The Wachowski Brothers have made something special, they have made a defining point of imagination, capturing greens and the dullness that is this
Matrix
concept. This confinement that is trapping all souls within it, in an endless cloudy array, is the victory of the machine. It is essentially us becoming God and creating technology that can think for itself, similar to whatever created us being preceded by us.
The Spoon Boy explains it is not spoon's that bends, it's only you, the pills show blue sets us free, and Agent Smith is an Agent whom hates humanity because he hates his job which in turn has imprisoned him, as well as the people he presides over.
The Matrix
has bullet-time, it has fancy kung-Fu fight scenes, it has philosophy and mindful insights, it has everything yet it sombrely effects audiences subconsciously with it's colourless shades and grains.
Perhaps, most rewarding of all, is that
The Matrix
, received the attention and Awards it deserved, as well as spawning two unnecessary sequels intent on capitalising it into a franchise, it birthed it's own Anime and a whole new generation from it's ideology and beauty. Having also won
4
Oscars for Best Editing, Best Effects/Sound Effects Editing, Best Effects/Visual Effects and Best Sound. Amen.
It's Original Music by Don Davis is in a word or two, fucking
epic
and Cinematography vast courtesy of Bill Pope.
Overall,
The Matrix
is another revolution of the mind and a beautiful stately message echoed forth from a creative medium.
Of course, it owes alot from Asian cinema, and Woo-ping Yuen's inspiring
Crouching Tiger Hidden Dragon
-styled choreography, it owes much to James Cameron's
Terminator
legacy, and perhaps it is the greatest tribute to East meets West in a Global Economy, needful of breaking the mould and going against corporation entanglement.
The Matrix
will free your mind...It is a rabbit hole that goes as deep as you want it to.
''I know you're out there. I can feel you now. I know that you're afraid... you're afraid of us. You're afraid of change. I don't know the future. I didn't come here to tell you how this is going to end. I came here to tell you how it's going to begin.''
10/10