''Row row row your boat...Gently down the stream...Merrily merrily merrily...Life is but a dream.''

A couple undergo a procedure to erase each other from their memories when their relationship turns sour, but it is only through the process of loss that they discover what they had to begin with.
Jim Carrey
: Joel Barish
Kate Winslet
: Clementine Kruczynski
M
emories.
E
motions.
L
ove.
T
imeless.
Eternal Sunshine of the Spotless Mind
delicately tackles these subjects utilizing a genius screenplay, intelligent banter and fully breathing believable characters with a soundtrack that makes the whole affair a perfect filminess cocktail of imagination. Directed wonderfully by Michel Gondry whom takes a shot and succeeds in hitting the target, our hearts. The writers Charlie Kaufman, again Michel Gondry and Pierre Bismuth realize a dreamy story with Charlie Kaufman mixing a gorgeous screenplay that echoes vibrance and brilliance.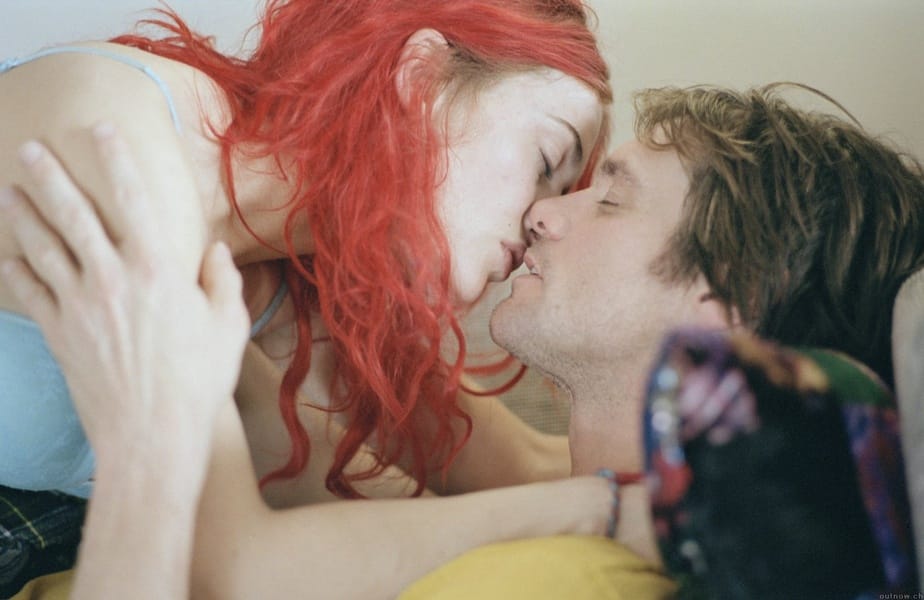 The beauty of
Eternal Sunshine of the Spotless Mind
is that no matter how many times you watch the piece you always pick up and grasp something new from the experience. You can relate to what it is showing you in it's dual realistic approach merging with the surreal nature of dreams and memories. The pain and anguish of relationships and character interaction, and the unwavering call and possibility of destiny emerging.
The characters and cast really are the best choices ever for this particular masterpiece, this vision of beauty.
Of course the stand outs are the romantically entwined pair: Jim Carrey and Kate Winslet. The characters Joel Barish and Clementine Kruczynski make an impact on us, and stay in the memory because they are so loveable and likeable, then at other times you hate them and become frustrated similar to how they do with each other. Cleverly, the writers and Director achieve success because we are taking the journey with the lovers, these passionate, turbulent pair of star crossed soul-mates.
The cast also feature some solid supporting players in the guise of Elijah Wood, Mark Ruffalo, David Cross, Jane Adams, Kirsten Dunst and Tom Wilkinson. They all add to a formula of fortitude and powerful performing mixed with wonderfully alive imaginative sequences that echo brilliance free from chronological restraint.
Why is
Eternal Sunshine of the Spotless Mind
so addictive and loved by audiences? Why has it achieved cult classic status? The answer is simple because it plays upon our greatest fears and strengths when it comes to love, loss and confrontation. It relates to us on a level that surpasses belief at times yet resides in our unconscious memory. Our memories resulting in being the roots for our dreams. How our memories or love can never be take away from us because they make us what we are, they determine how we feel, they are inside us, and that is always going to be
important
.
Overall,
Eternal Sunshine of the Spotless Mind
makes you fall in love over and over with the concept with emotion, romance and the turbulent inconsistency of human nature. It comes as no surprise that this dreamily imaginative piece won an Oscar for Best Writing & Original Screenplay and even more rewarding a Best Actress nomination for Kate Winslet's mesmerizing layered performance.
Who can forget such funnily eerie sequences of Jim Carrey(His best film by far) reverting to a memory of being 4 years old as a way to keep Kate Winslet alive in his mind? Who can forget them both bathing in a kitchen sink? Or running away while objects and buildings are being stripped from his memories. The wonderful surrealness of memories mixing together. Both of them together in bed, the bed appearing upon the beach. Who can forget any of these inspirational visages of mesmerizing visual melody? I know for numerous reasons I can't. This is the pinnacle of myriad puzzling films which are cleverly stitched together and become clear as we finish the journey, a journey we take with the characters.
Eternal Sunshine of the Spotless Mind
in a word is summed up by this: unforgettable. It sums up love and life beautifully with a story that mirrors the former achievements. In fact I'm going to have to watch it again because I never tire of the experience or the pleasure of seeing genius in motion. It will
melt
your heart.
''How happy is the blameless Vestal's lot! The world forgetting, by the world forgot. Eternal sunshine of the spotless mind! Each prayer accepted, and each wish resigned.''
10/10