''They say when you meet the love of your life, time stops, and that's true. What they don't tell you is that when it starts again, it moves extra fast to catch up.''

A story about a son trying to learn more about his dying father by reliving stories his father told him about himself.
Ewan McGregor
: Ed Bloom - Young
Albert Finney
: Ed Bloom - Senior
Directed by Tim Burton, adapted from Daniel Wallace's novel and John August's wondrous screenplay comes illustrious, romanticized, as big as life itself
Big Fish
. This is truly Tim Burton's most personal, deepest stab at answering and explaining the depths and complexities of life and death. You can also see his own coping with a lost love one, in essence the loss of his father and how it effected him. Burton lovingly converts and adapts this emotional, humourous journey between father and son.
Edward Bloom is a fantastical storyteller whom becomes in the eyes of his son, a liar. The truth in fact is something
both
need to come to terms with.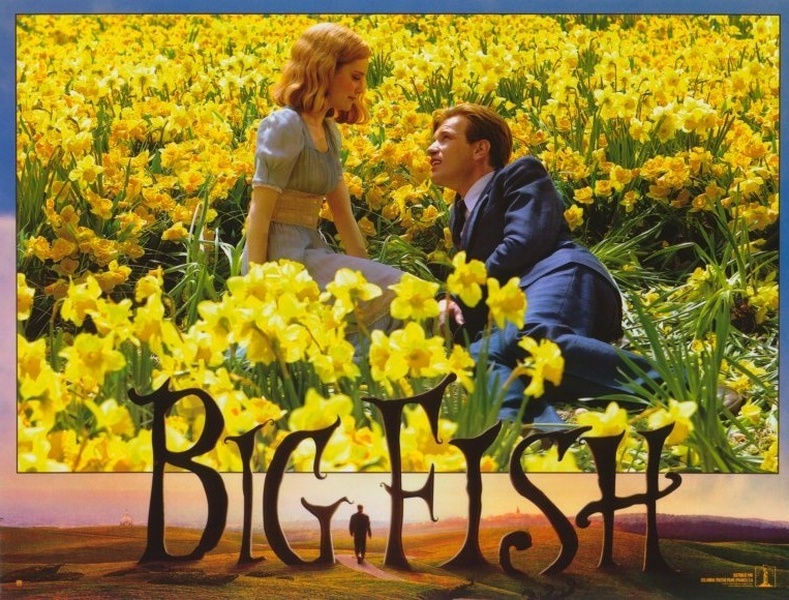 The beauty and what sets
Big Fish
into a classic and something of a cult film is how everyone whom watches it, Burton fan or not can relate and sympathize with proceedings. For all it's fantastical, dreamy, escapism
Big Fish
is also duly realistic and full of characters echoing believability and resonance hand in hand.
The cast in the guise of Ewan McGregor and Albert Finney essentially playing the same man. Ewan the younger version and Albert the older version, both reflecting and mirroring each other with effective results; Which also adds to the glory of
Big Fish
.
Helena Bonham Carter pops up playing multiple parts and does what she does best; Acts and shines. Although relatively small parts she still results in being memorable.
Billy Crudup, Jessica Lange, Marion Cotillard and even whimsical Steve Buscemi all add flavour and fun to proceedings while being living, breathing, effective characters in their own right.
What's lovely about
Big Fish
is that it isn't trying to be anything but honest in it's depictions of fantasy and imagination merging with solidity and real life. At times the two are like lovers always striving to be with each other and also dead and lifeless when the other is not present.
The revelation and effectiveness of the story and journey is how Billy Crudup, playing Will Bloom the son, essentially finds out about his father. He finds that he has wasted droves of time doubting him while in turn the tall tales Ed has been telling, the stories Edward Bloom has been conveying to us and everyone are in fact mirrors of truth. Reflections of pure, unaltered, stranger than fiction fate. In turn a cycle and circle of life and how reconciliation and finding out something before it's too late is key to peace of mind and seeing the one you love for who they are. Believing their words, having a little faith in imagination and dreamy stories.
With a story which is bigger than life, with a character that is Edward Bloom whom is loved by the people and makes alot of friends along the way, with imagination, dreams and love binding the whole affair together
Big Fish
is a triumph again and again. Hell, the more times you watch it the more heavenly and meaningful the love letter story becomes to you. It sucks you in, reels you in like the title informs, it never lets go of your heart strings and tugs at them relentlessly, sticking in memory long after the adventure as come to it's final conclusion.
The bond that is
love
comes in many shapes and forms. Love for your friends, love for your family and love for your soulmate. I believe in it's own little way
Big Fish
flicks on the light switch in our hearts and minds to make us perhaps aware of this love that is rare and fleeting in our lives.
''You become what you always were - a very big fish.''
10/10