''The rush of battle is often a potent and lethal addiction, for war is a drug.''

Iraq. Forced to play a dangerous game of cat-and-mouse in the chaos of war, an elite Army bomb squad unit must come together in a city where everyone is a potential enemy and every object could be a deadly bomb.
Jeremy Renner
: SSG William James
The Hurt Locker
(2008) is a master stroke from Director Kathryn Bigelow, and superbly written by Mark Boal. An insight into the days of a bomb disposal unit and their time and relationships with each other in Iraq.
It has been nominated for 9 Oscars, including Best Picture, Best Director and of course cinematography. Won 3 Golden globes, and won BAFTAs including one for Best picture. Now I have seen it I know why it has garnered these awards. It is simply a masterpiece and study of War, men, people and hurls us into the world of these soldiers. We
feel
part of this; We feel the tension and suspense with them.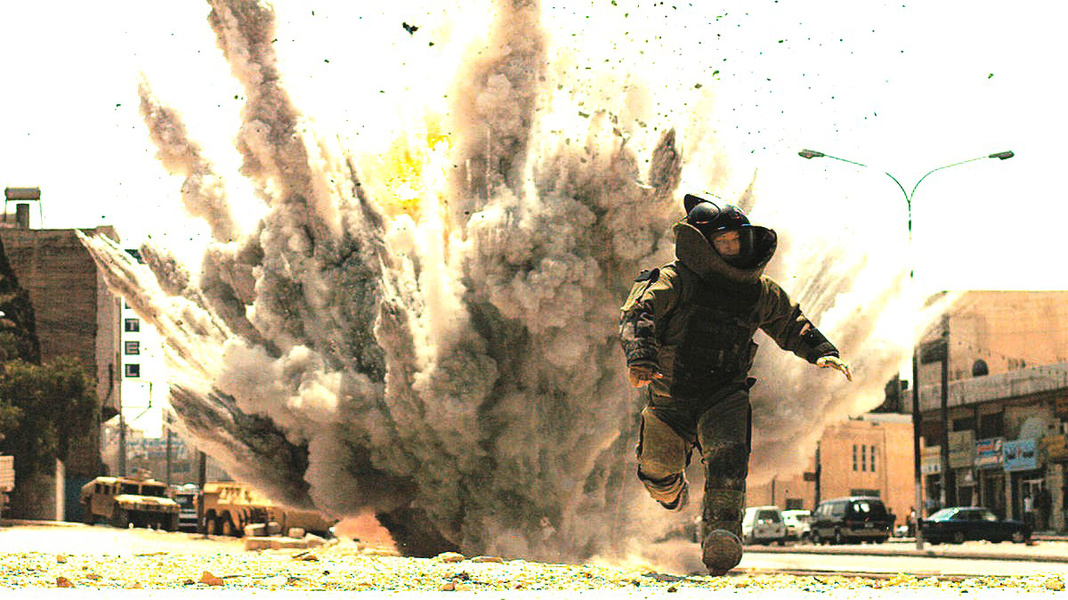 The Hurt Locker
is modern-day life in Iraq, shown through the eyes of members of an EOD team. They are put to the test as they spend the remaining 38 days of their rotation together as they encounter some impossible scenarios.
The Hurt Locker
is
not
necessarily an action film, but a drama and thriller. As a consequence the realism of the story elevates to pinnacle peaks. Each actor and cast member did an impressive job in their respective roles, never overacting or blandly complying with the script.
Guy Pearce, Anthony Mackie, Brian Geraghty, Ralph Fiennes, David Morse and even Evangeline Lilly make appearances with sometimes brief but perfected performances.
Although the main character steals the show; Jeremy Renner as SSgt. Will James may portray the typical war hero; Cocky, hotheaded, wild and reckless, but even so, his character is far from perfect, and as his service in Iraq continues, he becomes vulnerable, therefore realizing he is just a man. Renner victoriously impacts this successfully through his acting.
''There's enough bang in there to blow us all to Jesus. If I'm gonna die, I want to die comfortable.''

In addition to the performances, Barry Ackroyd's cinematography is breathtakingly enveloping. He makes the film in such a way that it almost feels as if it could be a documentary made by someone in real time. This includes segments of the shaky camera technique, quick zoom ins and outs, and occasional focus issues. This may seem like sloppy camera work, but it is
intentional
; It helps put the viewer right in the centre of events, of Iraq.
Original Music by Marco Beltrami and Buck Sanders also adds depth in helping make such an intense and realistic journey. Slick editing results in a consistent yet plausible storytelling and insight. On top of this, the ambient effects and sounds, help out in adding suspense, never pushing in being overly used. Director Kathryn Bigelow; I've not seen many of her films, but she has talent, good looks and balls (specifically for the fact that this film was shot in Jordan, just miles from Iraq) for making such an intense, suspenseful, and gripping war film that is not glorifying the military nor is about a moral lesson. She shows the war as it is in Iraq, which includes the chaos of gun battles, the paranoia and racial tensions between the U.S. soldiers and the innocent Iraqi civilians. This is an
honest
sometimes brutal depiction of life and the World of War.
I know this film will win even more awards in the near future, and rightly so. This is one of the
best
films I have seen this year. It has all the ingredients a good film needs: decent acting, a unique story, wonderful cinematography/composition shots, and a fast-pace.
''You love playing with that. You love playing with all your stuffed animals. You love your Mommy, your Daddy. You love your pajamas. You love everything, don't ya? Yea. But you know what, buddy? As you get older... some of the things you love might not seem so special anymore. Like your Jack-in-a-Box. Maybe you'll realize it's just a piece of tin and a stuffed animal. And then you forget the few things you really love. And by the time you get to my age, maybe it's only one or two things. With me, I think it's one.''
10/10