"The Dark Knight", quite possible the best movie I have ever seen. I went to the cinema expecting an amazing film... it exceeded my already high expectations, something I don't think it happens very often. It is also the only movie that I watched twice on the big screen, ever! It was that good.
This movie works as a stand-alone story but it obviously continues the events of "Batman Begins" which happens to be one great movie as well. However, after watching "The Dark Knight" I look at "Batman Begins" and what I see is the prequel of a masterpiece.
So what is this film? It's basically a breath-taking action flick, a suspenseful crime story, a psycological thriller, a character development ride with unexpected drama and an amazingly well-told story with great direction, groundbreaking performances, incredible visuals and a memorable soundtrack. Oh I forgot to mention a little detail, it is also a superhero movie, and he has a bike.
So you could say that this movie here on this list, represents all that is good in the 7th art.
Ok now on a more serious note, this movie is a thrilling superhero action movie with a great police/mob story and one of those villains you will never forget.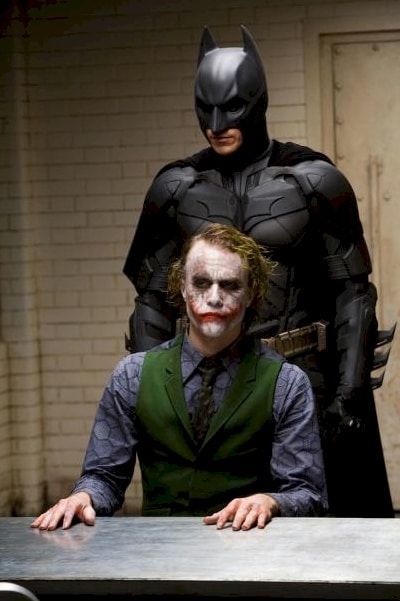 Do I need to mention the Joker? I don't think I need to mention the Joker... But I will say that he is definitely ONE of the highlights of this movie (and probably the best one with that otherworldly performance) and he makes the film more interesting. However this movie is a complete success, it's a great achievement on the whole, not just a good movie with some successful elements in it... It's an amazing collective, the film, with outstanting individualities, the joker; the bike; etc.
So please enjoy this amazing movie on the whole. It's natural to be stupefied when watching those scenes with pencils or hospitals, but don't let them steal you total attention from the masterpiece of deep visual entertainment that is this movie.
10/10