''Like a leper rotting in flesh let all avoid me. Like a cripple without limbs let me not move freely. Remove my cheeks, that tears may not move down them. Crush my lips and tongue, that I may not sin with them. Pull out my nails, that I may grasp at nothing. Let my shoulders and back be bent, that I may carry nothing. Like a man with a tumour in the head, let me lack judgment. Ravage my body sworn to chastity, leave me with no pride, and have me live in shame. Let no one pray for me, but only the grace of the Lord have mercy on me.''

A failed medical experiment turns a man of faith into a vampire.
Kang-ho Song
: Priest Sang-hyun
Ok-bin Kim
: Tae-ju
Bakjwi
(2009) translating as
Thirst
is the latest film from visionary director of the cult phenomenon
Vengeance
trilogy, Park Chan Wook.
Thirst
his new film project covers a very enigmatic yet intriguing storyline; A priest turned
Vampire
, where upon every sin becomes a necessity, human blood a craving as well as sustenance needed to avoid his skin devolving into leprosy. It's intriguing material and a whole new spin on cinema and storytelling.
Seo-Gyeong Jeong and Chan-wook Park worked on the screenplay while Emile Zola wrote the book
Therese Raquin
on which the film was inspired by and used as a source.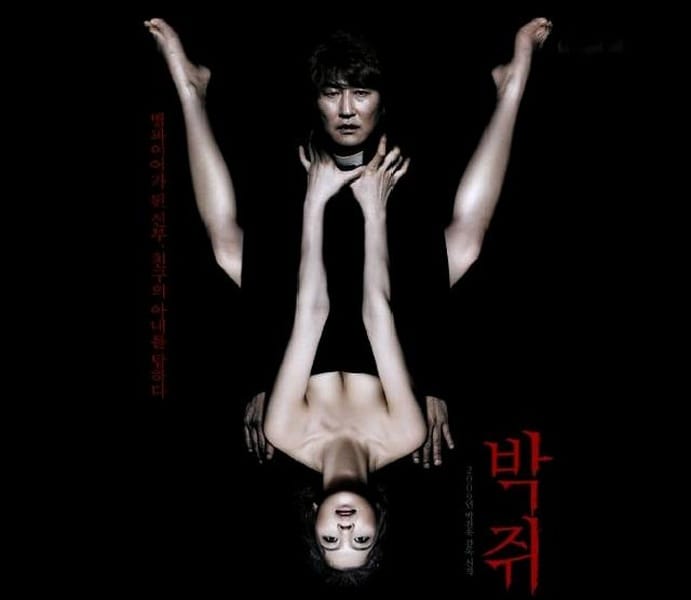 Thirst
starts by letting us into the World of priest Sang-Hyun whom is with a patient about to drift off into a coma or the great unknown. Cleverly Chan-Wook Park utilizes some great dialogue in the instance the characters begin to converse.
The film begins to explore the ideas and boundaries of faith, science, sex, human nature, life, death and superstition. Cleverly
Thirst
often leaves enigmatic questions instead of dismissive answering of mysteries concerning plot.
Numerous scenes that
Thirst
throws at us end up being undoubtedly memorable. Hell, the whole film is not just a film or story; It is quite literally an
experience
.
Priest Sang-hyun's prayer near the beginning with a medieval sounding piece from the score( Original Music by Young-ook Cho) really touches the soul and emotions as well as having deep and meaningful significance. I included his prayer in my starting if what lengthy quote opening my review to flesh out a feel for the raw power and crushing faith over physicality, binding with the enduring human spirit.
Kang-ho Song quite literally embodies his role as the protagonist priest Sang-hyun. Throughout the film after he becomes this Vampiric creature torn between his faith by this insatiable craving. His eyes alone convey the emotion conflicting with his actions, needs and resentments.
Ok-bin Kim as Tae-ju deserves a special mention as the fiery devious girl whom seduces and captures Sang-hyun heart. Whereas he shuns his vampire curse she looks upon the disease as a gift and her wild nature threatens to destroy their lives as well as her step-brother/husband and mother.
Ok-bin Kim's performance succeeds in being great and without a doubt lingering in the memory and synapses.
The cinematography by Chung-hoon Chung also is vast, epic in scope and dynamic execution. Examples of the greatness on display resides in a daring, bold jumping rooftops from the main two characters: Tae-ju and Sang-hyun. The intensity and clashing of personalities comes into a clash ensuing the chase upon the rooftops.
At times we see Sang-Hyun hanging from ledges by his feet reminiscent of how a bat sleeps upside down. The pilgrimage to Africa, the climactic sunrise at the sea and the darkness of the town all add to the meticulous detail
Thirst
has to offer us.
At times Park Chan-Wook takes the violence, showing of blood, and nudity to shocking lengths and revelations for viewers. Alot of audiences will not be able to handle the nature and alluring bestiality
Thirst
offers. Lovers of
Sympathy for Mr Vengeance
,
Oldboy
and
Lady Vengeance
will feel right at home with this latest cinematic feast.
The psychology is explored, guilt is wonderfully provided for the characters on a myriad palette. Man losing faith yet regaining his spirituality later is a journey one cannot be missed.
A journey that forces one to look outward as well as selfishly inward.
Thirst
cleverly inspired by a book could quite easily be a graphic novel. A bandaged up priest becoming a vampire, a drowned ghost sharing their water bed reflecting their guilt, a comatose patient providing blood; This is
original
, fresh and a fine addition as well as an original concept involving vampire lore and religion.
At it's heart
Thirst
is one of the best enigmatic films of 2009 in it's complexity, imagination and tragic love story of sorts. Faith, superstition and science merge together in a story that keeps you relentlessly thirsty for more. As with it's vampire host and hero we too are mutually sharing his pain and torment. In essence the inner demons
Thirst
confronts us with could well relate to our own. Park Chan-Wook simply has beautifully crafted a masterful artwork frozen upon the frame of film.
''Kill me or save me, you'll regret it either way.''
10/10