In the 60s the were the double feature, the house of horror spookhouse and the grindhouse cinema, the grindhouse cinema were the low grade films and they showed mostly exploitation movies, An Exploitation movie are movies that doesn't have any quality and usually focus on sex and violence, And now we've come to The Texas Chainsaw Massacre
a horror movie in terms of the word horror what is not is a gore fest despite the name and I don't mean spoil it, there's no blood and there's only two chainsaw death and it only off screen . It was also treated like a documentary and according to American Movie, Mark Borshard said "its like something you see in science class"
and I think I know he mean it does look like a documentary. And the opening with the narrator gives it a chilling feel it was supposed to be based on a real story but in reality it's loosley based on serial killer Ed Gein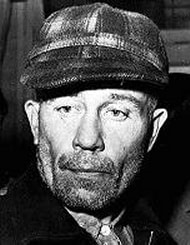 the same guy Norman Bates from Psycho and Hannibal Lecture from The Silence of the Lamb were based on so the plot is a group of friends picks up a hitchhiker which is a bad idea and then decide to check out a house which is another bad idea
and all hell break loose to where they're murder by famous Leatherface and his family
the tension and the final chase is just incredible anyway this movie isn't about the devil or anything supernatural it's about real and the scary thing rather it happens or not that it's could happen.