Haters can hate, but we fans know the truth- Joss Whedon is the king. From the science fiction goodness of "Firefly" to the tongue-in-cheek tunes of "Dr Horrible's Sing-Along Blog," Whedon never seems to step wrong.
Despite the knowledge that Joss Whedon would be directing "Thor", along with, strangely, Kenneth Branagh, I could not put aside my apprehension about thus project. The trailer promised lots of yelling, million-dollar special effects, dewy-eyed Natalie Portman, and Chris Hemsworth's abs.
Wasn't I, after all, a girl more interested in Lars Von Trier and Ingmar Bergman than mainstream action films? Wasn't I fan of Simon Rumley? (the fact that you have no idea who this is hoists my arguement considerably.) Who didn't like "X-Men- First Class" even as others gushed about it?
I'm pleased to report, despite my apprehension (and dare I say it, pretensions,) "Thor" exceeded my expectations considerably. Yes, there was dewy-eyed romance, bazillion-dollar special effects, and perectly physiqued A-listers (all the things I hate in a movie- Bah Humbug!)
It's actually one of the first big-budget action/adventure movies I've really enjoyed in a long time. At the heart of the story are two brothers, Thor (Hemsworth) and Loki (Tom Hiddleston,) who live with their parents the king and queen(Anthony Hopkins and Rene Russo) in the mythucal land of Asgard.
Loki wants the throne, and his brother stands in the way of him getting to it- sound familiar (i.e. Disney musical featuring an award-winning Elton John-performed song?) Anyways, Loki is allwed more depth than Scar, because what he really wants is his share of Dad's love, and he's always felt a little different from his royal family.
Just as Loki is devious and back-handed, Thor has a superhuamn dose of hubris. Let's consult the dictionary.
hubris- n. Overbearing pride or presumption: arrogance.
Yeah, that's Thor. He has so much hubris, in fact, that he refuses to back down from a fight, and in a roundabout way, Loki uses that against him, getting him kicked out of Asgard and cast into the human world.
Enter a trio of meteorologists- Darcy (Kat Dennings,) Erik (Stellan Skarsgård,) and Jane (Natalie Portman,) an attractive enough but frankly dull character who becomes the love interest of THor when he crashes to earth. Trapped in the human realm, Thor must learn humility; meanwhile Loki lies, cheats, and manipulates his way to the top, and Asgard suffers for it.
Arrogance driving a hero towards ruin hasn't been done very often in superhero movies (Besides the Godawful "Spider-Man 3," so Thor's hubris proves a welcome motif. Menawhile talented Londoner Tom Hiddleston gives a good performance asthe tormented and sly Loki, making it difficult to tell whether Loki is emoting or merely affecting.
ALthough the special effects are dazzling, they didn't get in the way of the story (although sometimes they distracted me.) One complaint I have is that Jane was as boring a romantic interest as you could find (which is the fault of the script, not Natalie Portman, who proved she could act her ass off in "Black Swan." Otherwise, do I think you should see it? Yes I do.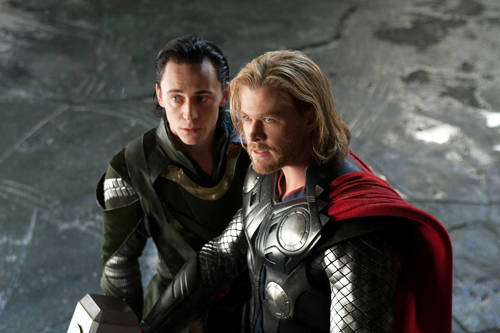 7/10