"What? I got machine guns... in my butt?"
As a kid, I was a big fan of the
Astro Boy
anime series. It had action and cool robot characters - it was all great fun. Many years after the original series, a 3D animated feature film of the anime was to be made, and unlike most, I wasn't annoyed about it. I thought it could actually work. Directed by David Bowers,
Astro Boy
has a lot going for it. There's a great voice cast, pretty animation, and exceptional robotic battles. The issue is that this just feels extremely
lame
. I can't bring myself to hate
Astro Boy
, but I still have to say it is very flawed family film. For children, the lame screenplay can be ignored due to the flashy look of the film, but adults I doubt will enjoy the film as much.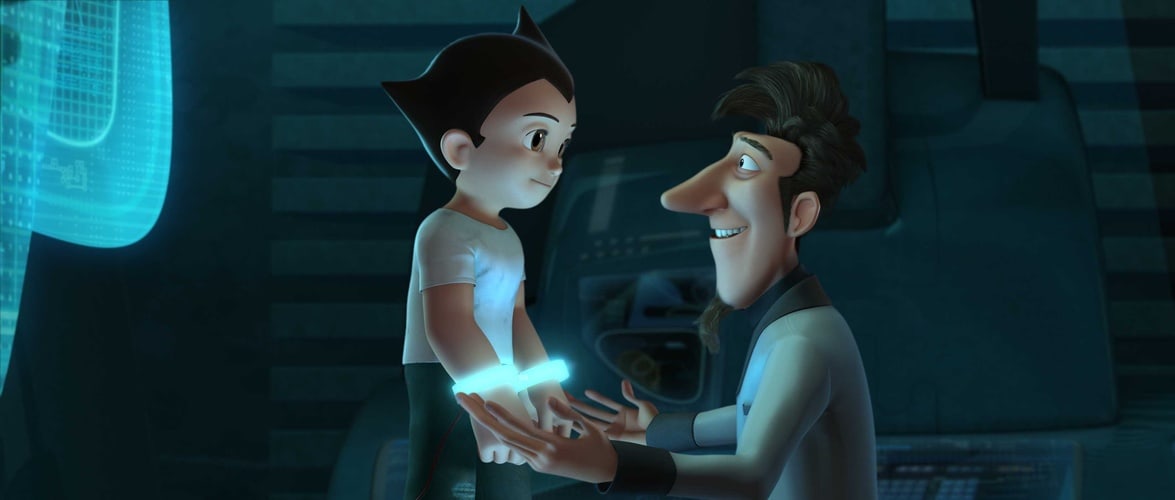 In the futuristic Metro City, robots serve humans to make their everyday duties a lot easier. When the son of scientist Dr. Tenma (Nicolas Cage) dies tragically in an experiment gone wrong, he assembles a robot to replace his son. The robot (voiced by Freddie Highmore) has the same appearance and voice as Tenma's son, but he soon starts regretting the creation of this machine. He rejects it just as it starts discovering its robotic powers of flight and strength. Having no where else to go, the robot ventures to The Surface, the outskirts of Metro City, where it is given the name Astro. Meanwhile, the power-hungry President Stone (Donald Sutherland), is after Astro so he can attain the powerful 'Blue Core', Astro's power source.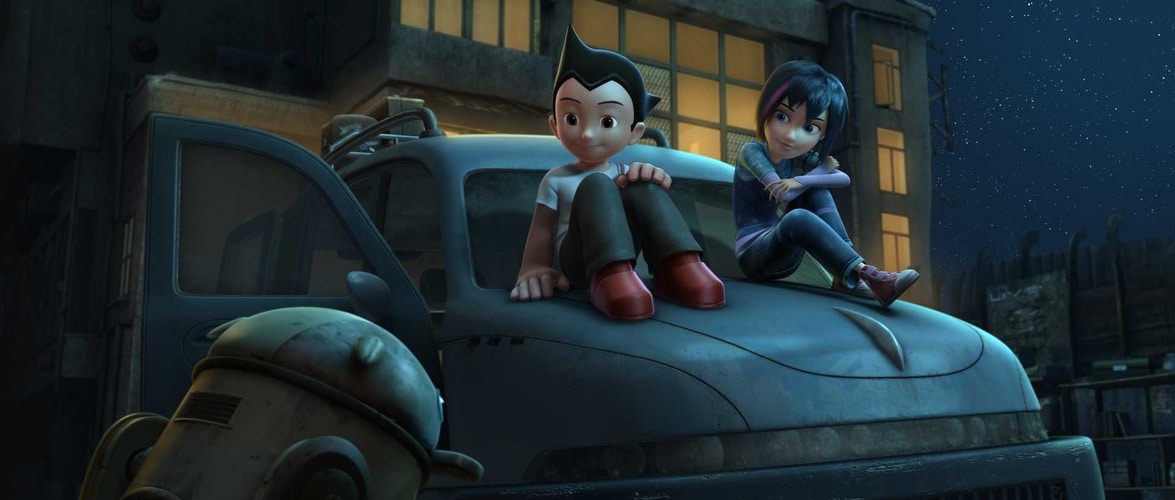 Written by Bowers and co-writer Timothy Harris, the screenplay doesn't stay as true to the original story as die-hard fans would like. This didn't particularly bother me as much, as it appeared as if Bowers was trying to introduce this whole story to an audience who have never heard of
Astro Boy
. The screenplay is is very much the reason why I think the film doesn't work as pure family movie. Everything, from the characters, the dialogue, and the humour, feels extremely sophomoric. There are small moments throughout the film that feature strong comedic writing, but overall, much of the film's content ends up being really 'kiddy'. The political aspect of
Astro Boy
could've been expanded more, as that might've given older audiences something interesting to watch, but there's not much exploration into President Stone's motives and power, although he is an effective villain - you really hate the guy. There are touching moments between Astro and Tenma - the father-son conflict is quite moving, but the children Astro meets on The Surface are extremely annoying. While they serve as a way to hint at a family-type role, as mentioned earlier, these characters are simply too lame for adults to really care about them. However, children will no doubt be able to relate to them.
Metro City is actually levitating - it's a floating city. The Surface is pretty much the Earth it floats over. There is huge conflict between these two factions, but we're never given a look into why this is the case. President Stone hates The Surface due to some re-election he's got coming towards him, yet we never know why. There could've been a lot of explore with this theme, along with the idea that robots aren't just machines. There's actually a lot of untapped potential here, and it could've given
Astro Boy
some depth into being a film for all ages. Also, it never ventures into a somewhat darker tone. Even in the original source material (manga and anime), a dark tone would be adopted. This doesn't happen at all with the feature film, and the ending is way too abrupt for my taste.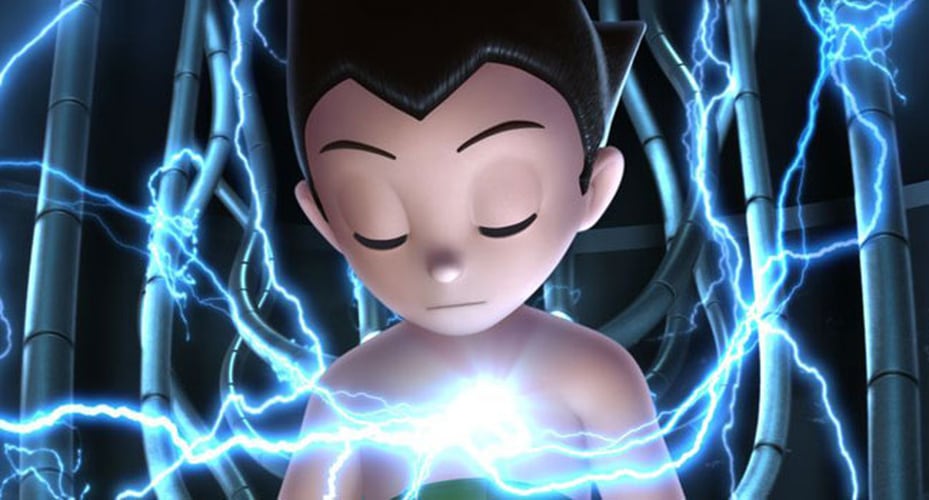 In terms of the voice cast, Bowers has actually assembled a list of well-known actors. Freddie Highmore as Astro is decent enough, although his kiddy persona does get irritating from time to time. He's trying at least, which can't be said for Nicolas Cage as Tenma. I could recognise his voice so easily, and it felt like he wasn't even trying with his voice acting. The same can be said for Bill Nighy as Tenma's colleague Professor Elefun, who doesn't seem to care about this project and how he delivers his lines. Still, while both of them don't add a lot to their roles, it didn't bother me tremendously. Charlize Theron (I have no idea why she's in this) is given the smallest role imaginable. She's the narrator for an educational video about robots shown to children at the start of the film. Yes, I wish she had a bigger part in the film, but she adopted a nice friendly tone to her voice. I really liked her in this. Donald Sutherland is actually pretty great as the villain, gathering that mean spirited persona we've seen him deliver countless times.
The animation may be the strongest part of
Astro Boy
. Bowers has a lot of experience with animation work, and his 3D animation is terrific. The film actually features a 2D section as well - the educational video Theron narrates at the start is actually animated in the old two-dimensional style. The 3D work may not be the most impressive thing you've ever seen, it's a competent conversion from the 2D look of the anime and manga. Astro looks how he looked in the original material, and Metro City itself looks wondrous. There's an adorable quality to the look of the film, and it may add some value to older audiences. The action is also entertaining, and there are slight moments where Bowers will make fun of Astro's certain abilities (machine guns on his butt). The final battle sequence will have kids cheering for more. Edited well, the film's pacing is brisk and perfect for this kind of film, and the score by John Ottman is fitting as well.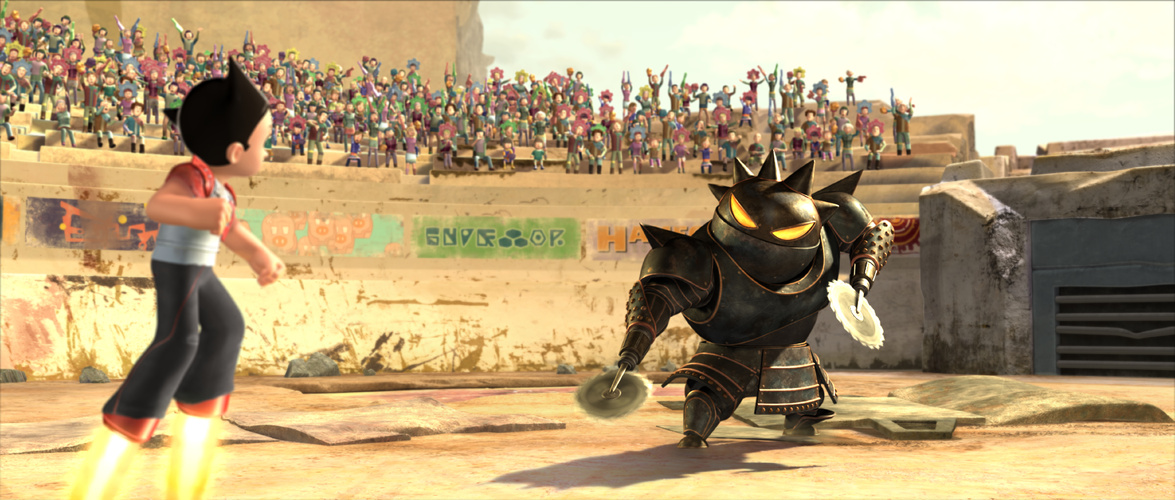 Astro Boy
is simply a kids movie. I really don't think there's a lot of value here for adults, although sadly, there could've been. This could've been a great family film, but it ends up being kiddy and lame to be honest. Still, I enjoyed
Astro Boy
. I doubt I'll watch it ever again, but if I have kids over, it's a decent way to entertain them. It's one of those films that you know your kids will enjoy - just show it to them, and go to the backyard for a beer if you really don't want to see it.
6/10