''Your life is defined by its opportunities... even the ones you miss.''

Tells the story of Benjamin Button, a man who starts aging backwards with bizarre consequences.
Brad Pitt
: Benjamin Button
The Curious Case of Benjamin Button
is nothing short of
genius
. A genius to be expected of a seasoned visionary director such as David Fincher. In the past Fincher has given us the greatest stories and films that have ever graced the screen. Whether it be
Fight Club
,
Se7en
,
Zodiac
, under-rated
Panic Room
, or even the drab
Alien3
,(which still had glorious potential) all of his work are ones that make you think, ones that capture your attention and make you work them out, a puzzle of the greatest magnitude which involves you using the old grey matter. It comes as no surprise that Fincher's latest is perhaps the most romanticized, most glorious attempt at Fincher explaining life in a curious fable about a fictionalized character, from a short story.
The Curious Case of Benjamin Button
is a story of imagination, yet it's also a story of the raw unrelenting harshness that is nature, life and the confines of time itself. The premise being that a clock is made by a father whom loses his son during WW1, which ticks backwards, to grant the power to bring back all the ones who died, like his son, to counteract the harsh unrelenting merciless time which is forever pushing forward.
Button
asks us what if time went backwards for a person?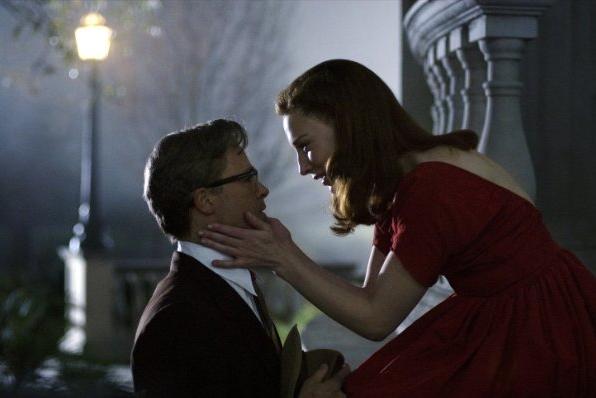 As events occur, Benjamin Button is shown to us, abandoned by a grieving father, whom loses his wife during the birth, we find he's different. Benjamin is born old. Ironically he is given to a family whom reside in an old peoples home, Benjamin is ultimately different in the sense he starts his journey as an Old wrinkled scrap of a human being. Subject to all the ravishes of time.
The Curious Case of Benjamin Button
greatest achievements not only lie with the main story but within it's sub plots, it's whimsical sequences such as a man getting hit by lightening various times to symbolize life throwing unpredictable obstacles at us, in showing that life and random occurrences, are ones of unfathomable, unstoppable power.
The characters and locations also make life what it is. The same can be said of
The Curious Case of Benjamin Button
, it's a journey of the most imaginative kind, of originality and flair which breathes tragedy and loss into a truthful resolution of realistic yet fantastical happenings.
''My name is Benjamin Button, and I was born under unusual circumstances. While everyone else was agin', I was gettin' younger... all alone.''

Performance wise, the whole cast add pure professionalism to every frame on display within
The Curious Case of Benjamin Button
.
Brad Pitt shines as Benjamin Button, although his performance is blurred by some dazzling effects of aging and even smoothing out to appear younger later on, he excels in showing us a very complex character. He's a man who's alone in the world, alone in the sense he's aging backwards unlike anyone else. We the audience oblige him by relating to his situation, I know I did. Who can say they don't feel alone in the unforgiving pacing of our lives. Not alot I would conclude, Brad Pitt makes us believe and feel for Benjamin, he makes us take the road and journey ultimately with him every step of the way.
Cate Blanchett as Daisy, is simply another effortless masterpiece of acting from a dizzying queen of the screen. I've lost count of the number of masterpieces Blanchett has graced the screen for, her talent unrivaled and dizzyingly effective, she is beautiful in youth, beautiful in her aged appearances effectively making us feel for her as much as we feel for Benjamin. This isn't just a story of his but a story of Daisy, whom we feel for, we experience with and our hearts float toward.
This is their story, a duo tale of two souls, both beginning from different parts of life. Benjamin starting off old, Daisy young, when they meet in the middle it's wonderfully romantic yet short lived, a frozen moment of happiness for the two, Pitt & Blanchett make us believe this is a surreal yet real occurrence of love, tested by a sick joke of nature, of time.
Other fine supporting roles definitely deserving a mention would be Tilda Swinton, Jared Harris, and Elle Fanning. They all simply add wonder to the imaginative array of assortment.
Overall,
The Curious Case of Benjamin Button
has 13 Oscar Nominations and a further 47 Award Nominations in general, and it's not hard to see why. This sort of rareness only comes about in a blue moon. This is Fincher's perspective and strike upon what the purpose of life is, and it's delicately dressed up as a fantasy bi-opic of mythical proportions. Fincher cleverly uses a reversed idea of time, a symbolic usage of Buttons connecting life together, reflecting people gluing events and one man together, memories and chain reactions all eclipsing regret yet warming it with their embrace. Nearly everything
The Curious Case of Benjamin Button
gives us is a metaphors or symbols for deeper ideologies. Ideologies that transcend simple explanation, that require re-thinking, pondering, discussion and time to reflect upon, reflect on all angles available.
David Fincher has buttoned together a masterpiece and a story that is unlike anything ever seen on the Big Screen. This is the cleverest fantastical way of showing life for what it truly is, too capture on screen the struggle of keeping love, of sacrificing it, and of losing a loved one, and ultimately accepting it, like in turn we must accept our own fate. Time being a perception and illusion, an invention of ourselves to label our own existence.
''Benjamin, we're meant to lose the people we love. How else would we know how important they are to us?''
10/10