For many, Twin Peaks was the definitive television show of the 90s, despite its relatively short run. With 29 episodes in all (30 counting the feature length pilot) spread over 2 years, it managed to cover a wide variety of characters, played by a huge ensemble of talented and under-rated actors, all little pawns in a complex plotline. I thought I would throw in a little chess reference, considering the show's final dozen episodes draw upon it as one of its primary motifs. The iconic use of the game has become one of the things most associated with the series, perhaps second only to the often referenced and infinitely creepy Red Room scenes.
Twin Peaks is both parts surreal mystery and soap-opera slush, using the latter as an ironic and almost self-parodying juxtaposition to the genuinely frightening aspects of the show. Similar in ways to the melodrama of David Lynch's preceding film masterpiece Blue Velvet (1986), the fluffy scenes of romance and friendship are not bad traits, rather they are charming and effective methods in which to convey the homely-little-community atmosphere. Created by surrealist legend David Lynch and his friend Mark Frost, the two came up with a multi-faceted tale of horror, suspense and intrigue, full of too-many-to-count twists and turns, spread across a vast canvas of brilliant locations, populated by exceptionally interesting characters. Lynch and Frost, directors and writers of the standout episodes, thrust the eponymous small town into a surreal blender.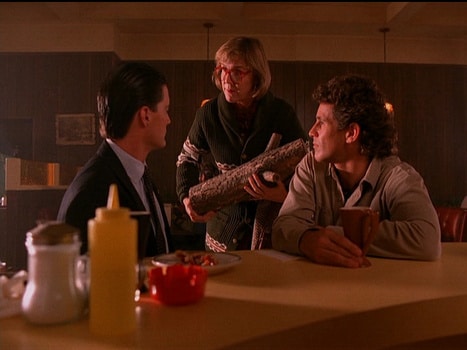 Twin Peaks is one of the scariest of all watchable media, up there with the classic film The Haunting (1963) and several particularly gruesome episodes of Dexter (2006-). In one early episode, I was given such a fright that I was reduced to watching the rest of the series with the lights on, save for the final few episodes, which work incredibly well in a dark room. Few things get under your skin as much as Twin Peaks, with such scary scenes handled with perfectly precise timing. For someone who has been watching horror films since I was a child and can usually brush off such things as Paranormal Activity, I was still utterly shocked by the terrifying nature of this series. Let it be said that it is Twin Peaks that pops into my head when I'm walking alone in the dark, not any recent attempts at horror. Whilst not all episodes are upfront fear mongers, the ones that are do it well. For those familiar with Lynch's 1977 surrealist masterpiece Eraserhead, you will know all too well how competent he is at composing strange and unnerving set pieces.
You'd think that a series with such a huge ensemble of would lose its way in such a limited amount of episodes, yet several story-lines are explored successfully in such a small time frame – and not just for one set of characters. Likewise, each story arch is a captivating one, no matter how minor, major or ultimately unimportant some of the characters are. In a sense, it is similar to Paul Thomas Anderson's Magnolia (1999), a film of many characters, all of which have extremely gripping stories. As a microcosm of small-town America, Twin Peaks is admirable in its diverse amount of roles and strong attention to detail.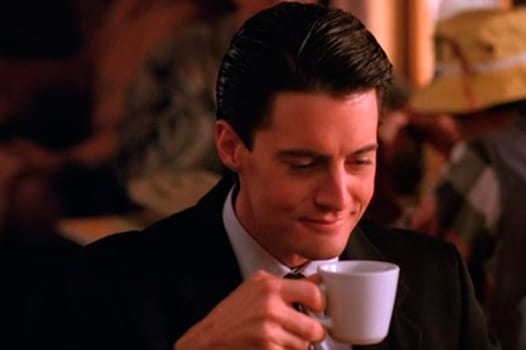 Heading the cast is Kyle MacLachlan, known previously as the likeable protagonist in the aforementioned Blue Velvet, here playing a more adept character. Unlike the naivety of Jeffrey, the quirky character of FBI Agent Dale Cooper is a strong-minded individual. Paired with the humorously named Harry S. Truman (played with rugged sensibility by Michael Ontkean), the two lawmen try to solve the mystery of Laura Palmer's murder, an already shocking affair, which soon escalates into much more than a by-the-numbers case. Surrounding these two personas are a host of brilliant characters, including the comic relief of Deputy Andy Brennan and his amusingly difficult yet sweetly endearing relationship with receptionist Lucy Moran. Other outstanding characters are that of local businessman Benjamin Horn, played with a commanding presence by Richard Beymer (who played Tony in the film version of West Side Story – when I found out, I shat bricks, you wouldn't have guessed they were the same person) and his wily daughter Audrey (who would later star as Curly's wife in the 1992 adaption of John Steinbeck's Of Mice and Men). Alongside them is Richard Beymer's West Side Story co star Russ Tamblyn as an eccentric psychologist, Piper Laurie (of Carrie fame) as conniving Catherine Martell, Jack Nance as her husband, looking unrecognisable 15 years after his lead role in Eraserhead and Ray Wise's as Leland Palmer. The latter would go on to star in under-rated horror film Jeepers Creepers 2 (2003) and the television series Reaper, which gained moderate success. A rich and well chosen cast truly makes this series stronger, including the fantastically elaborate performance later in the series by Kenneth Welsh.
What makes Twin Peaks such a fascinating series, though, is the central enigma. The obscurely named Black Lodge. Every good series need an enigma. Lost had the island, Death Note had the notebook, Flash Forward, cut down in its prime, had the mass blackout, all gripping concepts with the ability to take the viewer in any direction. With The Black Lodge, even the title is intriguing.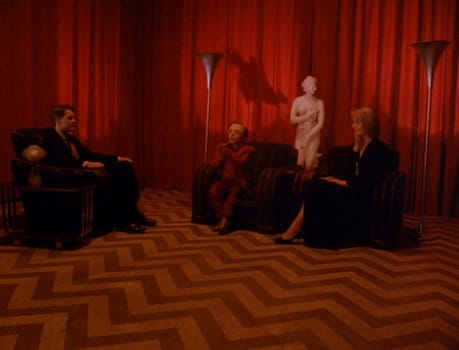 As film-critic and chat show host Jonathan Ross once put it, Twin Peaks is 'the scariest, weirdest and funniest TV series of all time', a completely accurate statement. Twin Peaks is a one of a kind drama, a unique and unsurpassable landmark that helped establish television as an artistic rival of cinema. With all of its flamboyant and ambitious scenes, juxtaposing with remarkably restrained subtlety, Twin Peaks is a lurid, luscious and laudable cult classic.