The greatest film of all time? In many aspects, yes. Every film watcher knows that there is no definitive greatest film. However, from an objective point of view, Orson Welles' 1941 masterpiece is a strong candidate. It is literally a perfect film. From its acting, writing and story to its technical composition, Citizen Kane is flawless. Let's put it in layman's terms. It's a fact that it is a good film, it is objectively good. It an opinion not to like it, such a choice is subjective and I respect that. Anyone who tries to claim otherwise is wrong. Citizen Kane is a timeless masterpiece, with an ageless story.
The story is about a man's emotionally wrought life, all packed into 1 hour and 55 minutes. There are no wasted scenes, there is no time for that. Everything is essential to the story. Nowadays, even a generic thriller or action film takes over 2 hours to tell a story that could easily be told in 90 minutes or less, whereas Welles' story is a sprawling roller-coaster, kept admirably precise, without appearing short-handed or incomplete in even the slightest sense. How he did it will continue to perplex and astound me.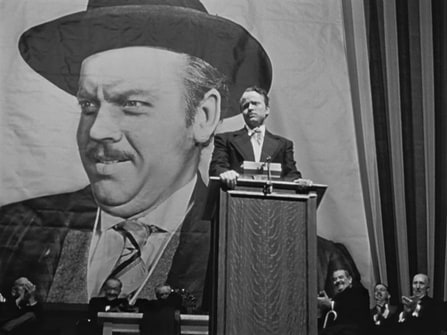 The plot is magnificent and captivating, exploring the depths of friendship, careers and loneliness. In one of the most well filmed scenes in cinematic history, Kane dies alone in his desolate mansion. Named after the medieval Chinese location of Xanadu, made famous by Romantic poet Samuel Taylor Coleridge in his poem Kubla Khan, the home is one of the most stark metaphors for the life of the eponymous Charles Foster Kane. As an opening scene, it is memorable and enduring, one that has been lovingly parodied in a number of popular culture staples such as The Simpsons. The home, in its ambitious scope, represents what Kane thought of himself, whilst the unfinished mess of it all arguably portrays his own damaged and lonesome existence. The impressive set design captures the attention of the audience, leading them up to the iconic dying word of Kane. Rosebud. Simple and enigmatic, its meaning is a perpetually fascinating mystery. This minimalist motif manages to segue into one of the most grand and complex investigative stories ever written, escalating into something that is far from minimal. Kane's final word is an iconic quote, known even to those who haven't yet seen the film.
Collaborating with Herman J. Mankiewicz, from a family of talented cinematic figures, Welles wrote a story that stands the test of time. Its uniquely personal look at the life of its protagonist, using a non-linear narrative of interviews with surviving associates and flashbacks to various moments from his life, we learn more and more about the elaborate personality of the newspaper magnate. Loosely based on businessman William Randolph Hearst, Charles Foster Kane's character can be compared to current business figures, such as Rupert Murdoch and several United States politicians. The multi-layered personality, ranging from amiable to alienating, is a richly characterised construct, accentuated by the phenomenal performance by the 26 year old Welles. Playing the role from young upstart to ailing and bitter old man, Welles portrayal is fine representation of his career, a remarkable and unsurpassable tour-de-force.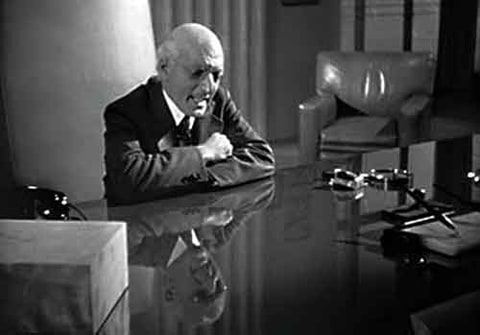 In a lot of films centred on one primary character, supporting characters are often wasted, relegated to nothing more than background set-pieces. However, despite Welles' bravura turn, he doesn't overshadow the rest of the cast or take away from the characters they are playing. He was intelligent enough to know, as both the writer and director, not to steal the spotlight and not to make the film all about one person. This is evidence by the glorious monologues of other characters, such as that of Mr. Bernstein, played with touching sentimentality by the ever under-rated Everett Sloane. In this particular scene, the wistful and sympathetic Bernstein reminisces about a beautiful girl he once saw, wondering what would have happened if he had spoken to her. Such a deep and contemplative scene, entirely told through words, is an example of the huge importance and influence of the other characters on the success of the film. Similarly, Joseph Cotten, another criminally under-rated actor who would later go on to work with Hitchcock (Shadow of a Doubt, 1943) and again with Welles in Carol Reed's classic The Third Man (1949), delivers a perfect performance as Jedediah Leland, punctuated with typical Cotten charm. One of the most likeable supporting characters of any film, we watch as Leland begins to grow tired of Kane's ego, worrying about his ambitious friend's pursuits. Even the minor characters are of huge significance, such as Kane's mother near the beginning of the film, when we see her about to give away her young son. Delivering a performance of impressive subtlety, Agnes Moorhead's presence is a commanding one.
Aside from the amazing story, the film is a technical masterpiece too. Orson Welles wanted to create a new level of realism in Hollywood. Before the years of large scale on-location shooting that we have today, Hollywood was primarily limited to studio sets. Welles wanted to eliminate some these limitations. So, with the help of cinematographer Gregg Toland, he went about finding ways to achieve a high sense of realism. One of the most revolutionary ideas was to show ceilings in shots, particularly those filmed from a low angle. Beforehand, this was rarely done because the sets didn't have ceilings, instead possessing an open top where the cameras and lights would go. To navigate around this, the set designers pulled a piece of material tightly across the open space, to create the illusion of a solid ceiling. In addition to this masterstroke, Welles and Toland experimented with focus. Using deep focus to compose many scenes, a more realistic representation of real life was reached.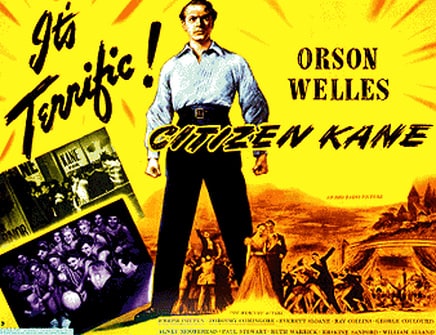 His quest for realism is comparable to the Italian neo-realists, who wanted to profile life in post-war Italy in the most realistic ways possible. Whilst films like Vitorrio De Sica's Ladri di biciclette (Bicycle Thieves, 1948) favoured mid shots, on-set locations and a style of filming that would now be achieved using hand-held cameras, Citizen Kane reached similar goals by recreating a real life atmosphere through focus and set design. For these reasons, both styles are equally innovative and important to the evolution of cinema.
Under the cinematography umbrella, there is the aspect of lighting that must be touched upon. Employing shadows and on the opposite end of the spectrum, brightly lit scenes to emphasis certain thematic elements, the lighting takes on a life of its own. At some points drawing upon German Expressionist elements, whilst at others relying on a more modernist approach, the film is vividly and beautifully lit, complimenting the plot greatly.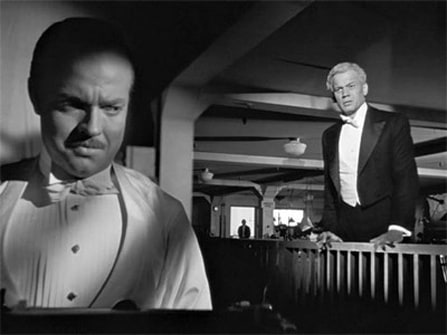 Citizen Kane is a stand out example of how to make a perfect film. An array of characters, tightly constructed scenes of aesthetic quality, convincing make up, cutting edge techniques and a strongly impactful story, it tells a tale like no other. The deep focus that defines the film is a work of genius, made to stand out even more by the rare but necessary uses of shallow focus. Meanwhile, the solid implementation of the camera is a testament to Welles' mind. Likewise, Bernard Herrmann's evocative and haunting score is a debut that is every bit as good as his future work. Everything about this film unforgettable.
In regards to the many strengths of the film, it certainly isn't unfair to claim it is the best film ever made. This is a reasonable accreditation, based on the overwhelming amount of virtuosity found within the stunning classic. Whilst it is impossible to name one film as the best ever, there are few that can top this landmark masterpiece.
10/10