''The way of the future.''

A biopic depicting the early years of legendary director and aviator Howard Hughes' career, from the late 1920s to the mid-1940s.
Leonardo DiCaprio
: Howard Hughes
Martin Scorsese keeps it real with
Avaitor
. There's none of the foul language or gratuitous violence that characterized some of his most famous mob films, like
Casino
or
Goodfellas
. He has crafted a very interesting character study biopic of famous entrepreneur Howard Hughes, master of aerospace and maker of B-movies.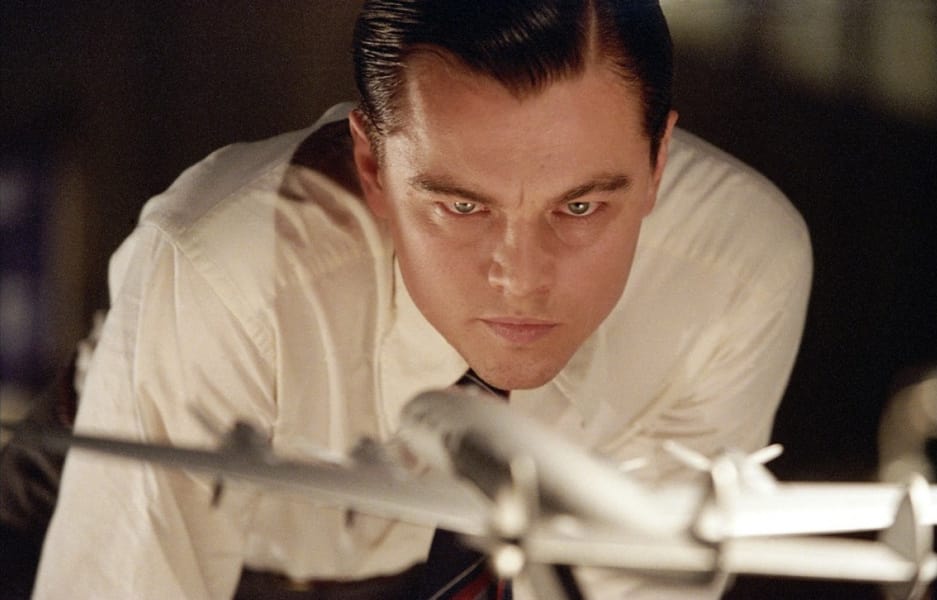 You see plenty his involvement in both enterprises in this piece Scorsese delivers. Leonardo DiCaprio seems a little too boyish to play Hughes when he is in his forties, but he clearly is so passionate about his role that you forget the little indiscretions such as age difference. He plays Hughes with so much energy that he makes the role all his own, making it pretty clear DiCaprio is having fun with this role. Those who dislike hammy acting, may think of DiCaprio as over-the-top, but I was positively taken by it. His portrayal of Hughes' various neuroses and compulsions make this a very compelling story to watch, mirroring Johnny Depp's portrayal of the equally odd and neurotic, surreal
Ed Wood
.
The other actors do fine turns. Cate Blanchett is fun to watch as the upper-crust actress Katherine Hepburn. She seems to be having as much enjoyment with her role as DiCaprio, and she's not afraid to ham it up as well. Kate Beckinsdale is fine as Ava Gardner, and John C. Reilly does a serviceable job as Hughes' long-suffering accountant.
''I care very much about aviation.''
Scorsese does a competent job attempting to portray his version of Howard Hughes' life. He tries to cram down the message of an eccentric man with huge visions that no one else can comprehend. He seems mad when he tries to re-do and innovate his movies or his aircraft. Sometimes his compulsive behavior gets in the way of his dreams, but in the end he deftly fights off the skepticism of his collaborators or the threats from the competition, in the form of Pan Am founder Juan Trippe. He, like Tim Burton's
Ed Wood
, is an oddball who perseveres and usually gets his way in the end. Burton's is the better movie, however, because it does not have the gloss of triumphalism that Scorsese's movie does. Scorsese tries to portray Hughes as a sympathetic and ambitious individual, and while he may have plenty of ambition, he is not exactly a more sympathetic individual than, say, his airline rival Juan Trippe. Viewers can see through the attempted good-guy image that Scorsese gives Hughes to see the battle between the airlines as one of survival of the fittest.
Leonardo DiCaprio seems to have replaced Robert DeNiro as Scorsese's muse, and despite a disappointing turn in the sub-standard 'Gangs of New York', DiCaprio shines here and really does well as the rich, yet troubled, Hollywood icon at the centre of this story. Scorsese seems to have a bit overboard with the cast, as several big names of the present appear as big names of the past. Cate Blanchett irritated me just as much as the real Katherine Hepburn did, which shows the greatness of her performance. Kate Beckinsale and, surprisingly, Gwen Stefani give life to two of Hollywood's golden girls: Ava Gardner and Jean Harlow as well, while smaller roles such as that of the charismatic Errol Flyn fall to the likes of Jude Law. This was the film's major selling point for me - there's something great about the big stars of today portraying the big stars of the golden age, and the way that Scorsese populates almost every scene with the big names of the time ensures that this is as much a film fan's movie as it is a multi-million dollar blockbuster. Critics can complain about a lack of substance as much as they like, but what I saw here was an excellently stylish take on one of Hollywood's most intriguing figures, and I don't hesitate to call this Scorsese's shot at a dazzling biopic epic.
''Men can't be friends with women Howard. They must posses them or leave them be. It's a primitive urge from caveman days. It's all in Darwin. Hunt the flesh. Kill the flesh. Eat the flesh. That's the, ah, male sex all over.''
8/10