''My momma always said, "Life was like a box of chocolates. You never know what you're gonna get." ''

Forrest Gump, while not intelligent, has accidentally been present at many historic moments, but his true love, Jenny, eludes him.
Tom Hanks
: Forrest Gump
What best sums up good old
Forrest Gump
? Is he a simpleton? An idealist? A moral paragon of innocence? In this movie it's more appropriate to describe him as what he isn't. Forrest lives in a world that derides him as stupid but, as Mrs Gump states,
"stupid is as stupid does"
, and in this, it's the other characters who seem endowed with stupidity.
From acclaimed Director and film maker Robert Zemeckis, utilizing and adapting Winston Groom's novel and a terrific display from Eric Roth's original, humourous screenplay.
Forrest Gump
is simply an innocent captivating story told in the most
remarkable
way. By a seemingly random man sitting upon a bench reminiscing.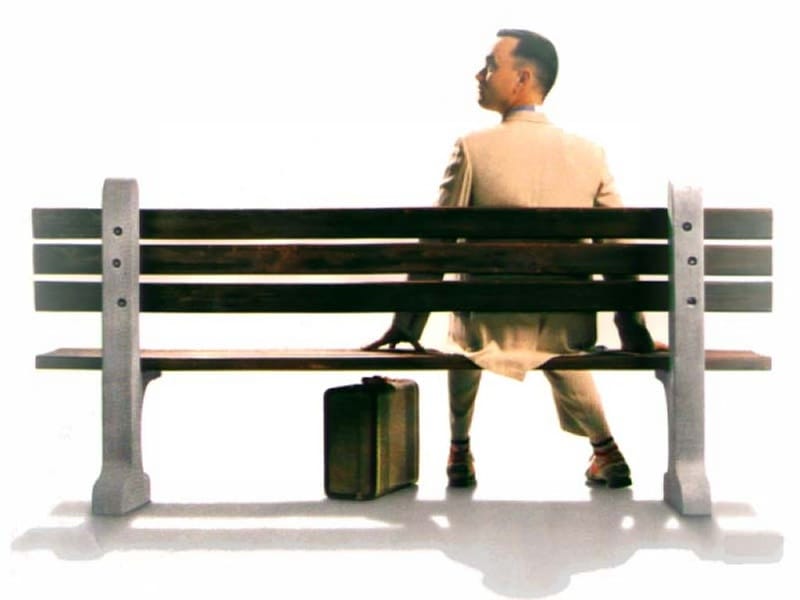 The characters all seem to have their fair share of problems: For instance Jenny stumbles from one bad trip to another, Lieutenant Dan loses his legs, then his mind at war, while everybody else seems to engage in acts of relentless and tragic idiocy. All through this Forrest is the pinnacle and rock that anchors all the proceedings, the unchanging element.
He sees the world in simple terms, intent on doing the right thing. In this movie it's not Forrest that's retarded, it's indeed the rest of the world.
Forrest Gump
mentions and addresses many of the crucial American wounds of the 20th century such as: Vietnam, relationships with African-Americans, drugs, capitalism and the mistreatment of women. Naturally Forrest himself takes the morally upright line on all of these, he fights in Vietnam then rejects war as hell, makes best friends with the African-American Bubba, rejects drugs, becomes a national sporting hero, makes a million without even trying, looks for love with Jenny but loses her despite treating her better than any other man ever did. The interactions and contradictions between Forrest and his more worldly, more cynical cast-mates is the source of much humour, some of it quite dark. Integrating Forrest into various bits of historical footage was quirky and interesting, though played no significant part in the story.
''What's normal anyways?''

The acting is strong, the narrative is compelling enough and its semi-documentary style direction is consistent and provides clarity and pace. However
Forrest Gump
is little more than an ideological fairy story, partly to keep viewers believing in the cause. Would that we could have a world where the best-intentioned half-wit could pop up at opportune moments in history, winning hearts, amassing a fortune, becoming famous. Sadly, the world generally belongs to those who have screwed over someone else to get there - and that isn't Forrest, he's too nice a guy.
The movie opens with Forrest sitting at a bus stop, waiting to go see Jenny after being apart from her for years. Who is Jenny, you ask? We'll get to that in time. Forrest strikes up a conversation or two with the people that come and wait for the bus with him. Or, more accurately, he keeps talking regardless of whether anybody is listening or not. The movie plays out as a flashback, with Forrest taking us through all the major events of his life and narrating them.
The flashback starts when Forrest is a little boy, about six years old or so, just at about the age where he should be starting school. We get to take a look at Forrest's childhood as he gets leg braces to straighten out his back, as his momma (Field) fights (and does a few other things) to get him into public school, and as he meets for the first time the love of his life. Jenny. He meets her on the way to school, sitting next to her on the bus, and they strike up a friendship immediately.
''One day it started raining, and it didn't quit for four months. We been through every kind of rain there is. Little bitty stingin' rain... and big ol' fat rain. Rain that flew in sideways. And sometimes rain even seemed to come straight up from underneath.''

Eventually we progress to the point where Forrest and Jenny are in high school, and we travel along with Forrest as he makes it onto the football team and gets to go to college. Forrest and Jenny never date, but he's always there to protect her. Anytime he thinks she's in trouble, he rushes to the rescue, ready to beat the ever-loving snot out of anyone who even looks at his Jenny wrong. I think one of my favorite scenes in the movie is when someone is dumb enough to slap Jenny. The film goes slow motion, Forrest's eyes go wide, and he starts charging at this guy like a runaway locomotive, and has the striking force of one too. He is pure and innocent protecting the one he loves even though she doesn't seem to love him in quite the same way.
The movie is a tour through American history of course, but I don't think the special effects detract from the basic simplicity of the story. It is basically a morality story. Not a very deep or complex one, but just very simple--do the right things, and your life will turn out okay.
There aren't very many of these movies made anymore, and so it's somewhat satisfying that this one was, and that it was so successful. It's as if American society had finally had its fill of beautiful alienated youngsters who rebel, do drugs, hate their parents and act like all around jerks (see
American Beauty
).
It is so unique because of the character Forrest Gump himself, whom has a low IQ of only 75. Although he is
'mentally challenged'
, he finds himself in historic and troublesome situations and like that he manages to in a sense 'Forrest Gump' his way out of it and end up a hero or role model for the people around him. The real beauty in this film for me was his ability to simplify the complexities regarding the world we live in and somehow do what some war movies fail to do; Show the importance relating to achieving world peace or what romantic satires can't deliver...the importance of
love
.
I love that Forrest doesn't lose his innocence and purity throughout the story, or maybe he just can't but either way, this shows you don't need to be evil or really intelligent to be recognised or successful. Then again it is just a film...or is it?.
So maybe it doesn't work like that in reality. what that simply means is that the acting and story of this film was incredibly touching on an emotionally connecting level. In that we can relate to his exploits and him as a person and character.
Gump isn't the best film ever made in my opinion, but it could be considered to be among the best films made.
"Stupid is as stupid does"
may not be poetry or very deep, but it ends up being true, and more than enough to fill up a book or flick, thus making you feel as free and light as the feather floating up into the air at the climax.
Forrest Gump: What's my destiny, Mama?
Mrs. Gump: You're gonna have to figure that out for yourself.
10/10