Falling under the "Ozploitation" banner, 1981's
Attack Force Z
is a low-budget war movie that at once endeavours to be a proper historical document and a Roger Corman-esque action flick. Engineered by Ozploitation luminary Tim Burstall (
Alvin Purple
,
Eliza Fraser
), this Australian production is based on the exploits of a real-life team of elite commandos known as the Z Special Unit, or the Z Force, which operated during World War II and consisted of Australian, British and New Zealander soldiers. It's a concept with serious potential, especially given other "men on a mission" movies like
The Dirty Dozen
and
Inglorious Basterds
, but this particular story cannot do justice to the concept. It's not entirely unappealing, as it's entertaining up to a certain point and at least it never feels distractingly cheap, but it's not memorable or remarkable either.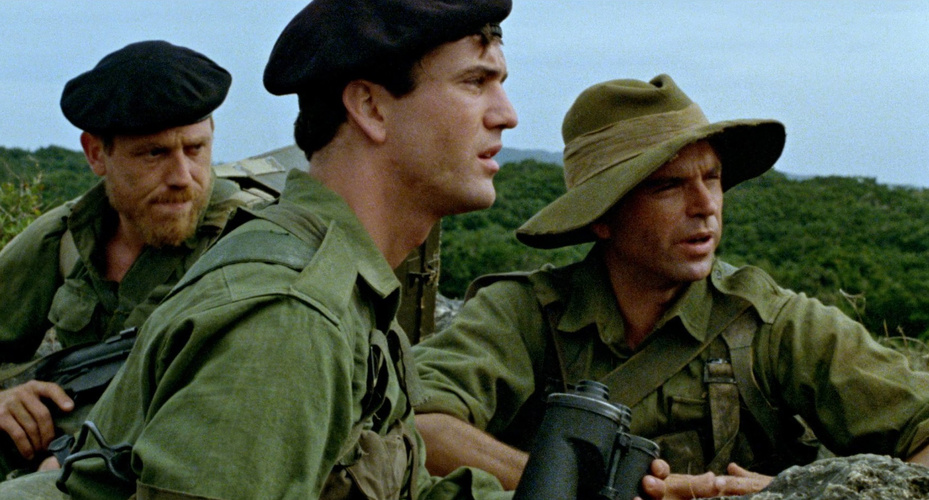 In the South Pacific, five Z Men - Cpt. Paul Kelly (Mel Gibson), Lt. Jan Veitch (John Phillip Law), Sgt. Danny Costello (Sam Neill) Able Seaman Sparrer Bird (Chris Haywood), and Sub Lt. Ted King (John Waters) - are dispatched by submarine in canoes near an island settled by the Chinese but occupied by the Imperial Japanese Army. Their objective is to locate the wreckage of a downed Allied plane and find the survivors before silently slipping out unseen. But the mission is complicated when Veitch becomes separated from the group following a contact with enemy troops, and falls for beautiful Chinese girl Chien Hua (Sylvia Chang). In addition, the Japanese soldiers begin to close in as the Z Men endeavour to complete their assignment and make their escape.
The screenplay by veteran TV writer Roger Marshall (
The Professionals
,
Lovejoy
) is based on a real-life WWII mission known as Project Opossum, though any statements of this ilk must be taken with a grain of salt since a degree of artistic license is always taken. The big drawback of
Attack Force Z
is its narrative, which is markedly banal and uninvolving. Pacing is uneven and storytelling is slipshod, which makes it tough to follow the proceedings, let alone get invested in them. In addition, there is no time to develop the soldiers prior to their mission, and though they look distinct enough to be told apart, names never stick as a consequence. Meanwhile, the love story between Veitch and Chien is dead weight, pure and simple, and appears to have been included in an attempt to widen the picture's appeal. But is this sort of thing
really
necessary in a violent war film? And it almost goes without saying, but
Attack Force Z
is painfully one-dimensional as well - the Z Men are all tough and heroic; the Chinese are brave and spiritual; and the Japanese soldiers are outright
evil
.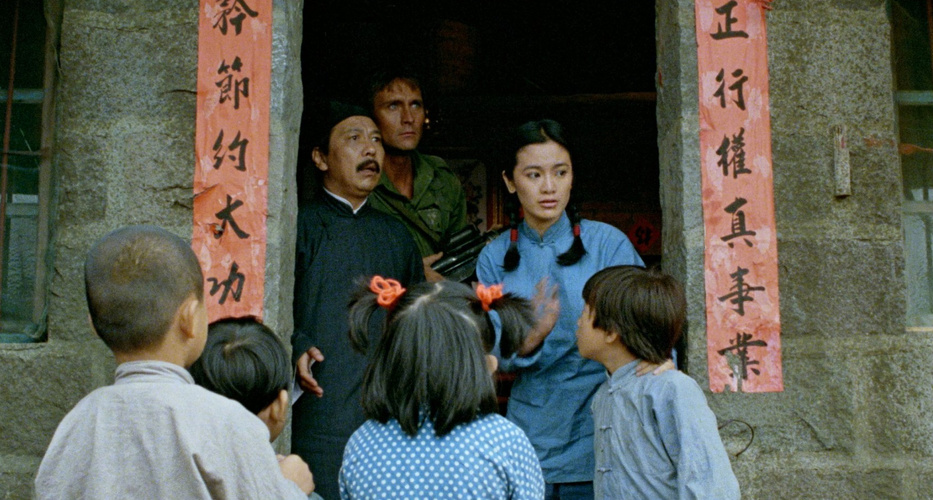 To Burstall's credit, the opening action sequence is assembled with genuine skill, observing the unit as they stealthily move through the jungle before being attacked by a hidden machine gun nest. However, the remainder of the flick is more comfortable with a cheesy Ozploitation vibe, closer to a Chuck Norris flick than a serious war picture. Nevertheless, when Attack Force Z is locked in action mode, it definitely has its pleasures, and there's a certain charm to seeing this type of visceral old-fashioned filmmaking with blood squibs and blank-firing weapons, and no computer-generated imagery to be seen. Considering that Burstall was a last-minute replacement after the firing of original director Phillip Noyce, and had not previously helmed an action-based movie, he acquits himself admirably. The climax is especially fun, pitting the Japanese soldiers against both the Z Men and the Chinese resistance fighters. It's all handsomely shot by veteran cinematographer Hung-Chung Lin on location in Taiwan, and there's sufficient punch to the editing by David Stiven (Mad Max 2) during the shootouts, though the accompanying score by Eric Jupp is overzealous and chintzy.
Ultimately, outside of its established cult audience from the VHS era, Attack Force Z will only be remembered for the presence of Gibson and Neill. Gibson was still starting out as an actor at this point in his career, and he looks extraordinarily youthful here. His performance is nothing to write home about, but nor is he dreadful. Neill is also acceptable without being outstanding, and it's commendable that not all of the central characters make it out alive, which reinforces the harshness of war. On that note, there is a palpable anti-war message to the material, but it's not as effective as it might have been in defter hands - perhaps Noyce had a stronger vision for the project. Although Attack Force Z comes to life in fits and starts, particularly during the impactful action sequences, it's too hit-and-miss, even given its brisk 93-minute runtime. The same producers went on to make another film about the Z Special Unit in 1983 entitled The Highest Honor, which has since fallen into obscurity.
6.2/10