2017's
Annabelle: Creation
is a prequel
to a prequel
that wasn't any good in the first place, and the very idea of this particular movie seems like the worst kind of
Saw
or
Paranormal Activity
-esque money-grab, with Warner Bros. trying to build their own
Conjuring
cinematic universe. And yet, in spite of all the baggage,
Creation
is a damn good little horror movie, exceeding all reasonable expectations. The ace in the hole here is director David F. Sandberg, late of 2016's
Lights Out
, who again demonstrates his deft hand with spine-tingling horror, guiding the movie above the ordinary. Indeed, even though
Creation
was penned by returning scribe Gary Dauberman, it's Sandberg's compelling direction, smooth pacing, and hair-raising use of sound and imagery which catapults this one to unexpected success. It's worth watching, especially given that decent modern horror flicks are so few and far between.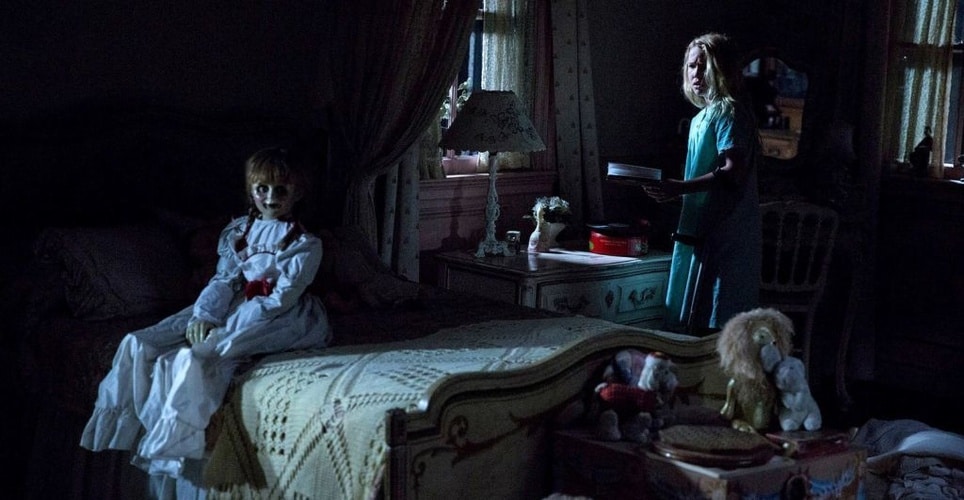 Twelve years after toymaker Samuel (Anthony LaPaglia) and his wife Esther Mullins (Miranda Otto) lose their daughter Bee (Samara Lee) in a tragic car accident, the grieving parents choose to provide shelter for a group of young, orphaned girls. Overseen by Sister Charlotte (Stephanie Sigman), the girls quickly take to the sizeable farmhouse property, playing games and enjoying the outdoors. The youngest of the children, Linda (Lulu Wilson) and the polio-stricken Janice (Talitha Bateman), mostly stick together, praying that they will someday be adopted by a good family together. Bee's bedroom is off-limits and remains locked at all times, but Janice simply can't help herself one night when she finds a key that opens the door. However, Janice's actions unwittingly release something evil living within one of Samuel's dolls, and the occupants of the house are subsequently terrorised by dark forces, plunging them all into a sinister nightmare.
Although the first
Annabelle
was intended to reveal the origins of the creepy doll seen in 2013's
The Conjuring
,
Creation
goes back in time even further, showing how it was manufactured and how a demonic spirit came to possess it. And to the credit of screenwriter Dauberman, the concept makes sense and the narrative manages to neatly tie into its 2014 predecessor, for better or for worse. It's a standard set-up filled with genre clichés, to be sure, and it mostly amounts to an excuse for a string of scary set-pieces, but the execution is a cut above the norm. After all, if any of the characters do silly things, it's easier to overlook it and forgive them because
they're just kids
. But above all, Dauberman and Sandberg evidently understand that the purpose of this type of movie is to cram as many taut set-pieces as possible into the 110-minute runtime while ensuring that the primary characters are compelling enough for us to care about, even if they're not fully three-dimensional. Sandberg
really
milks all the scary stuff for all that it's worth, and there are even some commendably unexpected plot turns. However, there
is
a clumsy-as-hell scene to tease the next
Conjuring
spin-off,
The Nun
, which feels awkwardly shoehorned-in. (It's actually surprising that Warner Bros. didn't choose to retroactively connect
Lights Out
to the
Conjuring
universe, really.)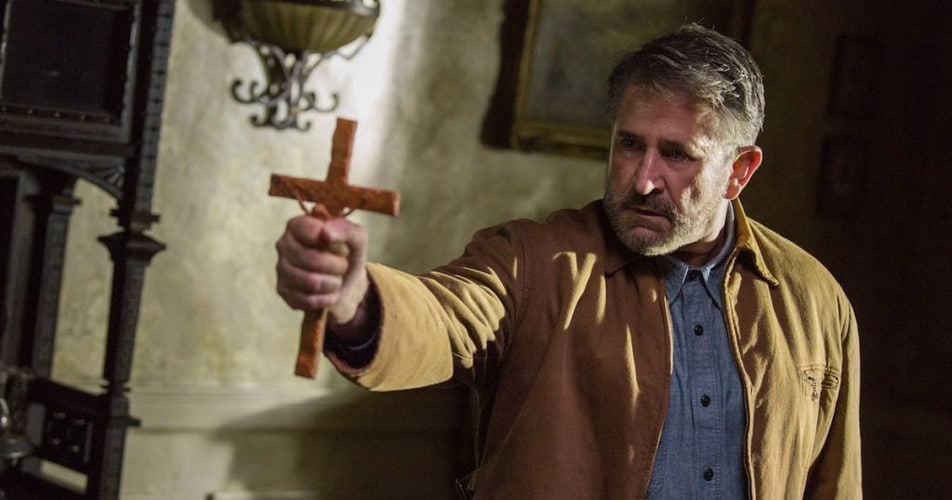 Sandberg established his strong horror credentials with the bone-chilling Lights Out, which was actually produced by The Conjuring architect James Wan. It's easy to see why Wan and the studio felt comfortable handing Creation to the newcomer, who's a wise replacement for Annabelle helmer John R. Leonetti. Without the burden of any PG-13 constraints, Sandberg is free to use all the tools at his disposal to create an unnerving and sinister movie, and he doesn't use the R rating as an excuse to go all-out with mindless gore. The director makes wise use of every square inch of the Mullins' vast farmhouse, where evil can strike from above or below at any given time, and even the most predictable of moments (of course Janice's stair lift will malfunction at the most inopportune time) are still effective and riveting. All hell breaks loose in the final act, but Sandberg can still build dread with stillness, initially taking things slowly - the mere presence of the Annabelle doll in the background, or the littlest sound effect is enough to send chills down your spine. Creation may have jump scares, but it's not entirely built around them, making the picture feel old-fashioned in all the right ways, even though Sandberg doesn't exactly colour outside the lines. Less successful, however, are certain digitally-enhanced moments which are too obvious and phoney, but at least these scenes are few and far between. With Sandberg reportedly set to helm the DC movie Shazam that Warner Bros. still claims to be making, let's hope that he still has a few more solid horrors up his sleeve for the future.
Backed by a modest $15 million budget,
Annabelle: Creation
is slick and stylish, with its 1950s setting adding to the creepiness of the material. Sandberg and director of photography Maxime Alexandre (
The Hills Have Eyes
) eschew needless shaky-cam, relying on a routine of dynamic but smooth handheld compositions to heighten the sense of immediacy. Further chills are provided by the hair-raising original score courtesy of Benjamin Wallfisch (
Lights Out
), which thankfully doesn't feel too overbearing. Furthermore, it's tricky to locate good child actors, but Bateman and Wilson manage to carry the story extraordinarily well, which is no small feat. Both girls are thoroughly sympathetic and exhibit terrific chemistry, making them believable as best friends. The two are also able to navigate a range of complex emotions, and, miraculously, they aren't at all grating. Also of note is Sigman, who emanates real warmth as Sister Charlotte, while LaPaglia and Otto are effective in their relatively small but nevertheless pivotal roles.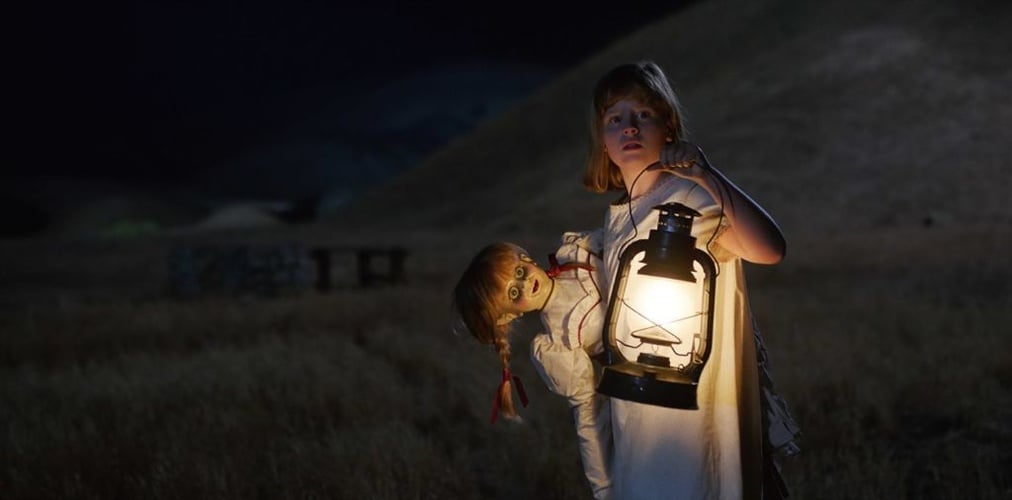 With Annabelle: Creation, there is promise that these Conjuring spin-offs will have more worth than 2014's Annabelle initially implied - in the right hands, these minor side projects can deliver the type of chilling, nail-biting horror delights that genre fans crave. In addition, with 2016's Ouija: Origin of Evil and now Annabelle: Creation, a bizarre trend seems to be appearing wherein prequels to subpar horror movies are all-round superior and more worthwhile. (Coincidentally, the movies also share young Lulu Wilson.) The movie isn't at all revolutionary, and it won't exactly get under your skin or stay with you for days after viewing, but it's competently-constructed and doesn't take its audience for fools. At least there's one Annabelle movie that approaches the quality of Wan's original Conjuring.
7.4/10