''It wasn't logic, it was love.''

A New York writer on sex and love is finally getting married to her Mr. Big. But her three best girlfriends must console her after one of them inadvertently leads Mr. Big to jilt her.
Sarah Jessica Parker
: Carrie Bradshaw
Sex and the City
was never just a sitcom only women would just care to enjoy. Consisting of wit, warmth, intelligence and superb characters.
Even now, five or four years after it stopped airing, Darren Star's HBO effort stands out as one of the network's grand accomplishments and one of the most successful television comedies of all time.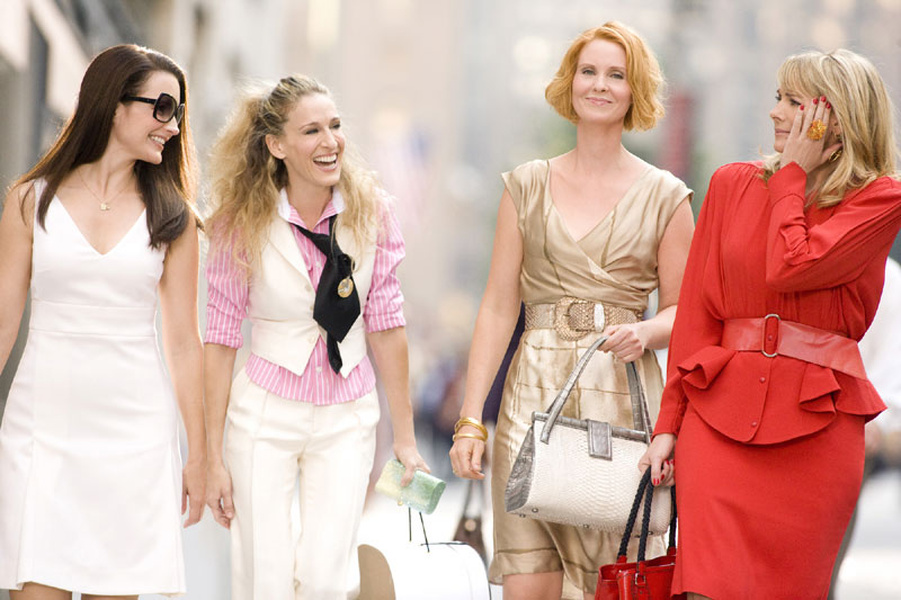 People eagerly awaited the film, and the usual verdict is only fans of the show will like it.
Well, as a fan of the series I can say that's not actually true by comedy standards,
Sex and the City: The Movie
is amazing.
The movie effort is written and directed by Michael Patrick King, the best of the show's various writers, he was responsible for the final episode etc...
The series memorably ended with all four of the female protagonists obtaining a hard-earned happy ending, and that's exactly how we meet them again, four years later: Carrie (Sarah Jessica Parker) has two books, much like Candace Bushnell, whose newspaper articles inspired the program in the first place, is working on a third and is still happily involved with Mr. Big (Chris Noth), Miranda (Cynthia Nixon) is still married to Steve (David Eigenberg) and divides her days between the job and taking care of their son, Brady; Charlotte (Kristin Davis) and Harry (Evan Handler) have adopted a Chinese girl named Lily, and former man-eater Samantha (Kim Cattrall) enjoys life in L.A. with her young client/lover
'Smith'
Jerrod (Jason Lewis), though she can't resist the temptation to fly to New York and catch up with her dearest friends as soon as possible. In short, it's all going perfect, but disaster is never to far round the corner, to spice up proceedings.
''That's why you need a diamond... to seal the deal.''

It all goes slightly pear shaped when Carrie and Big decide to get wed.
Although there is fiery enthusiasm, the wedding turns into a mess, leaving Carrie heartbroken and her friends with no choice but to wonder whether their happiness will last indefinitely. Predictably, this leads to more twists, turns and complications.
Miranda dumps Steve because he cheated on her.
Samantha, pushing 50 and missing her old life, starts watching her next-door neighbour.
Charlotte is actually the only one in the movie who never comes close to losing anything.
Story-wise,
SATC
is in some ways a tribute of the best moments of the series.
Most of the main characters are involved in dilemmas and a fairy tale-like solution that looms into sight.
This tribute is reinforced by an actual montage that occurs in the film, when Carrie does a fake fashion show and wears her old clothes in front of the girls, who have to decide if they will be kept or trashed. The one outfit they all agree on keeping? The tutu Carrie wore in the series opening credits. Class.
SATC
features a few errors. Surprisingly, the running time is not the biggest.
The memorable moments overlap the weaker scenes to the point that the picture hardly ever gets tired or lose momentum. However, that doesn't mean the weak bits aren't important.
''And we were dressed from head to toe in love... the only label that never goes out of style.''

There's plenty that make proceedings memorable, the writing is crystal clear as always been when left in King's hands, Parker's performance and voice-over are still as adorable as they used to be (and her duets with Noth are among the best ever filmed for a comedy), and Cattrall and Nixon still get the best lines (amazingly, though, the steamiest sex scene in the whole film does not feature Samantha).
Plus, despite the show's trademark quick wit, two of the biggest laughs originate from a physical gag (Samantha buys a dog - a female, worth noticing - that humps everything in sight) and a bodily function joke ("Charlotte Pooped her pants"), both of which work quite well.
Overall, this movie was such a breath of fresh air for me.
Everyone knows that TV show films are often result in disaster. But
SATC
is just so lovely and indeed right on the money with successful results.
If you're a fan, you'll love it! If you're not, who cares? Go and watch it and it then may inspire you to watch the show and fall in love with it all over again.
''You brought me back to life.''

8/10