At this point in the Marvel Cinematic Universe, a certain degree of competency is expected and it seems impossible for the studio to produce an outright bad motion picture. With this in mind, although the productions can be somewhat let down by imperfections or nit-picky things, you can always rest assured that the movies are at least
good
and still stand above most other blockbusters in a given year. Therefore, while 2016's
Doctor Strange
does fall short of the brilliance of
Iron Man
and
The Avengers
, it is a competent way to establish and introduce a new comic book superhero to the ever-expanding MCU. And with its emphasis on magic and alternate dimensions, it's a refreshing change from the norm. It's just disappointing that
Doctor Strange
feels so...by-the-numbers. Oh sure, it's well-made from top to bottom and the actors are superb, but the narrative structure is pure cliché and it's produced like any other superhero blockbuster when an experimental style would be more suitable considering the source.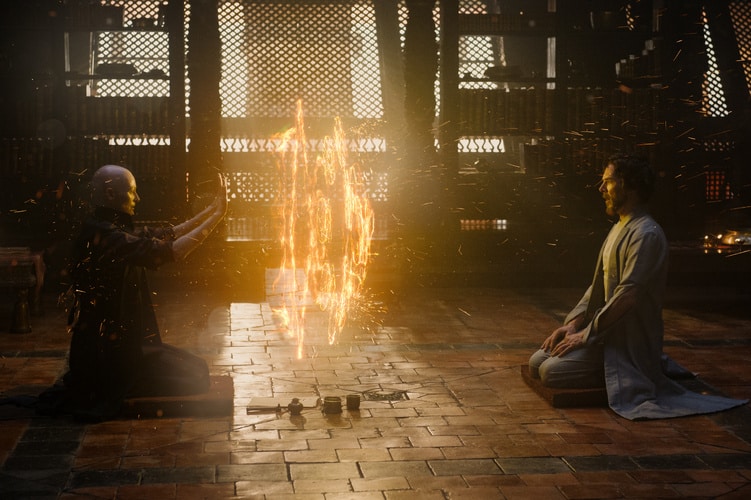 A hotshot New York-based neurosurgeon, Stephen Strange (Benedict Cumberbatch) maintains a remarkable perfect record, consistently performing miracles in operating theatres. Strange has one hell of an ego to boot, too cocky and self-absorbed to have a relationship with sweet fellow surgeon Christine (Rachel McAdams). But Strange is taught a painful lesson in humility when a horrendous car accident leaves him with severe nerve damage, rendering him no longer able to use his hands to perform surgeries. Desperate for a solution, Strange is led to Nepal in pursuit of a rumoured miracle breakthrough, finding his way to the secret compound Kamar-Taj where he meets the Ancient One (Tilda Swinton). Although Strange outright rejects the possibility of other dimensions, the Ancient One opens his eyes to the powers within him far greater than the mere physical. Accepted into the compound as a student, Strange also becomes acquainted with his mentor Mordo (Chiwetel Ejiofor) and librarian Wong (Benedict Wong). As Strange hones his skills in the Mystic Arts, former student Kaecilius (Mads Mikkelsen) goes against the Ancient One's teachings, stealing pages from a sacred text to contact Dormammu of the Dark Dimension, putting Earth in immediate peril.
Refreshingly,
Doctor Strange
actually feels closer to a standalone Phase One Marvel movie, as it's welcomely unburdened of obligatory MCU connections. Additional scenes in the credits do set up future Marvel movies, and there's a subtle reference to
Captain America: Civil War
, but that's about it, making this one ideal for more casual viewers as well as the uninitiated. Written by Jon Spaihts (
Prometheus
), C. Robert Cargill (
Sinister
), and director Scott Derrickson,
Doctor Strange
adopts the time-honoured "origins story" format that's unfortunately been done to death this century alone - it's hard to shake the feeling that you've seen this narrative before. As the movie works through its familiar origins routine, it feels like homework, as there isn't enough to sufficiently enliven the material. Especially in the shadow of
Deadpool
, this formula is all the more rote and stale. Dialogue is not exactly a strong suit either, but at least the movie is peppered with amusing moments, and the soundtrack features a couple of catchy songs.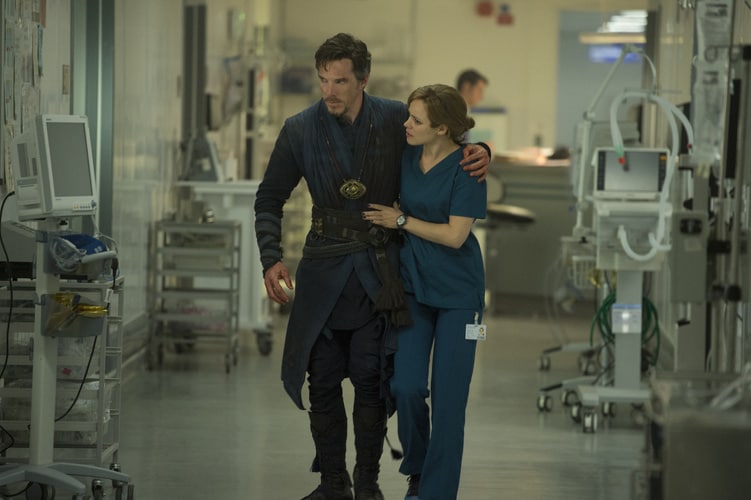 Even though Doctor Strange was advertised as a mind-bending, surreal extravaganza, it still plays out with an action/blockbuster sensibility due to the apparently unwritten rule that every superhero movie must be action-oriented. But here's the thing - trippy, psychedelic, colourful visuals are best appreciated when you can sit back, relax, soak in it, and properly take it all in. Thus, Derrickson concentrates on delivering large-scale, kinetic action set-pieces as opposed to deliberately-paced, surrealistic immersion and esoteric cerebral exploration that might have made for a more interesting movie, especially in the context of the MCU which is already in danger of feeling too "factory made." After all, Doctor Strange was presented as "the weird Marvel movie."
With that said, however, once you can accept that it kind of had to be an action movie, there is plenty to enjoy. The set-pieces are genuinely enthralling, observing these talented characters conjuring up weapons out of thin air, manipulating gravity, and even battling it out in the astral dimension.
Doctor Strange
is one of the most visually intriguing and breathtaking offerings in the MCU (next to the
Guardians of the Galaxy
pictures), and the $165 million budget is put to good use to create stunning battlefields of folding cities and brilliant displays of light, earning the visual effects team a well-deserved Oscar nomination. Commendably, the movie builds to a satisfying climax which allows Strange to use both his physical skills as well as his intellectual prowess as he endeavours to vanquish the powerful Dormammu. Horror maestro Scott Derrickson's last blockbuster attempt was the 2008 underperformer
The Day the Earth Stood Still
, and luckily he shows much better command of the material here.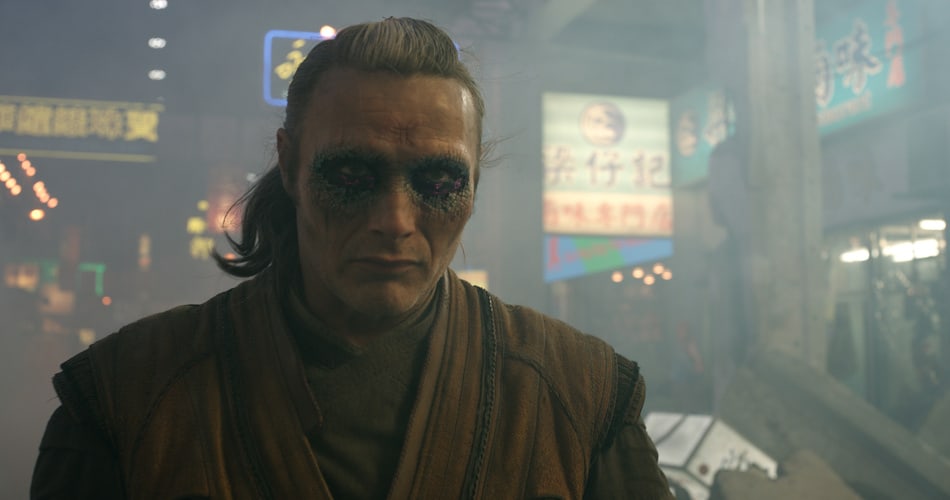 Espousing a convincing enough American accent, Cumberbatch is ideal in the role of Stephen Strange, suiting the character to a tee. He convincingly conveys the various aspects of Strange - from his self-inflated cockiness to his psychological breakdown and subsequent rebuilding, Cumberbatch never sets a wrong foot. Alongside him, Ejiofor is instantly likeable, while Wong is a downright standout. Swinton chose to portray the Ancient One as androgynous, and she easily impresses in the role, while McAdams is her usual appealing self. Showing up as the primary villain is Mikkelsen, an immensely talented performer who made a huge impression in the television show Hannibal, and who has also appeared in the likes of Rogue One: A Star Wars Story and The Salvation. He's reliably terrific as Kaecilius, sinister whilst simultaneously displaying his trademark charm. Also keep a lookout for action star Scott Adkins in a small role which nevertheless gives him the chance to show off his insane fighting abilities.
This review may seem overly negative in some respects, but that is certainly not my intention. For all intents and purposes, Doctor Strange is a very good, often great addition to the Marvel franchise, but its rote construction does let it down to a certain degree. Happily, however, there is still much to admire - it looks amazing, the magical powers are fascinating, and it lovingly inaugurates a new Marvel franchise that promises to be something different. With the obligatory origins story out of the way, fingers crossed that Doctor Strange 2 is an improvement - it certainly left me hungry to see a sequel. It should go without saying by now, but be sure to stick around until the end of the credits.
7.3/10