The status quo of the Marvel Cinematic Universe was blown to smithereens in 2014 by
Captain America: The Winter Soldier
, a sizzling espionage thriller which reinvented its titular superhero and took the MCU to a deeper, darker place. Thankfully, this thematic density and harder edge is preserved for 2016's
Captain America: Civil War
, which also sees the return of directorial duo Anthony and Joe Russo. As to be expected from a superhero blockbuster, it marches across the globe to provide expanse, but the stakes are entirely personal this time around, which is a refreshing change in such a crowded subgenre. In addition,
Civil War
is a more fitting thematic follow-up to 2012's
The Avengers
than its own underwhelming sequel, as this is as strongly a movie about a team falling apart as the first
Avengers
was about a team coming together. While it's removed from the playful jubilance of prior Marvel entries,
Civil War
still delivers bruising action set-pieces as it works through an intricate narrative, and the Russo Brothers confidently maintain control of the picture from start to finish.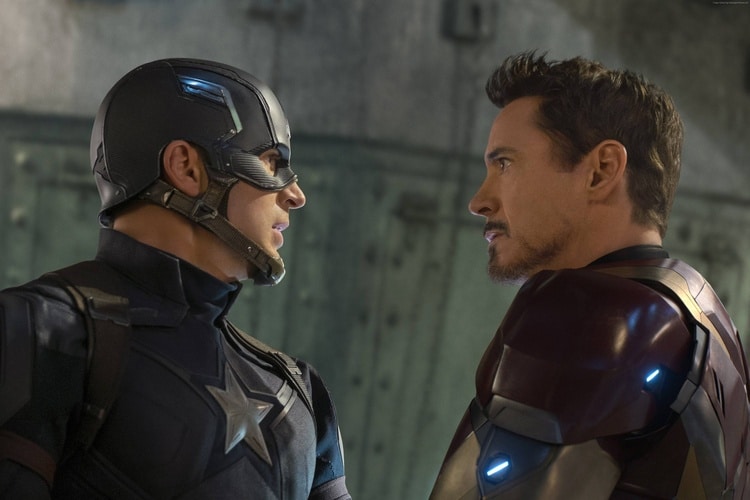 When a skirmish in Lagos against bioterrorists ends in innocent deaths, the Avengers suddenly find themselves under increased scrutiny by the United Nations. Enter U.S. Secretary of State Thaddeus Ross (William Hurt), who proposes a legal document known as the Sokovia Accords, which would require the Avengers to seek approval from a designated U.N. panel before engaging in battles that could jeopardise innocent lives. Billionaire industrialist Tony Stark/Iron Man (Robert Downey Jr.) finds himself in favour of the legislation due to the guilt he feels over both creating Ultron and devastating Sokovia, while Steve Rogers/Captain America (Chris Evans) resolutely opposes it, believing that bureaucratic control will hinder their duties and ultimately cost more lives in the long run. As a result, the Avengers are split right down the middle. In the midst of this, Rogers realises that his old friend Bucky Barnes, a.k.a. The Winter Soldier (Sebastian Stan) is being used as a patsy for global unrest, held responsible for the death of Wakandan King T'Chaka (John Kani). Convinced that Bucky is innocent and something more sinister is afoot, Rogers goes rogue to hunt for the real culprit, while the manipulative, vengeance-hungry Helmut Zemo (Daniel Brühl) methodically lurks in the wings.
Once again written by the pair of Christopher Markus and Stephen McFeely (who scripted both
Captain America: The First Avenger
and
The Winter Soldier
),
Civil War
is based on the seven-issue limited series of the same name by Mark Millar, and in many ways it represents the next logical step in the ever-expanding Marvel Cinematic Universe. The cost of collateral damage is not normally addressed in superhero stories, and it's fertile ground for exploration, presenting a different perspective to previous battles. Of course, it ostensibly seems as if Russo Brothers chose to deliver
The Avengers 2.5
at the expense of a more focused
Captain America
story, but we actually get both.
Civil War
is a Captain America story first and foremost, as it delves further into his troubled character and largely concentrates on Rogers, but because Cap resides at Avengers headquarters and his social circle is almost exclusively compromised of the other superheroes, the movie can't help but feel like an
Avengers
sequel. It's also a creative way to eliminate the question of "Where are the other Avengers?" which lingers throughout other solo adventures like
Iron Man 3
and
Thor: The Dark World
. (However, the glaring absence of Chris Hemsworth as Thor is baffling, though the Hulk's absence is understandable given the events of
Avengers: Age of Ultron
.)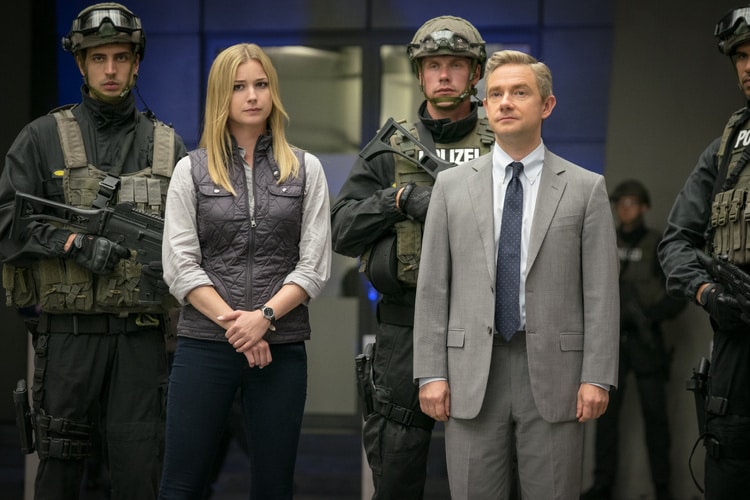 Prior to directing The Winter Soldier, the Russo Brothers had predominantly dabbled in comedy and television, but now they've become the go-to guys for superhero extravaganzas. Civil War is a full meal, spending nearly 150 minutes working through its complex themes and narrative machinations, but it never feels strained or messy. Furthermore, just as The Winter Soldier was a more serious affair, Civil War likewise dials back the humour, a wise move after the forced, inorganic comedy which plagued Avengers: Age of Ultron. Nevertheless, laughs do permeate the movie, adding plenty of unforced levity, avoiding the dismal gloominess of Batman vs. Superman: Dawn of Justice. As to be expected, fight choreography remains top-notch - the close combat throwdowns are tight and brutal, and the characters bleed and bruise. The well-publicised battle royal at the airport, meanwhile, is a standout in the grand scheme of the MCU. Much has been said about the airport showdown, and you can believe the hype - it is thoroughly awesome in every sense of the word, observing the skilled and ornate heroes unloading on each other with their unique gifts. Furthermore, thanks to smooth cinematography and astute editing, it's always easy to follow and enjoy all of the action scenes, which are coherent and thrilling. Plus, digital effects are consistently convincing, as to be expected from a movie with this price-tag. From a visual standpoint, it's hard to fault Civil War.
Commendably, after the standout airport skirmish, the Russos dial things back a touch for the climax, which is more intimate and understated, and more rewarding as a result. It's explosive and gripping, to be sure, but it's a far cry from the scope of something like the New York City showdown in
The Avengers
. Incredibly, once the driving force behind the superhero civil war is identified and the motivation for the action scenes has ceased, the fighting continues because the dark secrets, deep-seated character flaws and furious emotional pain involved in this story have transcended the plot mechanics which brought them to the surface in the first place. While it's a given that more cynical, smug viewers will downplay the tremendous achievements of
Civil War
since it's "just another Marvel/Disney movie," the picture works as well as it does largely because Marvel has spent so many movies introducing these characters and establishing the world for this narrative to inhabit. To be sure, the screenplay isn't airtight; the villain's plan does rely on accurately predicting the behaviours of the Avengers and government with little margin for error, which is certainly ridiculous in hindsight. But then again, this is the fantastical MCU, and this nit-pick may be fixed with a retcon in a future movie.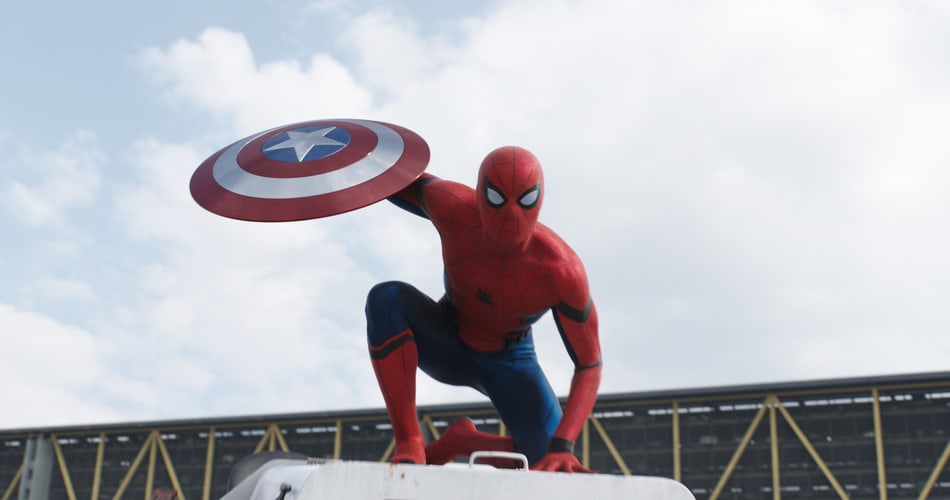 Despite being Captain America 3, this particular Marvel adventure also introduces Peter Parker/Spider-Man (Tom Holland) and T'Challa/Black Panther (Chadwick Boseman), and both are permitted more than just a cameo. Miraculously, the script manages to handle both subplots without detracting from the central narrative, in the process negating the necessity for either hero to be subjected to a generic origins movie. (Seriously, the story you would expect to see in an introductory Black Panther movie is told in the background here.) This is the third cinematic Peter Parker in just fifteen years - after the dismal failure of the Amazing Spider-Man reboot series, Sony agreed to a rights-sharing situation to allow Spider-Man to join the MCU. Holland instantly makes an enormously positive impression in the role, right down to an authentic-sounding Queens accent, making the character feel truly alive for the first time in years. It also helps that this is the first Peter Parker to actually look like a teenager.
Speaking of the heroes, a huge cast comes out to play in this instalment (and it's set to increase again in
Avengers: Infinity War
). Remarkably, just about everyone gets a chance to shine here, though Rogers does undeniably remain the protagonist. Evans carries a lot on his shoulders, but manages to pull it off with ease and make us still care about him. Moreover, you can understand his perspective, as well as his frustration with the bureaucrats. Rogers and Stark have always had a humorously antagonistic relationship, as Cap's patriotism and purity clashed with Iron Man's conceited vulgarity, but it's something else to see the two truly at odds with one another. Downey Jr. is oddly serious and sombre in the role this time around, due to his change in character, which may require a period of adjustment. Still, the much-loved Marvel luminary has a real talent for witty one-liners, of which he delivers a fair few, and he handles the dramatic material without missing a beat. As Bucky, Stan is given a beefier role than ever, and he's one of the movie's secret weapons. Meanwhile, the other members of the Avengers - Scarlet Johansson, Don Cheadle, Elizabeth Olsen, Anthony Mackie, Paul Bettany and Jeremy Renner - hit their marks as expected, and it's a treat to see Paul Rudd return to the fray again so soon as the wise-cracking Scott Lang/Ant-Man. Elsewhere in the cast, this is the first time that Hurt has appeared in the MCU since 2008's
The Incredible Hulk
, and it's a nice touch to bring him back. Martin Freeman (
The Hobbit
,
Sherlock
) even shows up in a minor role.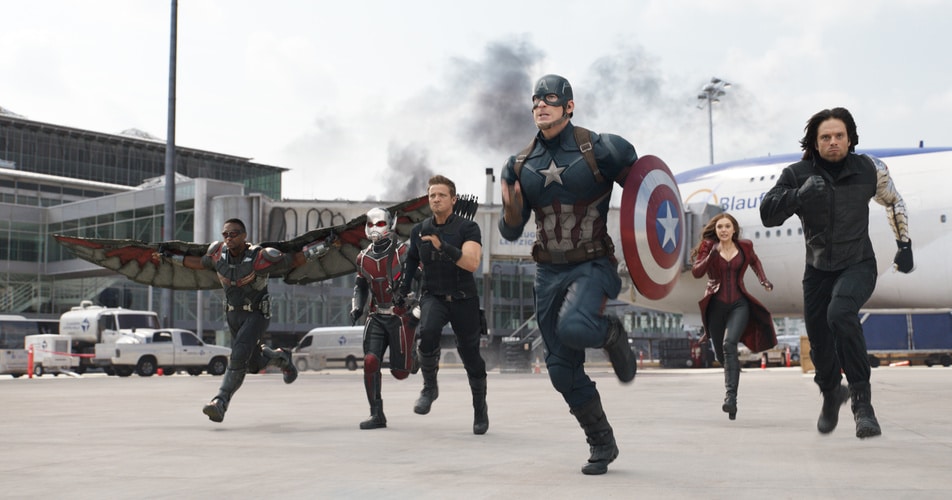 It's often said that Marvel has little in the way of memorable villains, but that changes with Brühl as Helmut Zemo. He isn't a flashy bad guy by any means, but he's possibly the best antagonist in the MCU to date directly because of how low-key he is. His motivations are wholly understandable, and he manages to do a lot of damage without the need for super powers. Brühl is quietly chilling in the role, but he's also not out-and-out evil.
All things considered, Captain America: Civil War is the best Marvel production in some time, making up for the studio's weak 2015 output. Even though it covers a daunting amount which causes it to feel a bit leaden at times, it nevertheless doesn't feel too overstuffed. Under the careful eye of the Russo Brothers, Civil War is thrilling and consistently engaging, belying its origins as a comic book superhero film. And when the dust settles, what really sticks around and satisfies is the emotion-driven character work that the action scenes ultimately exist to facilitate and underline. Plus, even though this is a gloomy tale, it ends on a note of optimism which will ultimately lead into the next Avengers. It's also encouraging that Marvel has finally nailed a trilogy. As usual, be sure to stay tuned for both a mid-credits and a post-credits scene.
8.7/10