A quasi-remake of
King Kong
, 2017's
Kong: Skull Island
is a mightily entertaining B-movie in every sense of the word, and it represents the second instalment in Legendary Entertainment's interconnected "MonsterVerse" franchise, following 2014's
Godzilla
. Whereas Peter Jackson's 2005 reimagining of
King Kong
augmented its spectacle with emotion and themes,
Skull Island
is all about rampaging monsters, but it's nice to see a blockbuster of this ilk made by a team of filmmakers who care about their craft and know how to create thrilling action sequences. There are no pretensions here - this is just a fun, well-made monster yarn which miraculously doesn't require a lobotomy prior to viewing.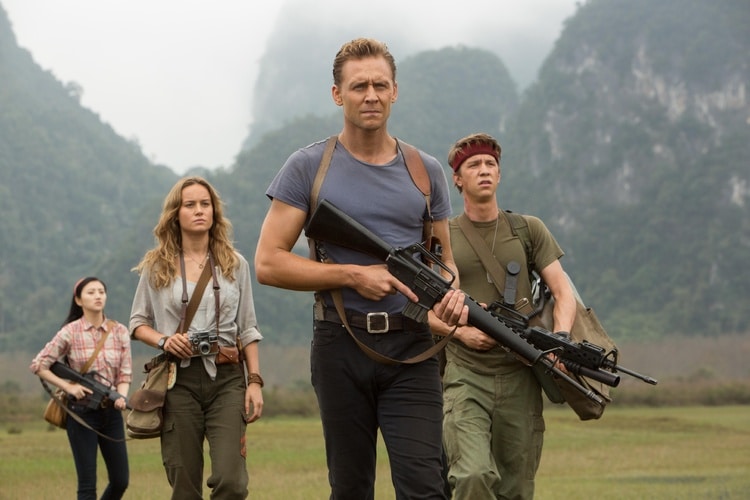 In the waning days of the Vietnam War, senior Monarch employee Bill Randa (John Goodman) convinces the United States government to sanction an expedition to an uncharted land mass in the South Pacific known as Skull Island. For the trip, Randa and his scientist partner (Corey Hawkins) recruit British Special Air Services Captain James Conrad (Tom Hiddleston) and photojournalist Mason Weaver (Brie Larson) to join the team, which is escorted and guarded by a military envoy out of Vietnam headed by Lt. Col. Packard (Samuel L. Jackson). Taking to the skies of Skull Island to bomb the landscape in order to draw out any wildlife, Packard's team unwittingly disturbs the natural order of things, which enrages monster ape Kong. Attacking the squad of choppers, Kong makes a mess out of the soldiers, separating the survivors into groups scattered all over the island, who have just two days to make their way to the rendezvous point. But the humans quickly find that the island is populated by other creatures even more menacing than Kong, especially the carnivorous "Skullcrawlers" who consume everything in sight. Amid the chaos, they encounter Marlow (John C. Reilly), an American soldier stranded during WWII who hopes that he finally has a chance to get home.
With a script credited to three writers (from a story by John Gatins),
Kong: Skull Island
more or less plays out like the first two acts of any other
King Kong
movie, minus the capture of the titular ape and New York finale. It's a welcomely refreshing way to reintroduce the gigantic simian yet again, finding director Jordan Vogt-Roberts (
The Kings of Summer
) plotting out his own fresh vision which takes inspiration from
Apocalypse Now
and
Jurassic Park
, with a fun reference to
Cannibal Holocaust
to boot. Set-up and exposition is efficient, doing just enough to explain the mission and introduce the characters before reaching the island and giving over to a fast-paced succession of action set-pieces. Subplots do appear, but Packard's yearning for revenge against Kong is perhaps the most prominent - he takes Kong's initial attack personally, becoming very reminiscent of Captain Ahab. As previously stated, there isn't much in the way of emotion throughout
Kong: Skull Island
- it doesn't even try to dabble in the science-gone-wrong themes of
Jurassic Park
- but it all comes together well enough nonetheless. The script even serves up a smattering of gallows humour to add some levity to the sometimes unnerving violence.
It would appear that Legendary learned from 2014's Godzilla, which was criticised by fans due to its lack of action and shortage of Godzilla screen-time. Hence, Vogt-Roberts doesn't waste much time introducing the great ape - Kong is briefly glimpsed in an effective prologue establishing Marlow's residency on the island, but he really joins the fray at the half-hour mark as he viciously takes down Packard's choppers, killing dozens of soldiers. From there, monster throwdowns are prolonged and frequent, spotlighting the titular beast as he battles the island's perilous wildlife of all shapes and sizes. Whereas Michael Bay repeatedly ruins each Transformers movie with a routine of rapid-fire cutting and shaky-cam, Vogt-Roberts and cinematographer Larry Fong ensure that the carnage is always fun to watch and easy to comprehend, relying on smooth wide shots. Vogt-Roberts endows the combat with fun little quirks, too, adding personality to what could have been just another drab, generic blockbuster in less skilful hands. However, the movie does go a bit too far with a 300-inspired slow motion shot of Conrad slicing prehistoric birds in mid-air which just comes off as hoary, unnecessary and self-indulgent.
Skull Island'
s unique version of Kong stands approximately 100ft tall and is more human in his movements, never hunching over on all fours like a primate. As to be expected from a generously-budgeted studio blockbuster, the digital effects consistently impress in their fluidity and detail, and Kong is insanely expressive and nuanced thanks to always-improving motion capture techniques. However, the CGI is knowingly artificial as well, which is more noticeable because the movie was shot digitally, taking away any sense of tangibility. It has to be said that there was a bit more charm to similar monster movies of yesteryear, which were shot on good old-fashioned celluloid and used men in dumpy rubber suits to play monsters on miniature sets. Still,
Kong: Skull Island
gets more right than wrong, and Fong makes fantastic use of the truly breathtaking locations in Vietnam, Hawaii and Australia. For a monster movie, there's genuine cinematic artistry throughout, and it's brilliantly accompanied by a soundtrack of classic rock tunes from the Vietnam era - the playlist includes tunes from Creedence Clearwater Revival, David Bowie and Jefferson Airplane (just to name a few), adding further flavour to the material.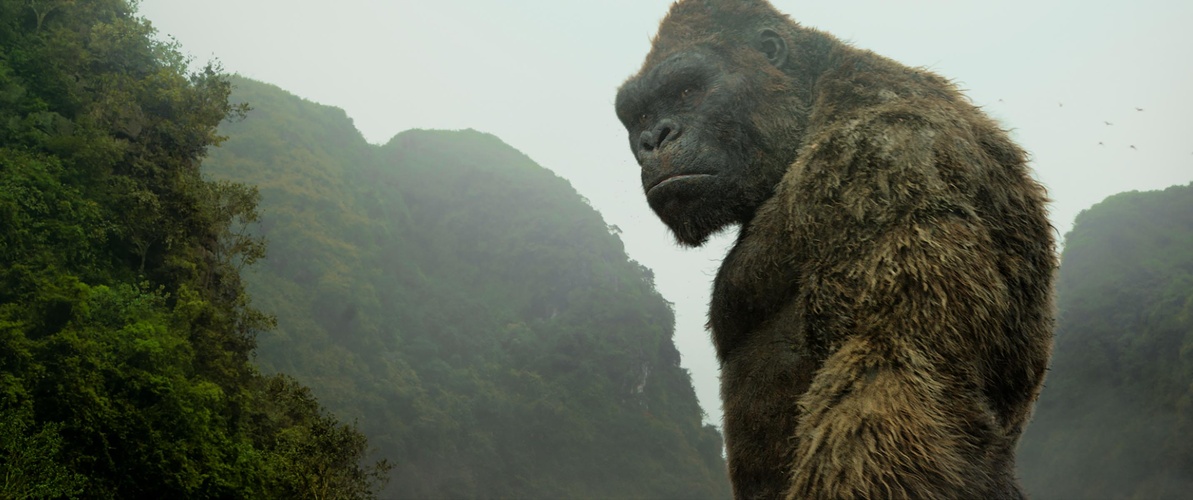 As perhaps to be expected, the acting is effective but unremarkable for the most part, though at least nobody disgraces themselves. Hiddleston is a very good actor and he acquits himself well enough, but he's certainly not believable as a badass special forces type. Jackson, however, can do this type of hard-nosed military leader routine in his sleep, and he's a real asset, while Larson is simply lovely as the token female character who seems to intrigue Kong. But it's Reilly who really steals the show; he actually has a proper character to play, and it's easier to instantly latch onto him compared to the rest of the ensemble. Reilly is his usual goofy self, but there's a hint of poignancy here too, giving the movie its only real traces of humanity. The rest of the actors do what they can with their underwritten roles, particularly Shea Wingam who makes a good impression as a seasoned soldier, but the movie basically belongs to Kong and John C. Reilly.
Kong: Skull Island is a bit silly and it likely won't resonant with many viewers on a profound level, but it's slickly-made and it doesn't outright insult anybody's intelligence, nor does it feel overlong, which confidently places it above other contemporary blockbusters. Quite simply, it delivers the goods, and it's a total blast if you're in the mood for some well-paced big-screen escapism. Also, be sure to stay tuned for a touching additional sequence during the credits and a Marvel-style post-credits scene which sets up further connections to Godzilla and teases what's to come in the future of the MonsterVerse.
7.8/10