''Amélie has a strange feeling of absolute harmony. It's a perfect moment. A soft light, a scent in the air, the quiet murmur of the city. A surge of love, an urge to help mankind overcomes her.''

One person can change your life forever. Amélie is one of these people, and this is her story...
Audrey Tautou
: Amélie Poulain
Amélie
is the best French film since
Love me if you Dare
that I have ever had the pleasure of watching.
Artistic, imaginative, visual and extremely clever are but a few ways to describe
Amélie
.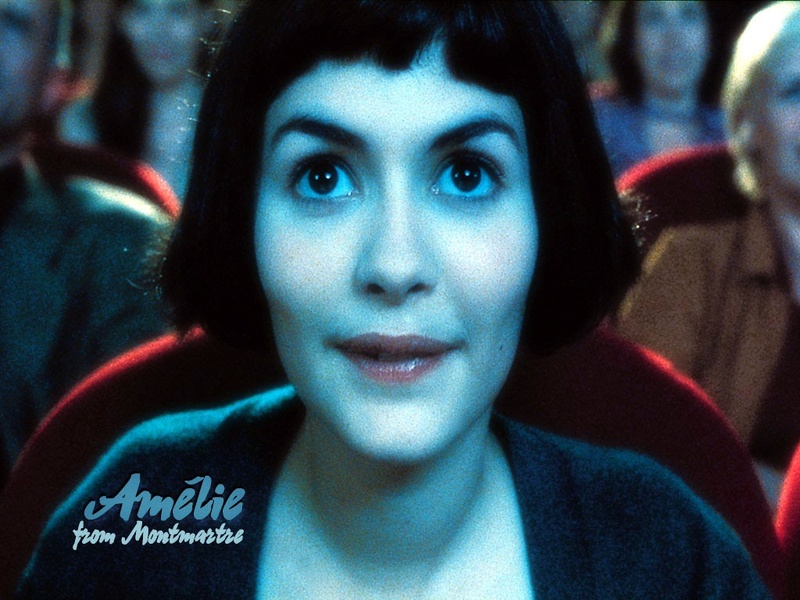 So what's is
Amélie
? What is it about I hear you cry?!
Well the answer is simple, it's the gorgeous tale of Amélie Poulain and her dreamy wondrous life. I could certainly relate to her magical, colourful imagination.
Audrey Tautou as Amélie makes the role her own while film maker Jean-Pierre Jeunet hits the nail on the head spinning and weaving one of the best films to come from France I've ever had to have the luxury of seeing and beholding.
I mean the music blends with the colourful imagery much like Amélie's old friend Raymond's artwork. Which brings me to the characters in the film wonderfully fleshed out while we are treated also to some breath taking sequences.
As a director, Jean-Pierre Jeunet has a unique perspective. He seems to make great use of colour, some would assume then to be unnecessary extremes, but for myself it gives
Amélie
a glossy visual look, whatever the weather's like in the film.
Also he tends to to zoom about with his cameras but again this adds to the way the film sucks you into its own little bizarre world, just as Amelie draws Nico into her heart without them actually meeting.
A few nice special effects polish it off, and there are a few little details that you probably won't see the first couple of times.
It's hard to translate into words how much I loved Amélie .
Like being next to a Monet, or a Da Vinci, watching as he effortlessly splashes vibrant colours and shades across his canvas.
I had this strange but fantastic feeling of being inside the mind of Amélie, seeing so much in the dazzling imagination she viewed life with, and wanting to stay with her much longer than the two hour duration of
Amélie
.
It was just so refreshing to watch a movie where your fantasy realms are realized in fantastic detail.
Amélie
is simply a story of imagination, of love, of dreams, of life.
What other movie offers a gnome on holiday, a photo booth mystery, a bizarre childhood, a clever trail to reclaim an album...none I tell you! This
Amélie
truly is a masterpiece and I cannot stress it enough.
And what's most wonderful of all, I'm still smiling from the experience.
''Without you, today's emotions would be the scurf of yesterday's.''
10/10