"I got no idea how you piss guys like that off..."
Mel Gibson's first star vehicle since the insanely underrated Get the Gringo all the way back in 2012, Blood Father is far more than just another subpar straight-to-video action flick. Adapted from the novel of the same name by Peter Craig (who co-wrote the screenplay with Andrea Berloff), this is a hard-edged thriller more concerned with characters than action, finding a solid emotional core which elevates the material far above more disposable B-grade trash starring the likes of Steven Seagal. It's a shame that some will most likely either underrate or simply ignore Blood Father on account of Gibson's presence, as such punters will be missing out on one hell of a gratifying movie, one of 2016's best. It's certainly better than most other aging-star action flicks like The Gunman, 3 Days to Kill and the Taken trilogy.
Out of prison on parole, John Link (Gibson) maintains a tattoo business out of his dingy trailer in remote California as he works through his addictions in a twelve-step program, supported by sponsor Kirby (William H. Macy). Out of the blue, Link's 17-year-old runaway daughter Lydia (Erin Moriarty) contacts him for help after she shoots her drug-dealing boyfriend Jonah (Diego Luna) during a botched armed heist. Lydia is desperate for money to allow her to disappear, but Link demands that she stay with him at least for a little while, as he hopes to reconnect with his estranged child and eliminate her drug habit. Before long, the Mexican drug cartels catch up with Lydia, but Link is not about to give his daughter over to them. Breaking parole, Link goes on the run with his child, determined to protect Lydia at any cost as armed thugs relentlessly pursue them.
The father-daughter dynamic between Link and his daughter is unexpectedly respectful and free of hoary genre clichés. Lydia does not hate her father even despite his criminal history, and the film refuses to adopt the predictable "you sucked as a father" trope that's been done to death, which is certainly refreshing. Lydia is also wholly aware of the trouble that she's bringing to the broken, desperate Link, and she only wants to leave as soon as possible to avoid dragging him into the whole affair. However, Link is willing to take a bullet for Lydia, finding a renewed will to live when his daughter re-enters his life. Blood Father finds time for intimate character moments throughout, infusing Link and Lydia's relationship with an unexpected authenticity. If there's an issue with the movie, it's that some scenes are edited too quickly, which is most noticeably felt as the movie approaches the finish line, slightly hampering some of the more tender moments. Blood Father needed more room to breathe, and an extended edition would be enticing, especially since excised material reportedly exists (scenes featuring Lydia's mother were excised from the final cut). But this isn't nearly enough to undo the strengths of Blood Father, of which there are countless.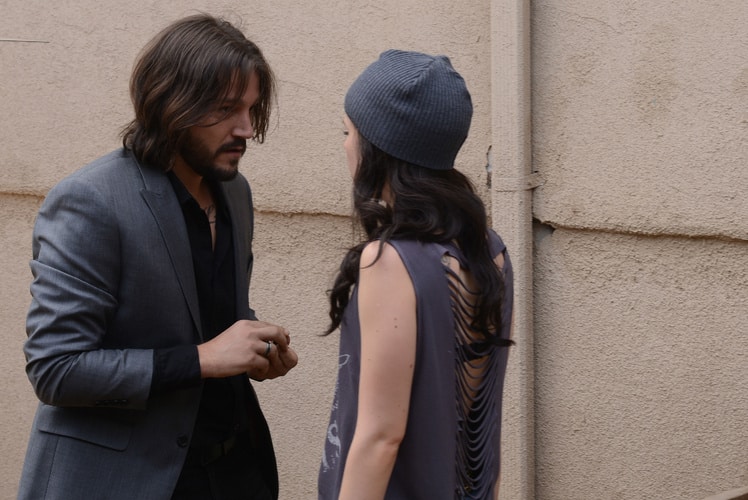 Even though it was shot in 2014 and spent over two years waiting to be released, Blood Father does not exhibit the recognisable hallmarks of a troubled post-production. On the contrary, it's astonishingly competent, thanks in large part to French director Jean-François Richet, here making his first English-language feature since the surprisingly decent 2005 remake of Assault on Precinct 13. Richet infuses Blood Father with his European sensibilities, elevating it above more standard-order American action films, making the most of the reported $15 million budget. Shot on location in New Mexico, the desert vistas are consistently stunning, while the action scenes are of a uniformly high quality. The shootouts are more realistic than the likes of Taken or John Wick, with an aesthetic closer to something like Sicario. The action sequences are loud, raw and edge-of-your-seat intense, once again showing that Gibson still has the moves for these sorts of productions. Best of all, the mayhem is smooth and easy to follow, without any shaky-cam or rapid-fire cutting. The blood is all gloriously practical, too, with squibs as opposed to phoney digital bloodshed, in keeping with the tangible aesthetic. (It appears there are also some references to Mad Max 2, which is a nice touch.)
Remarkably, Richet manages to create two fully three-dimensional characters who are easy to latch onto and empathise with, and the movie is further bolstered by fine performances across the board. This is one of the best roles for Gibson at this point in his career. He looks insanely ripped and rugged, and you can certainly believe him to be a legitimate threat. He capably sells the drama and emotion during the quieter character moments, but he's equally compelling when chaos begins to reign down. John Link is boldly introduced at an AA meeting, during which he discusses the guilt he feels about past transgressions, as well as his desire to remain on the straight and narrow, and the material is remarkably poignant coming from Gibson. It's been great to see Gibson play villainous roles in Machete Kills and The Expendables 3, but here he proves that he's still a captivating leading man who's able to carry a film. Moriarty impresses as well, never coming across as grating or irritating. And in the supporting cast, Macy is reliably charismatic as Link's best friends/sponsor, and his interactions with Gibson are just fucking magical. Also making a positive impression is Luna, recently seen in Rogue One: A Star Wars Story, while Michael Parks almost steals the show as neo-Nazi psychopath who was once Link's mentor. It's a small but effective cast, and there isn't a single dud performance in sight.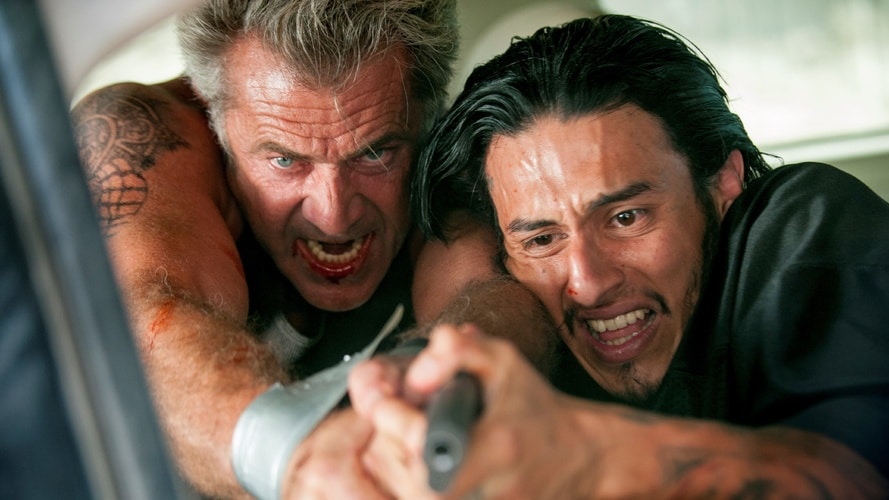 Blood Father plays out like a contemporary western which substitutes horses with motorcycles, and cowboys with bikers/thugs. Perhaps the movie's greatest achievement is the fact that it manages to deliver ample character beats to add a genuine touch of humanity without skimping on the fierce action sequences, and all within a taut 85-minute running time. The very antithesis of both Hollywood blockbusters and B-grade action movies, this feels like the type of movie we used to see in the '80s and '90s, but with a coat of contemporary polish. In a way, Blood Father also feels like a fitting swansong to Gibson's career as an action star. It's a real keeper, folks.
8.9/10