"Ed, this is as close to hell as I ever want to get."
After his ill-advised detour into blockbuster action with 2015's farcically cartoonish Furious 7, filmmaker James Wan returns to his usual stomping ground for The Conjuring 2, demonstrating yet again that his deft touch with contemporary horror is unparalleled. The follow-up to Wan's 2013 hit The Conjuring, which was one of the best horrors in some time, here we have another intricately-produced scary movie which is just as interested in character development as it is in concocting scares. Even though it's perhaps a bit too overblown for its own good (it does clock in at a hefty 130 minutes), The Conjuring 2 succeeds where it counts: it's a frightening, engaging horror backed by top-flight production values. And considering the usual standard for horror sequels, the mere fact that this follow-up isn't awful is a big deal.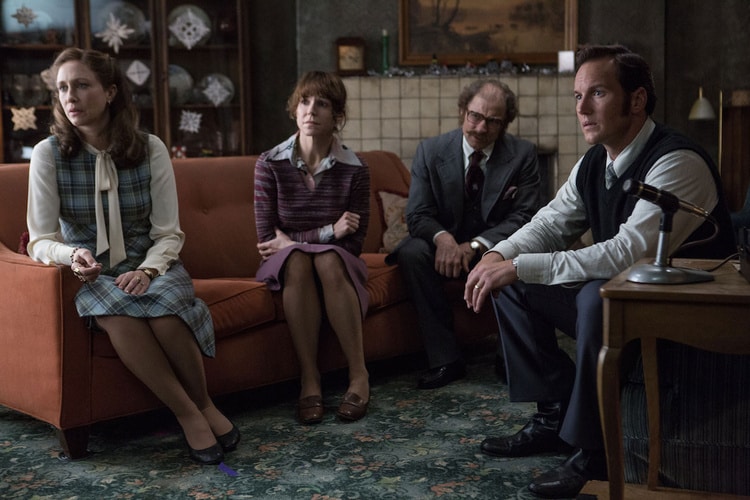 Just as the first film was based on a (supposedly) real-life case, The Conjuring 2 sets its sights on the more well-known Enfield Poltergeist haunting in London, which has already been the subject of documentaries and dramatisations. In London, pre-teen girl Janet Hodgson (Madison Wolfe) is being terrorised by the spirit of elderly man Bill Wilkins (Bob Adrian), who died in the council house some years ago and declares ownership from beyond the grave. The haunting terrifies the family, leaving single mother Peggy (Frances O'Connor) and her four children desperately seeking help. Meanwhile, paranormal investigators Ed (Patrick Wilson) and Lorraine Warren (Vera Farmiga) opt to take a sabbatical from their work after Lorraine is plagued by visions of a malevolent demon nun, and of Ed's violent death. However, the church implores the Warrens to take a look at the Enfield case for them, to determine whether or not it's a hoax.
Although The Conjuring 2 is tagged as being based on a true story, one should always take such statements with a grain of salt; the screenplay (by returning scribes Carey and Chad Hayes) is heavily fictionalised for cinematic purposes, not to mention it introduces a Catholic nun demon that's personally tied to the Warrens. For window dressing, The Conjuring 2 concerns itself with the infamous Amityville haunting in its opening moments, as Lorraine conducts a séance inside the house where Ronald DeFeo Jr. mass-murdered his family. The Amityville case has, of course, served as the basis for multiple feature films, so the sequence here is short and sweet, intended only to reintroduce the Warrens and deepen their backstory. While a full-length Wan-directed treatment of the Amityville horror would certainly be enticing, this truncated approach was perhaps the wisest in the grand scheme of things. (Another long-delayed Amityville movie is set to land in 2017.)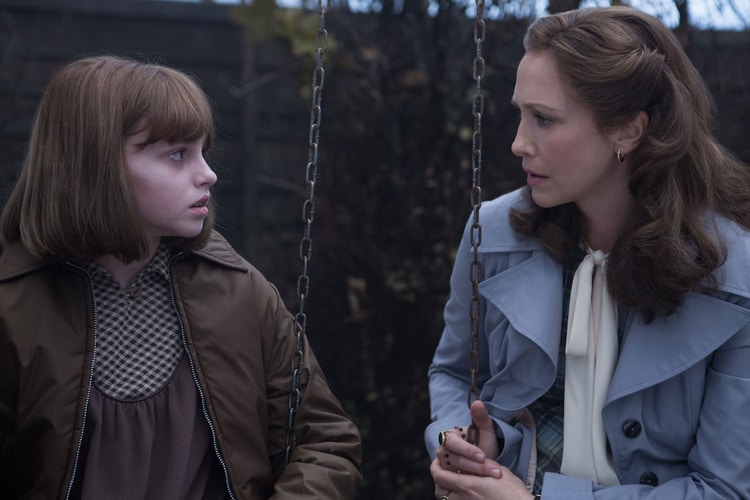 Whereas the original Conjuring was designed as a PG-13 horror movie but received an R rating from the MPAA simply because it was deemed too scary, The Conjuring 2 was built from the ground upwards as an R-rated horror, though this doesn't mean Wan revels in gory indulgence. On the contrary, the Australian horror luminary still relies on suspense and tension, but he has more freedom when creating disturbing images and loud set-pieces. Wan and cinematographer Don Burgess have their craft down to a tee - timing and camerawork are magnificent here, and the big scary sequences are genuinely unsettling, backed by a tremendously creepy score by Joseph Bishara. One particularly hair-raising scene sees Lorraine being stalked in her home by a demonic nun whose painted likeness hangs on the wall, and there's a recurring motif involving a gangly-limbed nursery rhyme figure known as The Crooked Man. Although Wan doesn't create anything comparable to the unbearably tense game of hide and seek in the first Conjuring, his efforts are consistently focused here, and it's clear he didn't simply operate on autopilot. However, the climax is undeniably overkill, with a digital demon and a fair bit of destruction that's simply not necessary in the grand scheme of things. It's not a total bust, but it's not overly scary either; it's just too big and not tight enough.
The Conjuring 2 is certainly longer than the usual horror fare at over two hours, incorporating a number of scenes that have drawn criticism, including a bizarre moment involving Ed singing Elvis Presley's "Can't Help Falling In Love." Be that as it may, Wan wisely uses the runtime to carve out identifiable characters, performed by a strong ensemble. Wilson and Farmiga pick up where they left off as the Warrens, coming across as warm and likeable. More notable here is young Madison Wolfe, who's a superb find. Espousing a convincing British accent (Wolfe is an American), she manages to convey fear and vulnerability without ever coming across as forced or unconvincing. It would be a tricky role even for seasoned adult actors, but Wolfe makes it look easy. Strong support is also provided by Frances O'Connor, while Simon McBurney makes a positive impression as Maurice, another paranormal investigator who's interested in the case.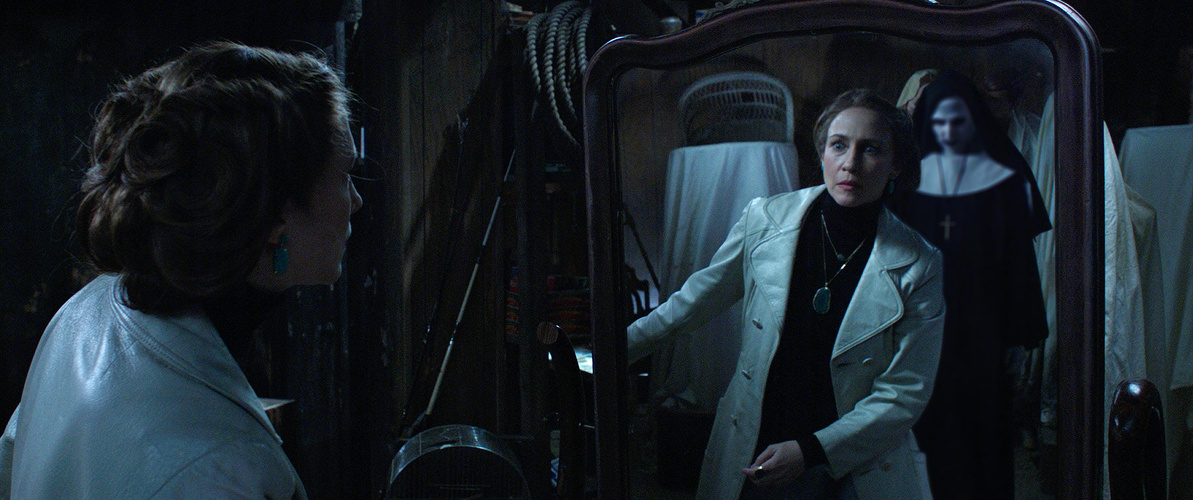 With The Conjuring 2, Wan is now responsible for three horror franchises, not counting those he simply produced (Lights Out and Annabelle are getting sequels). Further Conjuring sequels are reportedly in development (beyond the spinoffs), and this is not a necessarily unwelcome prospect. Considering the quality of other modern horror franchises, we could certainly use more scary movies of this calibre. Fingers crossed, though, that Wan sticks around to direct the next one. All things considered, The Conjuring 2 is effective and entertaining enough to avoid becoming just another disposable sequel.
7.7/10