"I know right? You're probably thinking, "Whose balls did I have to fondle to get my very own movie"? I can't tell you his name, but it rhymes with "Polverine.""
Cult Marvel antihero Wade Wilson/Deadpool has never been properly represented on film, with his first big-screen appearance in 2009's indefensible
X-Men Origins: Wolverine
failing to do justice to the legendary Merc with a Mouth by turning him into a goofy, throwaway science project. Seven years on, and that wrong has finally been righted with 2016's
Deadpool
, which gives actor Ryan Reynolds another opportunity to play the character as he was meant to be played in the first place. Written by Deadpool fans Rhett Reese and Paul Wernick (
Zombieland
), this long-gestating
X-Men
spinoff stays true to its comic book heritage, resulting in an action-comedy soaked in ultraviolence, pop culture references and wisecracks. And even though it's essentially a goofy parody, the story is told with enough sincerity and gravity to allow for it to be appreciated as more than just a surface-level ride.
Deadpool
might in fact be the greatest romantic comedy of all time, because it is romantic, and it's certainly hilarious.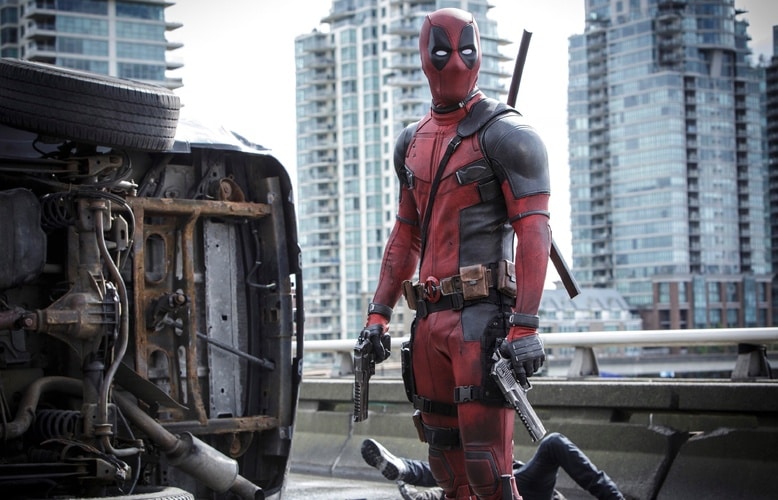 A rebellious, ex-special ops mercenary, Wade Wilson (Reynolds) earns a living by doing unsavoury jobs, reporting to confidant bartender Weasel (T.J. Miller) who oversees the racket. Wilson finds love in a hooker named Vanessa (Morena Baccarin), but their relationship is suddenly threatened by a late-stage cancer diagnosis. With no feasible treatment options, Wilson reluctantly leaves Vanessa and agrees to be a guinea pig for a shadowy underground organisation promising a cure for his cancer. Butting heads with scientists Ajax (Ed Skrein) - known more affectionately as Francis - and Angel Dust (Gina Carano), Wilson undergoes a series of sadistic experiments which unlock his mutant superpowers of regeneration, but leave him horrendously disfigured. Wilson manages to escape, but cannot find the confidence to go back to Vanessa, instead choosing to hunt down Francis in the hope of getting his former good looks restored. And of course, Wilson wants revenge, donning a red suit and rechristening himself as Deadpool as he kills his way up the criminal ladder. Meanwhile, X-Men members Colossus (Stefan Kapicic) and Negasonic Teenage Warhead (Brianna Hildebrand) pursue Deadpool, hoping to convince the vigilante crime-fighter to join their team.
Even though he's a cult favourite with a devoted fanbase, the character of Deadpool does work best in small doses. After all, Deadpool may be witty, funny and sarcastic, but there is always the risk of the shtick getting old. To counter this, the gonzo scenes involving Deadpool in action are intercut with the origin story, tracing Wilson as he undergoes his transformation. It also provides a refreshing change from the usual origin story format, with the fun action scenes breaking up the more sombre narrative beats. In the comics, Deadpool has always been about undercutting the seriousness of being a superhero by emphasising his vehemently antiheroic nature, on top of allowing him to break the fourth wall, and these qualities are carried over to this adaptation. The opening of
Deadpool
is pure perfection, starting off with a title sequence that embodies the movie's spirit, billing the director as "An Overpaid Tool" and Reynolds as "God's Perfect Idiot." It's not long before Deadpool delivers an uproarious monologue directly to the audience, while the subsequent displays of ultraviolence further underscore that this is not just another generic PG-13 offering.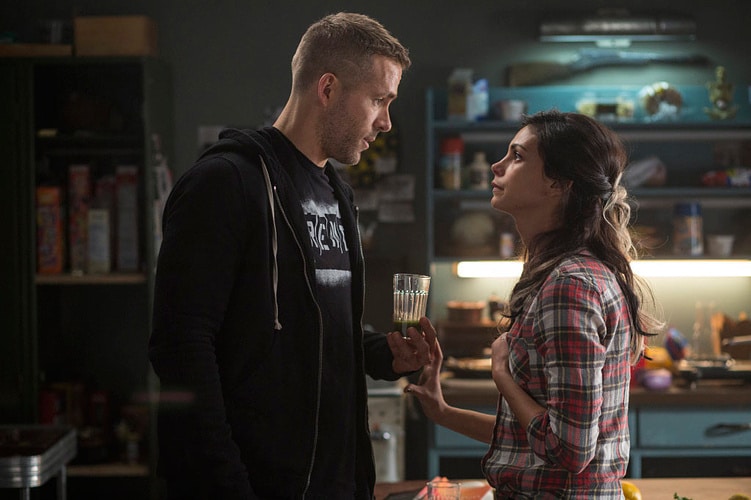 Due to its restricted rating, Deadpool was not blessed with a blank cheque from Fox, who were wary of producing the movie in the first place, unsure of its box office potential (how ironic, looking back). First-time director Tim Miller (a long-time video game and CGI veteran) had a meagre $58 million to work with, with the budget necessitating rewrites to cut costs as much as possible. As a result, Deadpool is not a truly epic deconstruction of the superhero genre, but it does work exceptionally well on its own merits, finding Miller and co. making the most of their limited resources. The set-pieces are lively and fierce, peppered with suitable moments of humour to ensure the mayhem is pitched at the right tone. And despite the excessive violence, the production does exhibit a certain degree of restraint - Miller never tries to shock beyond what is actually necessary, and the chaos never feels uncomfortable or mean-spirited. It really is a testament to the filmmakers, who also manage to find moments of genuine emotion to bolster the movie above the level of empty calories. In fact, there is sensitivity here to complement all the bloodletting, and the love story really hits its mark rather than coming off as a perfunctory distraction.
Big explosive climaxes have become the order of the day in superhero movies, which can harm otherwise taut movies by feeling incredibly forced.
Deadpool
eventually culminates with such a climax, but Miller never lets the picture out of his control, maintaining the humour and furious pacing. Furthermore, the stakes are more personal than usual: the world is not in danger here, as Wilson is simply out to save his girl. It's a nice twist on the ordinary, and it makes for a more involving climactic showdown.
Deadpool
is not perfect, of course - digital effects are spotty, with bits and pieces that look too artificial, which is probably a reflection on the budget. Added to this, a couple of additional sequences featuring the titular anti-hero being his usual self might have been beneficial. Still, these are minor nit-picks.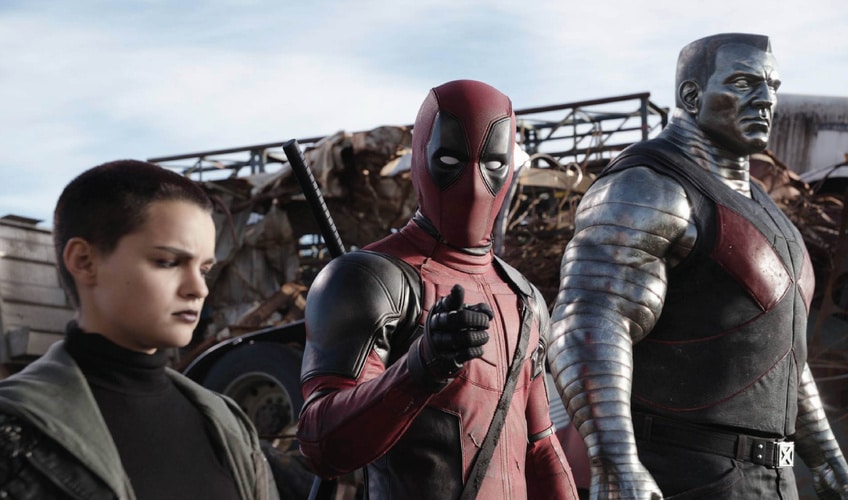 Reynolds might have struck out with a lifeless performance in 2011's Green Lantern, but he was simply born to play the role of Deadpool. The actor is firmly in his element here, given the freedom to deliver uproarious wisecracks, one-liners and self-referential jokes (one particular punchline about the limitations of the budget is gold). Just as Robert Downey Jr. owns the role of Tony Stark, it's legitimately hard to imagine any other actor nailing the role of Deadpool as perfectly as Reynolds, who even takes a dig at his own acting ability at one point. But more than just a comedic firecracker, Reynolds is also a solid anchor, ably carrying out leading man duties with confidence. He's well-matched with Baccarin, who stands above the usual standard for generic love interests.
Although the story's
X-Men
connection does seem contrived, putting Colossus and Negasonic Teenage Warhead in the movie turns out to be a masterstroke. Colossus spends his time trying to convince Deadpool to give up his violent ways and become a more conventional superhero, and his resistance does indeed mirror the stance of the movie itself. Meanwhile, Negasonic is a jaded character who "gets" Deadpool but doesn't find him very appealing. It's doubtful that anybody expected this movie to take the piss out of its own comedy routine, making Negasonic's attitude all the more refreshing. Performances are strong, too; T.J. Miller deserves a special mention, as his interactions with Reynolds are a constant source of amusement. Skrein is a perfectly serviceable bad guy, and Karan Soni is appealing as a gracious Indian cab driver.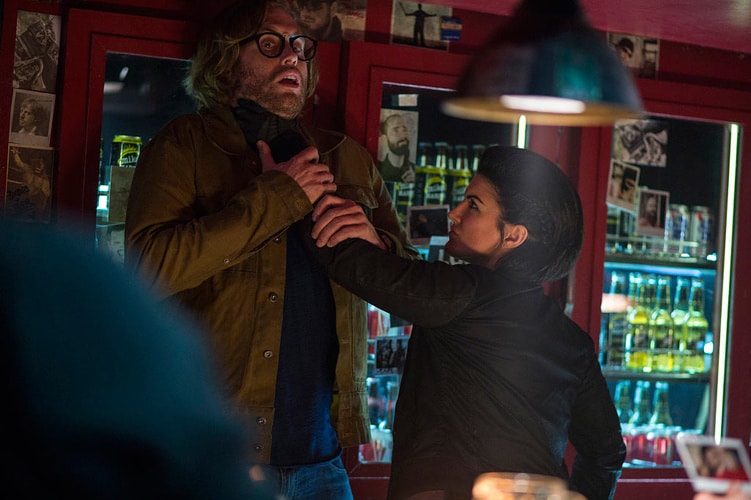 It's not revelatory and it doesn't quite reach greatness, but Deadpool is the right movie at the right time, an astute side project in the X-Men universe which only aspires to provide easy-going entertainment with its adult rating and mischievous, devil-may-care audacity. With its crude sense of humour, enjoyable action scenes and shrewd deconstruction of the superhero genre, it's a shot to the arm that was absolutely necessary in today's cinematic climate. It's just about everything that fans could have wanted from a Deadpool movie. And be sure to hang around until the end of the credits.
8.3/10