"Sir, do we get to win this time?"

It was sheer fate that, following the box office success of First Blood, Sylvester Stallone would be compelled to star in another John Rambo adventure; denoting the beginning of yet another movie franchise for Stallone (his other franchise being Rocky). For 1985's Rambo: First Blood Part II, however, Stallone and co-writer James Cameron (!) elected to place more emphasis on the action; in the process discarding the heart and depth that characterised First Blood. This is not necessarily a drawback, mind you - while far from achieving the excellence of its predecessor, Rambo: First Blood Part II is a fun, cartoonish, brainless action movie that throttles forward at breakneck pace from one ridiculous action sequence to the next. With the ante having being upped considerably in terms of action, mayhem and body count, the film is wildly implausible but irresistibly enjoyable and entertaining.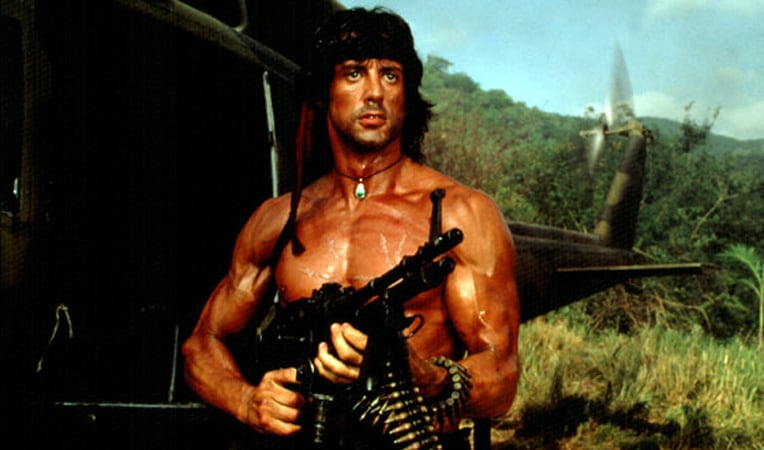 Rambo: First Blood Part II finds Vietnam veteran John Rambo (Stallone) incarcerated in a manual labour prison as a consequence of his actions in First Blood. He is soon approached by his former commander and friend Colonel Trautman (Crenna), who makes Rambo a deal that could land him a presidential pardon. Rambo's mission is to head to Vietnam and gather intelligence on a prison camp where American MIAs might still be held captive some ten years after the war ended. Thus, Rambo is dropped into the middle of the jungle, but is soon betrayed and left for dead while surrounded by hundreds of Vietnamese soldiers. Once Rambo is set loose, the bullets fly and a viewer's desire for bloodlust will be satiated. Despite the inclusion of a third-act speech in which Rambo laments the treatment of Vietnam veterans by the United States government, it is clear that writers Stallone and James Cameron had no loftier goal than to design a ridiculously over-the-top actioner packed with memorable kills and cheesy dialogue. There's little wonder as to why the film earned Razzie Awards for Worst Picture and Worst Screenplay...


Close behind Commando in the ranking of "most iconic '80s action movie", Rambo: First Blood Part II carried on the tradition of a one-man army laying waste to hundreds of bad guys. Also, like Commando, Rambo relies more on his brawn than his brains. With huge muscles, even bigger machine guns, explosive-tipped arrows and the iconic Rambo survival knife, the film supports the "peace through superior firepower" mantra of the decade which saw the Soviet Union collapse and the Americans winning the Cold War. Nobody will confuse Rambo: First Blood Part II with a quality movie, mind you, as it's predictable, lacking in original ideas, and repetitive. This is merely a badass macho male fantasy possibly created to convince Americans that they could have won Vietnam if only John Rambo was let loose on the Vietnamese troops. To the credit of director George P. Cosmatos (Cobra), the action is well-handled and spectacular, while the film also benefits from Jerry Goldsmith's exciting score.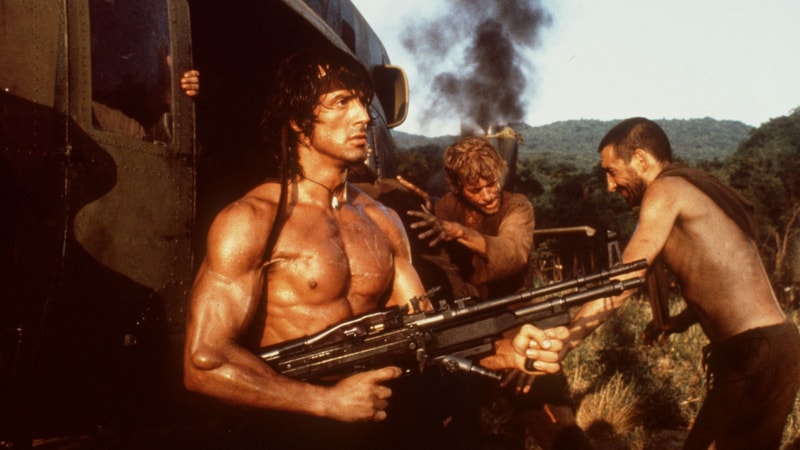 It's not often that an actor portrays more than one popular, identifiable hero. Harrison Ford pulled it off with Han Solo, Indiana Jones, and CIA agent Jack Ryan. Meanwhile, Sylvester Stallone also did it with Rocky Balboa and John Rambo (and, more recently, Barney Ross). While Rocky was everyone's favourite underdog, Rambo is a character who goes to the roots of America's resentment over losing the Vietnam War. Naturally, Americans like to win, and the Rambo series therefore provided this type of patriotic fantasy. Rambo: First Blood Part II marked the beginning of the end for Stallone's career as an actor, though - in First Blood and Rocky, he proved his acting chops, but, as he continued to star in more brainless action movies, he began to become more of a presence rather than an actor. He even earned a Razzie Award for Worst Actor for this film. Undoubtedly, Stallone's performance here is pedestrian and at times laughable, yet he's still an appealing presence. The film's supporting actors, though, are uniformly forgettable, with the exception of Richard Crenna as Col. Trautman.


At the end of the day, Rambo: First Blood Part II is a tour de force of '80s-style action. With Vietnam in the peripheries, the movie is also similar to the Chuck Norris vehicle Missing in Action, which was released in 1984. Of course, the '80s was all about Vietnam - the notion of American MIAs still being held captive in Vietnam was the subject of several action films (Missing in Action, Uncommon Valor), while the war itself was explored in a number of classics (Platoon, Full Metal Jacket). Look, Rambo: First Blood Part II may be as mindless as they come, but it's hardly dull. It cannot be defended as anything other than a guilty pleasure, and that's good enough as long as you have a taste for the action genre.

6.9/10