"One day the AIs are going to look back on us the same way we look at fossil skeletons on the plains of Africa. An upright ape living in dust with crude language and tools, all set for extinction
."
Leave it to long-time science fiction screenwriter Alex Garland (Sunshine, Dredd) to create one of the most immersive, intelligent sci-fi offerings of the year for his first directorial endeavour. Ex Machina is a uniquely involving motion picture, deliberately-paced yet never dull, which plays out like a futuristic morality play concerned with manipulation, deception, reality, fantasy and humanity, not to mention it provides a powerful study of corruption and power. Although some aspects of Ex Machina's script and narrative are predictable, this isn't a movie all about twists or reveals - rather, Garland shoots for a succession of subtle shifts which alter the mood and change character dynamics. This is a smartly-written and beautifully-assembled sci-fi, and even though the screenplay is not airtight, the strengths far outweigh the weaknesses.
Set at an indeterminate point in the future, Caleb Smith (Domhnall Gleeson) is a programmer working for the world's most powerful search engine. He unexpectedly wins a special company prize, given the chance to spend a week with reclusive tech genius and corporate CEO Nathan (Oscar Isaac). Straight away, Nathan demands for Caleb to treat their time together as friends, talking amicably and drinking beer together. Caleb is soon introduced to a top-secret project that Nathan has been working on: an advanced cyborg named Ava (Alicia Vikander). Signing a non-disclosure agreement, Caleb is invited to conduct the "Turing Test" on Ava; that is, to see if she is truly aware and conscious. Over the week, Caleb and Ava converse about life, personal history and consciousness, but while Ava is synthetic, Caleb finds himself drawn to her. As the days go by, however, Caleb finds himself unsure of Nathan's endgame.
Bolstered by sublime dialogue and a taut narrative, Ex Machina is both a philosophical and an emotional journey, and it works on multiple levels - it's a futuristic cautionary tale with echoes of Frankenstein, an enthralling small-scale character drama, an unnerving adult thriller, and an intense art-house movie with the accessibility of a mainstream motion picture. An effective sense of unease lingers throughout, as Nathan monitors Caleb and Ava's conversations, with periodic power outages allowing rare moments of privacy in which Ava drip-feeds Caleb pieces of secretive information, winding him up tighter. Ex Machina concerns itself with themes of consciousness and what it means to be human, and, without giving too much away, Garland's ultimate thesis on the fundamental essence of humanity is not exactly pretty. Garland deserves a lot of credit for the ending, as Ex Machina closes in an appropriate, thrilling fashion without feeling the need for explosive pandemonium. It's the type of ending that lingers after the credits have expired.
Garland acquits himself admirably as a first-time director, with his superb screenplay serving as a solid foundation. Although Ex Machina may be a familiar tale, it's told in an original fashion, addressing the age-old question of artificial intelligence in a way befitting for this current age of Google and Apple. Garland has stated that the narrative takes place "ten minutes from now," eschewing a specific time period or year, and not going overboard with futuristic technology. It's a smart move from the filmmaker, ensuring that the production will never age. The movie also deserves plaudits for its technical credits; Garland's direction is unfussy but effective, allowing the performances and the production design speak for themselves. The creation of Ava remains the most impressive achievement from a visual standpoint. She was created through a seamless mix of live-action and digital effects, and the illusion is unbroken and consistent. Also memorable is the pulsing score by Geoff Barrow and Ben Salisbury, which perfectly complements the slick visual scheme.
Dud performances could have torpedoed Ex Machina, but luckily Garland chose wisely for his three leads. Gleeson, who sports an American accent, breathes vivid life into his role, emerging as the typical everyman, and, by extension, our entry point into the narrative. It's nuanced work from the British thespian, subtly conveying his emotions with understated dialogue delivery and cold looks. Meanwhile, as the enigmatic Ava, Vikander knocks it out of the park, which is no easy feat. Vikander's performance is deliberate and riveting, coming across as wholly realistic and genuine, skillfully supplementing the ace visual effects. Rounding out the leads is Isaac, who's equally valuable. It's an interesting role, and Isaac runs with it; there's a feeling of apprehension whenever he's on-screen, and it's difficult to figure out if he can be trusted.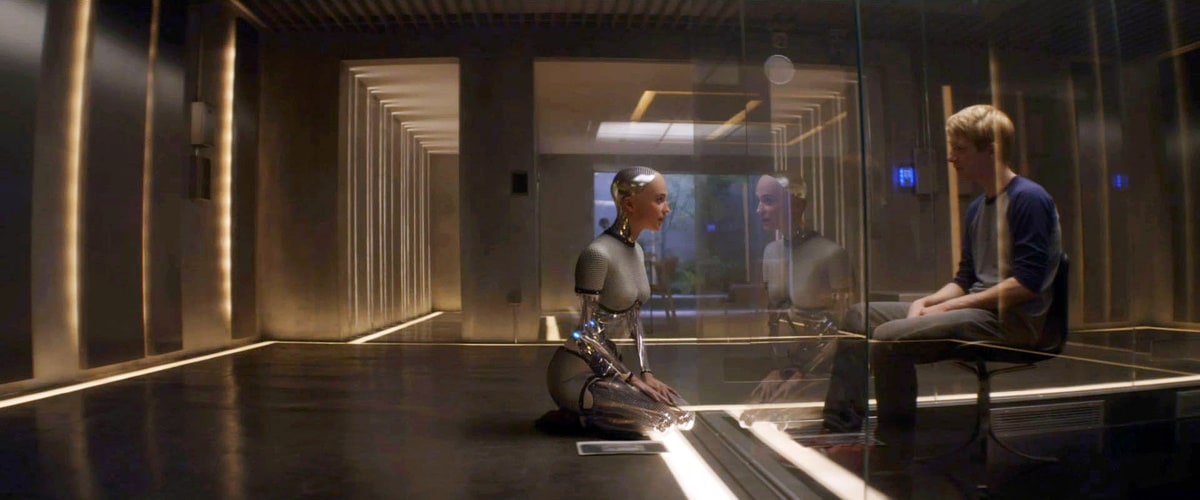 Although sci-fi actioners like The Matrix or Paul Verhoeven's RoboCop are fun, Ex Machina is ultimately more rewarding, allowing us to dissect dialogue and draw our own conclusions about where this is all leading. It absolutely must be seen.
8.2/10