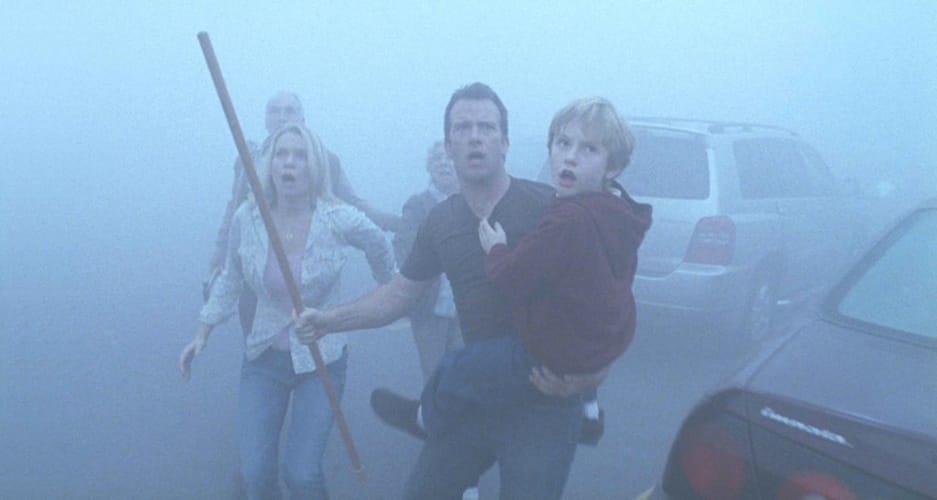 Stephen King has returned to his favorite town of Castle Rock. So loved this town that he intermittently likes to put it under attack by every imaginable unimaginable evil. And the people of Castle Rock return this love by not packing their bags, selling their house and moving out. Okay, so they're a bunch of masochists.
     In this latest King story, the quiet town of Castle Rock is suddenly enveloped by a strange, mysterious mist that came from out of nowhere. And ordinary people, like happy family man David Drayton (played by Thomas Jane) react to it calmly at first, not until from out of the mist come gigantic, tentacled monsters and start slaughtering people, that he panics and tries to protect his family.  
     I haven't read the book. Usually in a standard King story, character intros are long and detailed, but in this movie, director Frank Darabont doesn't waste time. Soon David and his family get trapped in a supermarket along with other survivors and wait it out. But help is a long way from coming that they resort to gung-ho plans to survive. The monsters will get them eventually if they don't brave it out and make a run for it. Now, these mist monsters kill people in the most excruciatingly horrendous, painful way possible that it is better to kill yourself than to succumb to the pain. And this very belief which will cause the biggest grief in the end—a twist that is so, should I say, really f**d-up.   
     Darabont has all of King's character sketches to play with and they provide the myriad of emotions needed. But one character bugged me a bit---Marcia Gay Harden's prophetic, bible spewing nuisance. And I thought with all the bad things that have plagued the town, a religious-fanatic like her would have been driven out of town by now. She wasn't helping and with her call for human sacrifice to appease the monsters, she only made things worse.
    "The Mist" is horror/sci-fi movie about paranoia, survival, and the inevitability of doom. The movie also stars Laurie Holden and Jeffrey DeMunn and is also written for the screen by Darabont.
7/10