[Bug] Problem dragging an item to another section.
Mr. Saturn
5 years ago
at Aug 3 16:40
-
I've had this problem when I was making a DVD and a book list, like
this list
. This has happened with multiple lists. I drag one item from one section to another and it doesn't move the item, but it add one number to the section. Now the section with nothing in it can't be deleted, and if I try dragging an item to a new section, the empty item will be moved into that section.
Most of the time, I can't move an item unless if the section has one invisible item, and afterwards I still have trouble moving another item. This happens when moving items from different sections, not from the search bar.
jaytoast
5 years ago
at Aug 3 20:23
-
Just curious but is what your experiencing anything similar to my issue with dealing with 'sections'?
http://www.listal.com/topic/irksome-glitch-adding-items
I guess my real question would be how are you adding items to a list. If your using the evil green box of death?

If you aren't using the evil green box of death, then I'll see if I can bang my head against a wall until an answer falls out ;)
Mr. Saturn
5 years ago
at Aug 4 6:59
-
I think I used the green boxes for the lists with the bugs.
jaytoast
5 years ago
at Aug 4 8:10
-
Ack, then sorry... I know your pain.
What I have ended up doing is deleting the item completely from the list and adding it another way. I think this counts as my 'third strike' as not fixing the problem but just finding a 'work around'.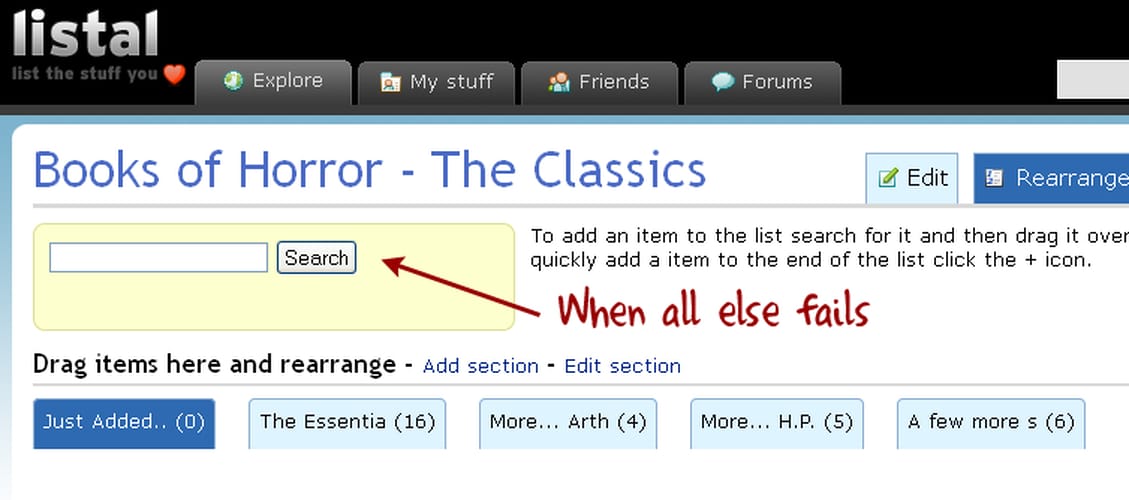 The 'green box' was totally fine when sections where first introduced so... I really have no idea why now there is a glitch. Again... sorry... not a fix...
Hay, but good news for me is that I'm not the only person who has experienced this problem. I was starting to feel like I was complaining about crop circles in my back yard.
Problems solved = 0
Number of tin foil hats worn = 0