Only dream I ever have... is it the surface of the sun? Everytime I shut my eyes... it's always the same.
Sunshine is such a beautiful but it saddens me that it missed its opportunity from being a great film to an amazing film. Seeing that i watched Danny Boyle's newest movie "Trance" just last month i thought id give this another watch because i had only seen it once before so i figured id give a proper review for it rather then the horrible one i had before. It took me awhile to finally get around to watching this movie and by then i had pretty much known most of the cast by seeing them in previous movies. Cillian Murphy leads the film and does an amazing performance, then we have Chris Evans, Cliff Curtis, Rose Byrne, Michelle Yeoh, Hiroyuki Sanada, Mark Strong and a few others and all of them do solid performances well other then
Mark Strong because i absolutely hated his role as the horror part in the film.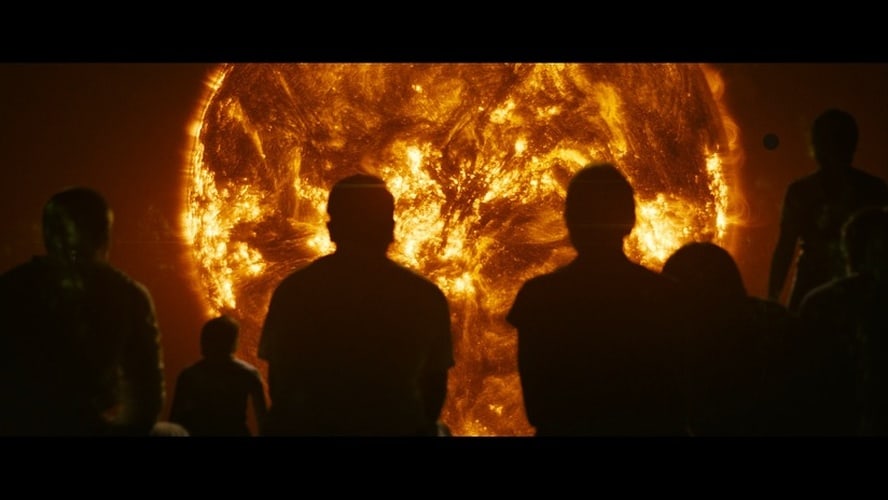 The film follows a group of scientist and astronauts on a spaceship named the "Icarus II". headed to reignite our dying sun by launching a massive bomb into it. Now the first 45 minutes of this film was simply beautiful with many gorgeous scenes reminiscent of 2001: A Space Odyssey but after that the film turns into a bit of a mix bag for me. On there way to the sun they hear a distress signal they soon find out that its the "Icarus I" so they weigh out their options to see if they should attempt to recover the other bomb and while some don't think its a good idea the final decision is up to Capa(Murphy) and he chooses that they should recover it. While on there way to the Icarus I something happens to the ship resulting in the death of one team member and making the trip to the other ship a must. Once they get on the ship they figure out what happen to the other team and from here the movie turns from being a beautiful sci-fi film to a sci-fi horror which honestly ruined the whole vibe of the film for me.
To make things worse was the horrible screen distortion the film had every time Mark Strong was in it and after the fifth time of seeing shaky, blurry scenes i could only shake my head as we have to sit through another 10-15 scenes of the same shaky, blurry crap. What is a saving grace about the second half of the movie is that it has great acting mostly by Cillian Murphy who does a phenomenal job and the few beautiful scenes they had like in the first half. The film had such penitential but it decides to throw away its awe inspiring first act for a subpar and rather underwhelming second act. The special effects were top notch and they display that by showing you mesmerizing shots of planets as they past by them and the sun and the last scene with Capa which was spectacular also the score by John Murphy was simply perfect maybe one of the best all time at least for me.
Overall i give it a 8.0
It just sucks this film had to have horror in it because other then that this would for sure be in my top ten favorite sci-fi films.