2014's
Guardians of the Galaxy
was something of a curveball from the folks at Marvel Studios, with its irreverent nature, space setting and lack of any actual superheroes in its alien ensemble. But it worked like gangbusters and movie-goers fell in love with the motley team of Guardians, propelling the endeavour to unexpected box office success. For 2017's inevitable sequel
Guardians of the Galaxy Vol. 2
, indie filmmaker James Gunn returns to write and direct (this time penning the script solo), showing once again that he has an innate understanding of what makes this property work. To date, Marvel has not had much luck with second instalments -
Iron Man 2
,
Thor: The Dark World
and
Avengers: Age of Ultron
arguably underwhelmed, though
Captain America: The Winter Soldier
was admittedly excellent - but luckily,
Guardians of the Galaxy Vol. 2
doesn't fall victim to this apparent curse. While
Vol. 2
has a lot on its mind and introduces added complexity to this world, it also retains the charms of the original picture, making for an enormously successful sequel that will almost certainly please established fans.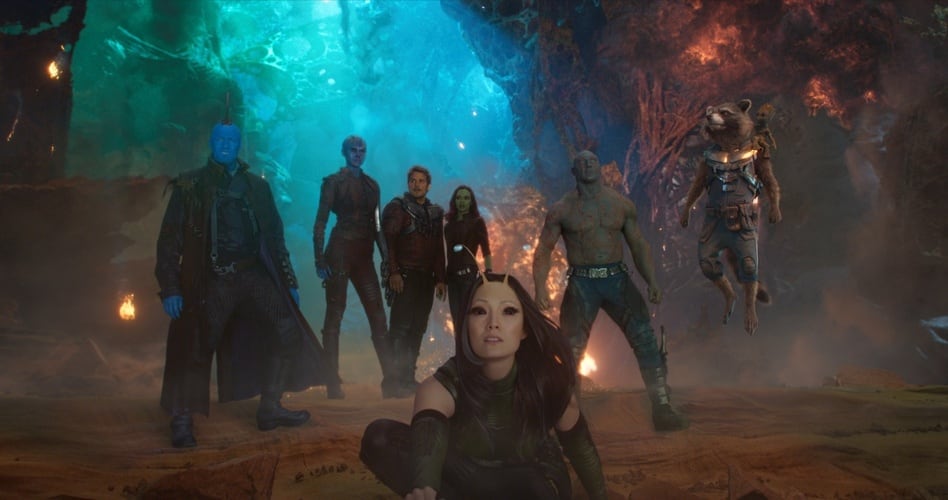 Picking up not long after the events of the original movie, the self-proclaimed Guardians of the Galaxy have embraced their reputation as skilled guns-for-hire, accepting a mission from the gold-skinned Sovereign people to protect valuable batteries from an inter-dimensional monster. In exchange, the team - Peter Quill (Chris Pratt), Gamora (Zoe Saldana), Rocket Raccoon (Bradley Cooper), Drax (Dave Bautista), and Baby Groot (Vin Diesel) - only ask for custody of Gamora's estranged sister, Nebula (Karen Gillan), to transport her to Xander. However, Rocket steals some of the batteries, and in retaliation the Sovereign leader Ayesha (Elizabeth Debicki) sends a fleet of remote drones to attack the Guardians ship. Crash landing on a nearby planet following the attack, the Guardians are confronted with all-powerful Celestial being Ego (Kurt Russell), who claims to be Peter's biological father. Despite Ego's ostensible abandonment, Peter accepts his father's invitation to visit his Eden-like planet, whose only other resident is his assistant, a kind-hearted empathy named Mantis (Pom Klementieff). Meanwhile, the Ravagers - led by Yondu (Michael Rooker) - are hired by Ayesha to pursue the Guardians.
Whereas
Iron Man 2
and
Thor 2
were both marred by the obligation for "world-building" work,
Guardians of the Galaxy Vol. 2
wisely avoids this pitfall - Gunn uses the sequel to delve deeper into the principal characters with their respective personal demons and perpetual hang-ups. In turn, the scale is cut back - the majority of
Vol. 2
takes place either on Ego's planet or the Ravager ship, making for a more intimate and rewarding experience. Luckily, the plot's ultimate trajectory was kept hidden in the trailers, allowing for some genuine surprises - particularly in regards to the primary villain and his motivation. Despite the intimacy of this tale, however, the stakes are still high, once again concerning the fate of the galaxy itself, which leaves the Guardians of the Galaxy striving to live up to their title a second time. Nevertheless,
Vol. 2
does lack the snap of the original movie - it's fine for this follow-up to delve into denser territory, but pacing is not as sure-footed and the writing is not as witty. Indeed, the humour is hit-and-miss - although there are a lot of laughs, the script tries too hard to be funny at times.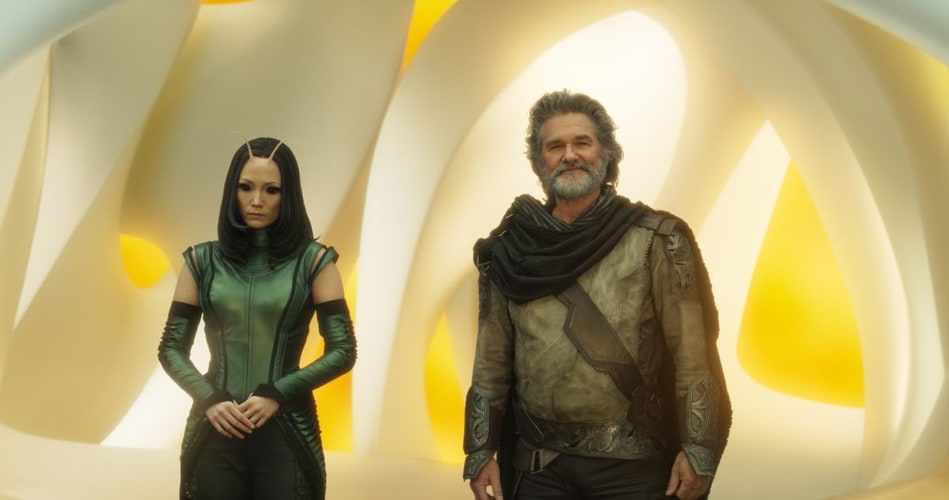 The original Guardians of the Galaxy was characterised by its soundtrack of classic tunes, and naturally this characteristic is carried over into Vol. 2. Once again, songs provide the backdrop for amusing, memorable set-pieces, giving this sequel genuine life and energy. The opening sequence depicts an intense battle between the Guardians and a tentacled monster, but the focus is predominantly kept on Baby Groot, who merrily moves around the platform dancing to ELO's "Mr. Blue Sky" while the carnage unfolds around him. It's a delightful way to reacquaint audiences with this unique and colourful world, kicking off the sequel on a real high note. Equally bravura is a set-piece which depicts the full-blown massacre of well over a hundred aliens, set to the tune of "Come a Little Bit Closer." In Gunn's hands, the sequence is simultaneously funny and even heart-warming, which is quite a feat. Gunn also makes use of the Looking Glass song "Brandy (You're a Fine Girl)" which is tied into the narrative, while "Father and Son" by Cat Stevens backs an enormously touching final scene. Much like the original 2014 movie, it's wonderful to see so many vintage songs being reintroduced in contemporary pop culture.
As to be expected from a $200 million blockbuster,
Guardians of the Galaxy Vol. 2
both looks and sounds superb, emerging as one of the most colourful motion pictures of the 2017 summer season. The first movie to be shot at 8K resolution with Red Weapon Dragon rigs, it's visually resplendent from top to bottom, bolstered by imaginative production design, dynamic cinematography and vivid CGI. Of particular note is Ego's planet, a miraculous computer-generated fantasyland which seems to be truly
alive
. As with similar blockbusters, while the digital effects are insanely detailed, the results do tend to look artificial rather than tangible, but it's believable enough to sell the illusion, and both Rocket and Groot are once again miracles of motion capture. On the big screen,
Vol. 2
is one hell of an experience. Composer Tyler Bates (a regular Gunn collaborator) also makes his return here, and his compositions are layered and flavoursome, even bringing back the
Guardians
theme established in the original movie. There is such a thing as
too
much money, however - the enormous, prolonged climax does get a bit much, at times losing sight of the intimacy of this story. Although there are some excellent character moments and the ultimate dénouement is touching as hell, the sequence does feel excessive and may test your patience.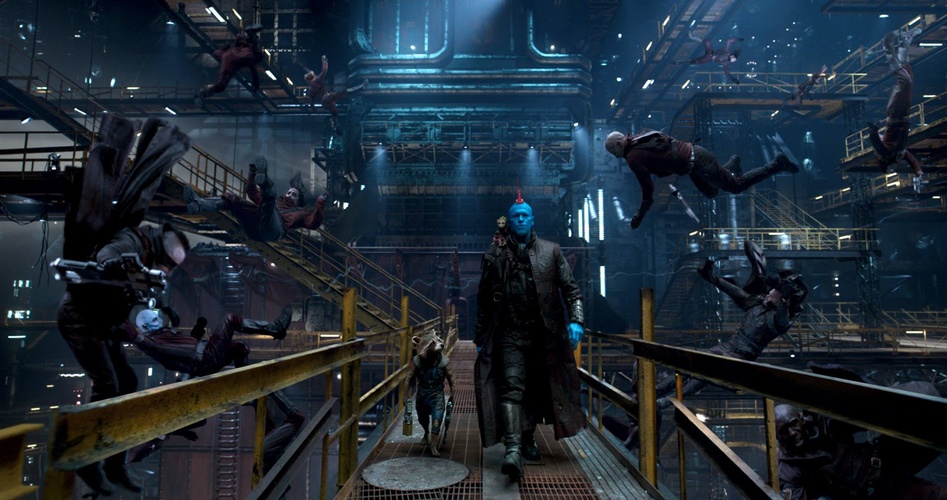 The astute character work of the original feature is thankfully carried over to Vol. 2 - Peter still has thinly-veiled crush on Gamora, and Drax is still hilariously incapable of actually thinking before he speaks. Bautista continues to score laughs with each unfiltered thing he says, working to keep the flick feeling bubbly and fun even when it dabbles in darker subject matter. Pratt, meanwhile, remains note-perfect as Star-Lord, emanating charm and effortlessly handling the weightier material within this particular story. Interesting to note, Marvel Studios do not own the movie rights to the character of Ego - they actually reside over at Fox with the X-Men rights. Gunn was initially unaware of this when he started penning the screenplay for Vol. 2, but luckily Fox ultimately permitted his presence in the movie, which is fortunate because the story heavily hinges on Ego. Russell is a total gem in the role, handling the multiple layers with ease, and he shares terrific chemistry with Pratt. The movie's opening scene set in 1980 uncannily de-ages Russell through a combination of make-up and CGI, making him look the same as he did in movies like Escape from New York and The Thing. Elsewhere in the cast, Rooker is still an utter gift as Yondu, while Sylvester Stallone also manages to make a positive impression despite his minor role as a Ravager. Another newcomer is Klementieff, a terrific find as Mantis. Marvel legend Stan Lee also drops in for his trademark cameo, and in doing so Gunn finds a way to ostensibly link all of his prior cameos and apparently confirm a longstanding fan theory that he always plays the same character. Who expected that?!
Although I do admit that I had more raw fun with the original Guardians of the Galaxy, there is much to appreciate about this sequel, with its luscious eye-candy and thrilling action sequences. It goes to deeper and weirder places, the chemistry between the ensemble cast is still brilliantly palpable, and the superb soundtrack further contributes to the infectiously fun vibe. Above all that, however, Vol. 2's emotionally resonant conclusion will stick with you after the end credits expire, and you will once again be left wanting to see another instalment. Gunn is currently set to return for Guardians of the Galaxy Vol. 3, which would denote the first time in Marvel history that a director has seen a trilogy through. As ever, there is a post-credits scene...which follows four other additional scenes during the credits.
8.2/10