" We're reviving a canceled undercover police program from the '80s and revamping it for modern times. You see the guys in charge of this stuff lack creativity and are completely out of ideas, so all they do now is recycle shit from the past and expect us all not to notice."
So basically it came down to which movie i wanted to see more this weekend either "How to Train Your Dragon 2 or 22 Jump Street" having watched the first How to Train Your Dragon last month i decided that i should watch the this movie to see which one i wanted to see more this weekend at the theaters and for sure after this it is 22 Jump Street. 21 Jump Street had me laughing from start to finish which not many comedies can do that nowadays, it may be because i have only seen the movie once before when it first came out on DVD/Blu ray still though i highly enjoyed the movie. Now surprisingly i have never seen the the TV Show this is based off of and even despite it having johnny deep it was just one of those shows i never seem to watch while growing up so i never gave it a chance later on but after watching this i really want to check out the old stuff to see if it was just as great. It seems like a lot of people that had watched the TV Show didn't care to see a modern movie based on it and clearly by the reception it received from people its either they love it or hate it, i can say though right now i highly doubt my rating for this movie will change once i start watching the TV Show.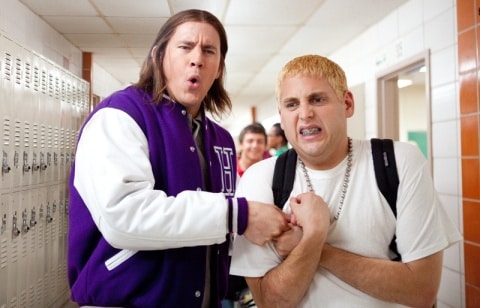 The movie starts out in 2005 and follows Morton Schmidt (Jonah Hill) a goofy looking Eminem wannabe and while trying to ask a really hot girl out to prom he is rudely interrupted by Greg Jenko (Channing Tatum) a asshole jock who makes fun of him by calling him a nerd and saying that the chick is way out of his league. Schmidt gets embarrass and quickly walks away while Jenko is called into the principles office and is told that he can not attend prom as he has too low of grades. The movie then picks up seven years later, Schmidt is trying to enlist as a police officer and who does he see at registration, Jenko who then happens to recognizes Schmidt and says to him "not so slim shady, Whats up". They soon become friends as they help each other out with what area's they are lacking in Schmidt's being the physical aspect while Jenko's being the mental aspect of being a cop.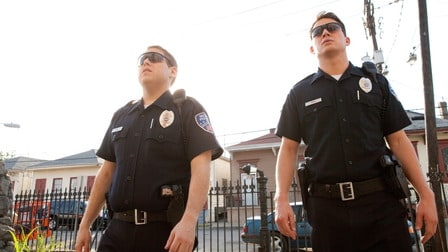 After awhile they graduate the police academy and now are official cops but instead of car chases and gun fights they are stuck on park duty riding bicycles with nothing to do but when they see a group of bikers smoking weed they jump into action. From here we see them get put into a undercover program for young immature cops called "21 Jump Street" led by Captain Dickson (Ice Cube) which seriously had me laughing so hard every time he spoke. Now we have our movie which has both Schmidt and Jenko back in high school only this time around it seems Schmidt is part of the popular group while Jenko is a nerd. Its the total opposite of what they originally were back then and now their job is to find out who is making this new type of drug that kids are overdosing on.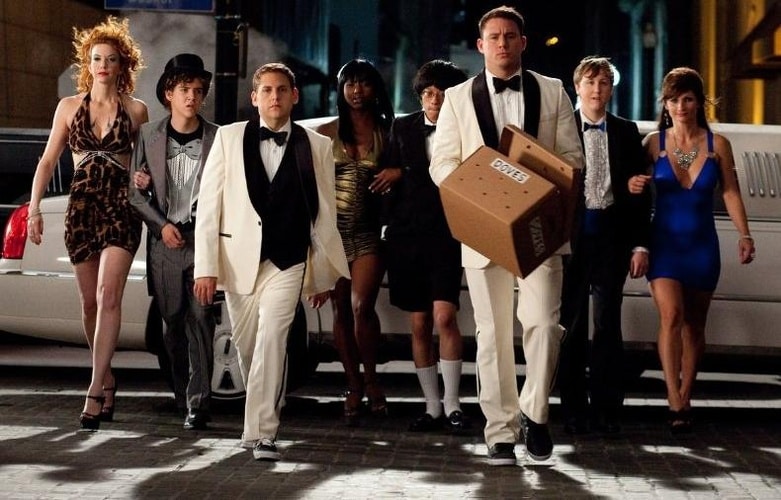 Seriously though this movie has so many funny moments from start to finish that it over shadows how hollow the overall plot is. Jonah Hill and Channing Tatum have amazing chemistry together seriously i cant remember the last time i laughed this hard while watching a buddy cop movie even the Sandra Bullock, Melissa McCarthy movie "The Heat" was no match for how great this movie was. Ice Cube was pure comedic gold see this is why he is a much better actor in rated R movies rather than PG-13 movies like he was in "Ride Along". Nick Offerman was great as the chief of police despite us not seeing that much of him also
seeing Johnny Depp at the end was so crazy in no way did i realize that was him, it was even crazier when you see him and his partner Peter DeLuise who was also in the TV version of 21 Jump Street die and they have their own little moment during a gun fight which seemed rather funny to me.
Overall i give it a 8.0
Seeing all the reviews, trailers, and tv spots, i have high hopes that the sequel will be just as great as this.