18

vote
Where Your Tax Money Goes To

Add image to section
Shit Art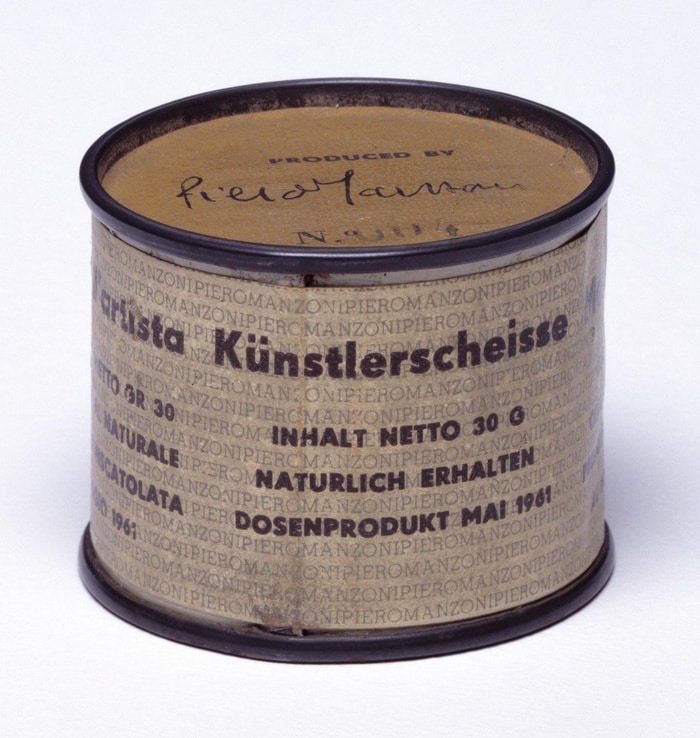 Artist's Shit by Piero Manzoni, May 1961
In May 1961, while he was living in Milan, Piero Manzoni produced ninety cans of Artist's Shit. Each was numbered on the lid 001 to 090. Tate's work is number 004. A label on each can, printed in Italian, English, French and German, identified the contents as '"Artist's Shit", contents 30gr net freshly preserved, produced and tinned in May 1961.'
There have been many explanations as to the intention behind his cans of excrement. From being a brazen parody of the art market to a critique of mass production and the waste left in its wake. In a letter to a friend, he explained that his motivation for tinning his faeces was to expose the gullible nature of the art-buying public.
"I should like all artists to sell their fingerprints, or else stage competitions to see who can draw the longest line or sell their shit in tins," he wrote. "If collectors really want something intimate, really personal to the artist, there's the artist's own shit. That is really his."
In 2002, The Tate Gallery paid £22,300 of public money for Can 004 out of his collection of 90. As a result, the gallery received backlash but remained steadfast in its decision to allocate taxpayers' money on the work. The money for the purchase came from the Tate's acquisitions budget, which it receives from the Government.
This was not the only purchase the Tate came under fire with for its use of faeces; it has also bought three paintings by Chris Ofili featuring elephant dung.

Add image to section
Rubbish Art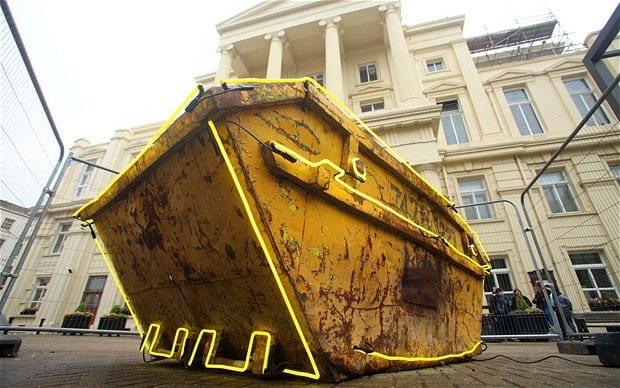 David Batchelor - 'Skip' 2012

During 2012, David Batchelor took advantage of a £95,000 taxpayer grant to enable the installation of a skip in the streets of Brighton as part of its arts festival. Besides differentiating it from ordinary skips, the yellow neon tubes illuminating the object served to draw the attention of passers even during the night. The goal of the work is to make people stop and think.

Add image to section
Semen Art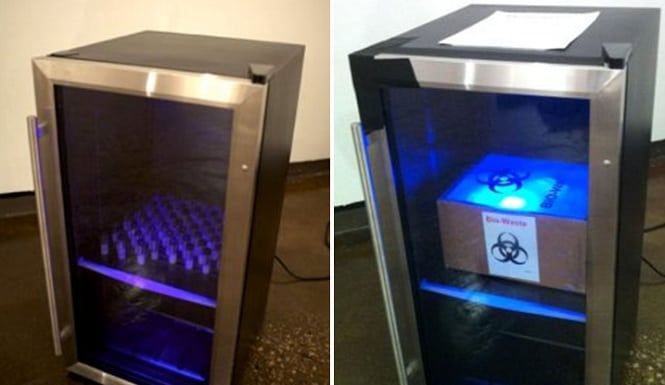 "Take This Sperm and Be Free of Me" by Marc Bradley Johnson, 2013
Art student Marc Bradley Johnson's piece "Take This Sperm and Be Free of Me" involved displaying 68 vials of his semen in a fridge at Manhattan's Visual Arts Gallery, and inviting visitors to take one home. He suggested that the vials represented "creation, parenting, desire, masculinity, fantasy, and reality." The administrators at New York's School of Visual Arts did not see the funny side of it and temporarily confiscated the project once they caught wind of the story.
Johnson tried to compromise by agreeing to microwave the samples before placing them on display and giving them away. Members of the SVA were having none of it though. John DeLuca, SVA's director of environmental health and safety wrote Johnson an email outlining his concerns.
"A considerable issue has come up surrounding your piece...the distribution of human tissue, or in this case your sperm cells, whether dead or alive is not permitted by the law outside of a medically directed facility...in checking with a biomedical scientist I was informed that there is no way to ensure the sperm samples would be 100 percent free of pathogens...In order to protect the public and comply with all appropriate regulations we will need to secure the refrigerator until I can arrange to have the sperm samples disposed of as hazardous biowaste."
It's only after several days of negotiating did the school allow Johnson to display his art. Under the condition that he agreed to seal the vials and cover them up in a box labelled "bio-hazardous waste" as the director instructed. Johnson bemoaned censorship in the note he attached to the exhibit:
"This refrigerator contained 68 vials of fresh semen harvested by the artist. The public was free to take the vials. The School of Visual Arts quarantined and sealed the vials in the box now in the refrigerator, labeled 'bio hazardous waste.'

SVA sees the creative potential of the artist as a health hazard and deemed too unsafe to be taken by the public."

Add image to section
Invisible Art "1,000 Hours of Staring" by Tom Friedman.

Tom Friedman, "1,000 Hours of Staring," Stare on paper (1992-97) A blank piece of paper stared at by the artist for 1000 hours over a period of five years.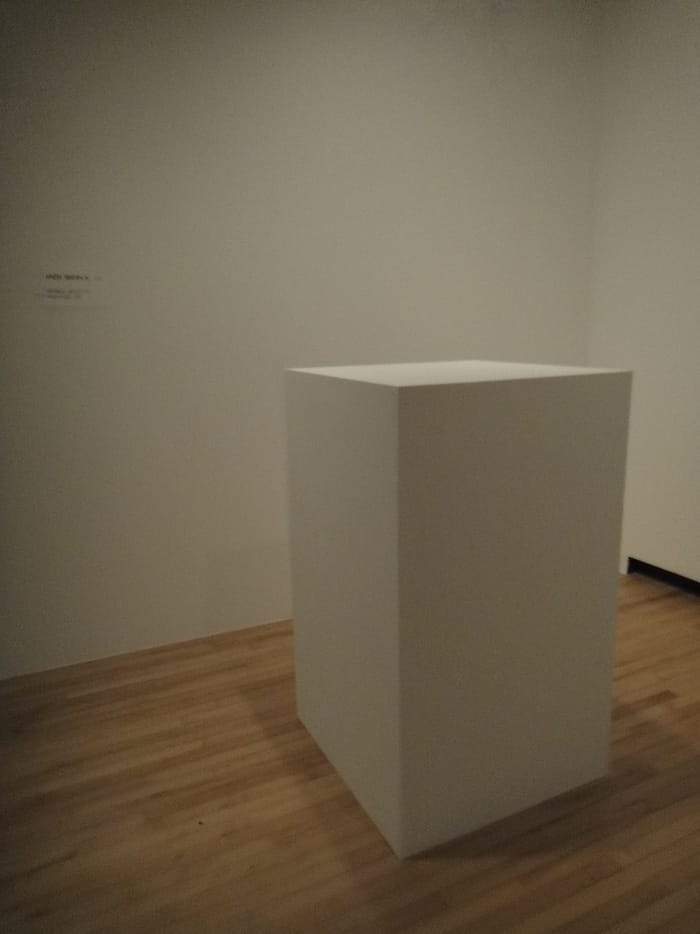 Invisible Sculpture (Andy Warhol, 1985)
The king of Pop Art produced and installed this work at New York's Area nightclub by simply stepping onto a plinth and then stepping off it.
Ronnie Cutrone gives an account of the genesis behind the "sculpture's" inception:
"Andy wanted to make the Invisible Sculpture. I don't know what the inspiration for that was. He may have watched 'The Invisible Man' one night on television. So, again, we got out the Yellow Pages and found burglar alarms, different systems. Some with sound, some with light beams. They were all different looking and sculptural because they had different shapes and different systems. We mounted these burglar alarms on brackets all around the perimeter of the big room in the middle of the Factory, which was by then referred to not as the Factory but as Andy Warhol Studios. And we aimed them all at the center of the room where nothing existed.

If you walked into the room and you hit this center point, all of these alarms would go off. You'd have every different kind of sound; chirping, booming, buzzing. It was funny. But it was also a kind of existential abstract question: If a tree falls in the forest and there is nobody there to hear it, does it make a sound?... It was a brilliant conceptual work but also very physical because we actually had the mechanical alarms. It was like a kinetic sculpture in some way: a sound sculpture, a light sculpture. But there was nothing there; it was totally invisible...

The Invisible Sculpture stayed up for a long time, but it was experimental really. We only had it activated for maybe a month. It used to drive Fred crazy; it was almost like a practical joke. Andy and I would drag somebody in and say, 'This is the new art; go stand in the middle of the room.' And they would, and all the sirens would go off. Then Fred would come and say, 'Andy, I'm on the phone.' Or Brigid would yell. Everybody would yell because Andy and I were constantly having people walk into this imaginary space."inth and then stepping off it.

Add image to section
Throwaway Smut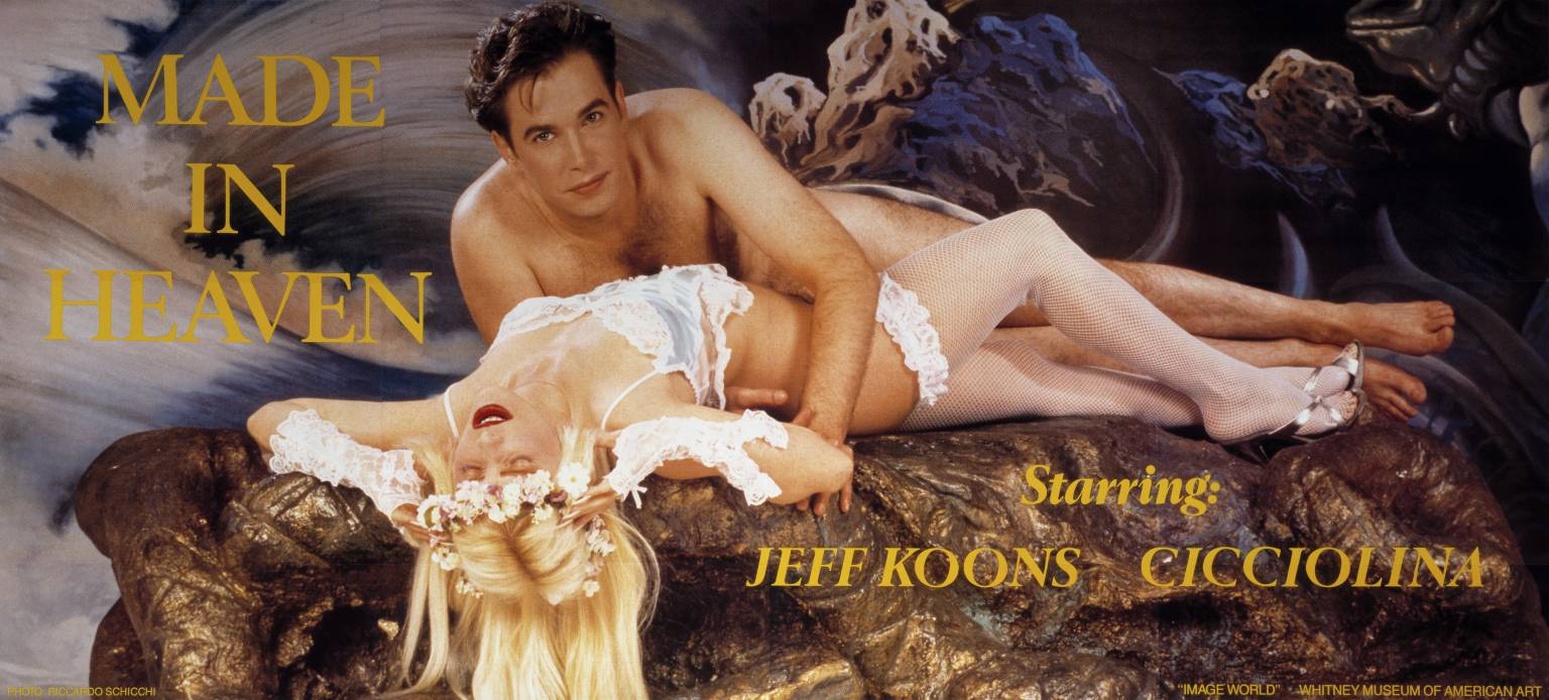 Made in Heaven (1990–91) by Jeff Koons

This billboard poster is part of a project in which Koons made works depicting his sexual relationship with his wife, the Italian porn-star Ilona Staller, also known as Cicciolina. These provocative works show the naked couple in explicit poses and sexual acts whilst referencing paintings by artists such as Edouard Manet to examine the place of sexuality in visual culture. Koons employed Ilona's regular photographer and backdrops, to create the distinctive aesthetic associated with 'glamour' imagery. Blurring the lines between fine art and pornography, Koons challenged the conventions of artistic taste, encouraging his audience to make their own decisions about what is acceptable.

Add image to section
Carcinogenic Art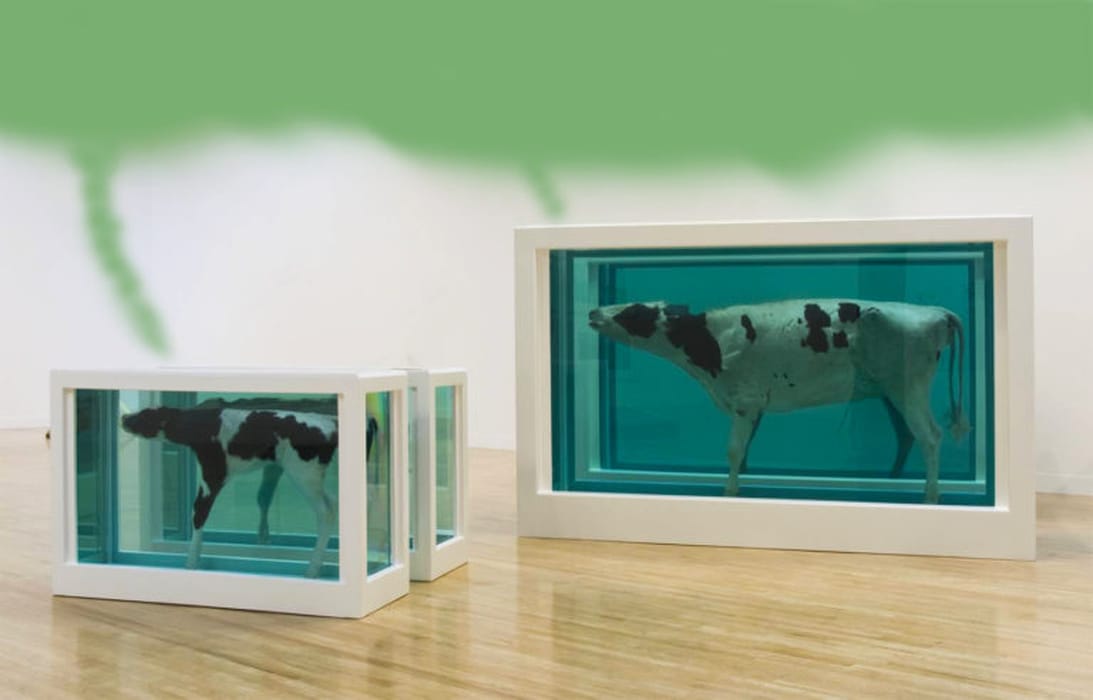 Mother and Child (Divided) by Damien Hirst, 1993

Damien Hirst's iconic series, involving dead animals preserved in tanks, is reported to have leaked potentially-dangerous formaldehyde gas during the artist's retrospective at Tate Modern in London in 2012 by various reports. Levels of the carcinogenic gas were detected in the air during the 2012 show at the Tate Modern gallery by researchers testing a new sensor, and were only recently published in the scientific journal Analytical Methods.

Add image to section
Animal Cruelty For Art's Sake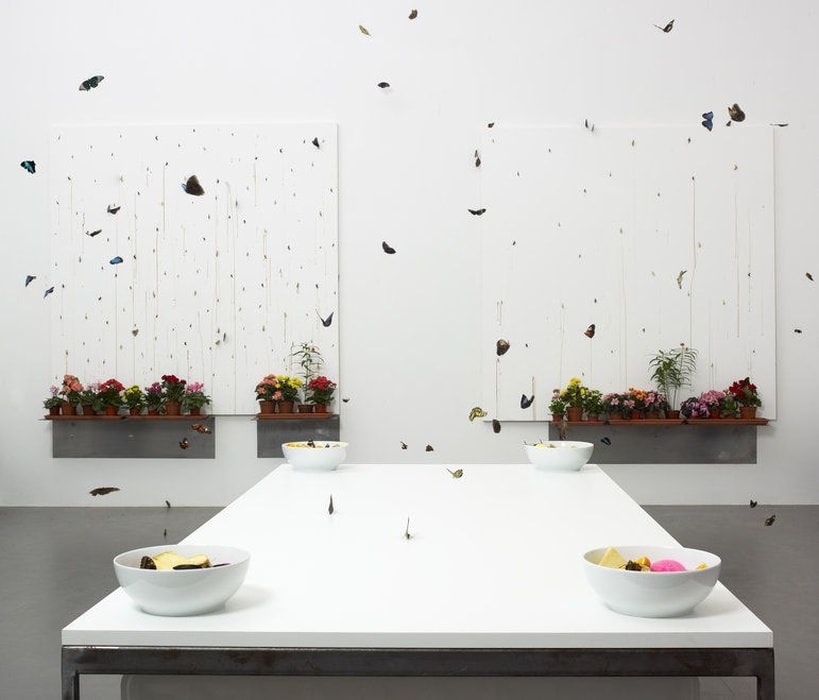 In and Out of Love by Damien Hirst
An exhibition at Tate Modern Gallery by Damien Hirst featuring live butterflies saw more than 9,000 of the insects die – approximately 400 a week. Many were killed during the five-month run after being inadvertently trodden on or brushed off visitors' clothing. Thousands more died naturally during the exhibit, called In And Out Of Love, and had to be replaced.
A spokesman for People for the Ethical Treatment of Animals said:
"Damien Hirst's quest to be edgy is as boring as it is callous. It does not matter whether Hirst killed the animals himself or sat by while thousands of them were massacred for his own unjustifiable amusement. Butterflies are beautiful parts of nature and should be enjoyed in the wild instead of destroyed for something predictable and unimaginative."
This is not the first time the self-styled artist and Tate had run-ins with animal rights activists. His notorious exhibit "The Physical Impossibility of Death in the Mind of Someone Living" required the slaughter of a 14 foot shark before it was preserved in formaldehyde and unveiled to the public in a glass tank. The shark was caught and killed by a fisherman in Australia at Hirst's behest in 1991.
The Tate previously faced accusations of animal neglect in 2009 when an exhibition at Tate Modern by Cildo Meireles, a Brazilian artist, featured a series of fish tank installations, resulting in the deaths of 12 fishes.
Added to
18 votes
Favorite lists published in 2017
(14 lists)
list by nusch
Published 7 months, 2 weeks ago

2 comments
Comments
Post comment