Added by Jon
on 28 Sep 2011 09:29
0

vote
My Favorite English dubs for Anime
Sort by:
Showing

10

items
Decade:
Rating:
List Type:

Add items to section
Castle in the Sky — Disney's dub
There are a lot of mixed opinions about this dub, but personally I think it's awesome. Simply because of Cloris Leachman and Mark Hamill—those two are perfect for Dola and Muska, and really make the dub a delight. Joe Hisaishi's new score is also a nice bonus. The supporting cast is also very good (if at times campy) and while the mature-sounding leads are a bit of a weak link, they don't harm the film or their characters that much. All in all, a very solid dub.
Jon's rating:


Add items to section
Princess Mononoke
Jon's rating:


Add items to section
My Neighbor Totoro — Disney & FOX's dubs
Jon's rating:


Add items to section
Kiki's Delivery Service — Disney's Dub
Jon's rating:


Add items to section
Whisper of the Heart
Jon's rating:


Add items to section
Nausicaä of the Valley of the Wind
Jon's rating:


Add items to section
Porco Rosso — Disney's Dub
Jon's rating:


Add items to section
Record of Lodoss War — OVA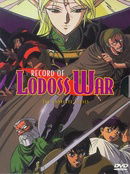 Jon's rating:

Add items to section
Nadia: The Secret of Blue Water
Jon's rating:


Add items to section
Fullmetal Alchemist
Jon's rating:

In the eyes of many hardcore Anime fans, dubs destroy Anime, turning it into something awful or unwatchable. Maybe because in the past, dubs were not so great. But times have changed, and dubs these days are of high quality, but even the most stubborn of fans refuse to acknowledge them. I, personally, think this whole "dubs suck" atmosphere is all wrong. There ARE dubs which aren't so great, but there are just as many IMO which are just brilliant. This is a list of Japanese animated movies or shows that I love watching in English. (If you think I'm loopy with my tastes then oh well.)
Added to
Post comment