1

vote
Movies borrowing from Koyaanisqatsi or its sequels
Decade:
Rating:
List Type:
Featuring music from Powaqqatsi (Anthem Pt 1) when Jim Carrey is going through the revolving doors and realizing something...
Koyaanisqatsi themes (Prophesies & Pruit Igoe) as Dr. Manhattan narrates his story.
Chuck Kahn's rating:

Many of the visuals in all three movies echo those about urban sprawl in Koyaanisqatsi.
Chuck Kahn's rating:
Koyaanisqatsi (and it sequels) offers an illuminating exploration of the human condition on the planet earth, so why not borrow its music or visual themes for your movie?
Koyaanisqatsi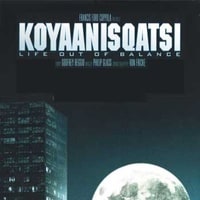 Added to
Post comment