2

vote
A List of Lesser-Known Spaghetti Westerns
Sort by:
Showing

10

items
Decade:
Rating:
List Type:

Add items to section
Cjamango
Cjamango
Helene Chanel, Ivan Rassimov, Mickey Hargitay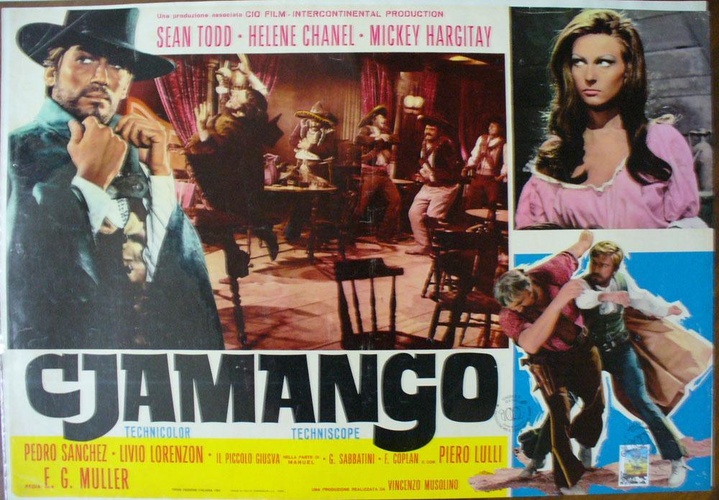 CJAMANGO(pronounced Cha-mango) is not a terribly original film. It owes more than a little to the few years earlier A FISTFUL OF DOLLARS. The tall, stoic stranger, two groups feuding over stolen gold, and Cjamango playing them off against each other.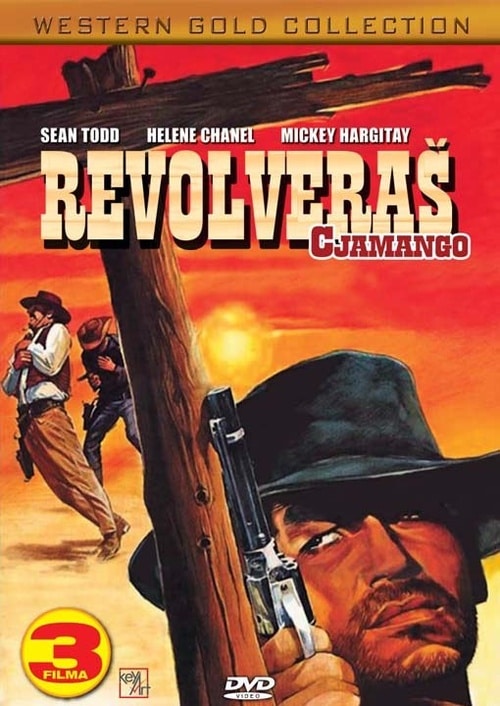 Ivan Rassimov(billed as Sean Todd) plays the title role and all he's after is the gold he'd won in a poker game that was stolen from him. He'd won a pile of cash and was leaving, promising to return when the other players struck it rich again. One of them, a barrel chested Mexican wants to play one more hand. He picks up a pair of double saddle bags sitting on the floor and offers it up. Bags of gold dust, worth way more than Cjamango's cash. When pointed out, the Mexican says
"It's only gold."
He deals out one hand, cards face up and after four cards holds three kings, Cjamango has a possible club flush, which has the bandit gloating. Cjamango gets his flush and we never see his opponent's last card, the man declaring him a cheat (though he dealt the cards). Before Cjamango can claim his winnings, two gangs burst in and start shooting. Cjamango isn't wounded much, a crease, and spies the town drunk, Hernandez, being paid off with a bottle of liquor for informing on the gold in the saloon.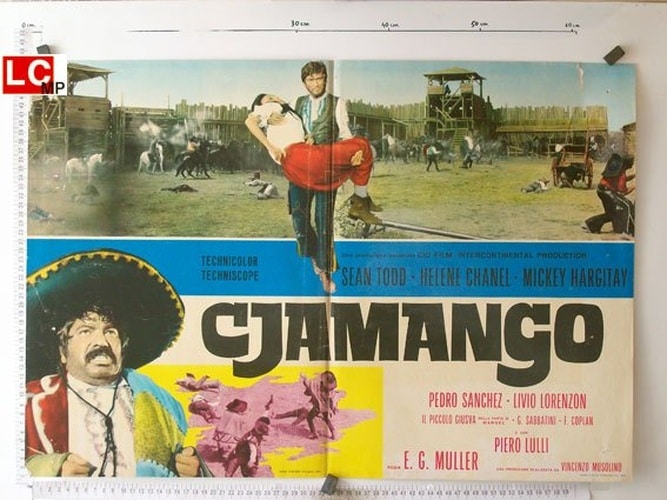 That's where our hero goes first, the old man's home, to find out who stole his gold and cash.
The two gangs are lead by El Tigre(Piero Lulli) and Don Pablo(Livio Lorenzon), two veterans of the genre. the two men own ranches and they've had a falling out. The gold has disappeared and each swear the other has it.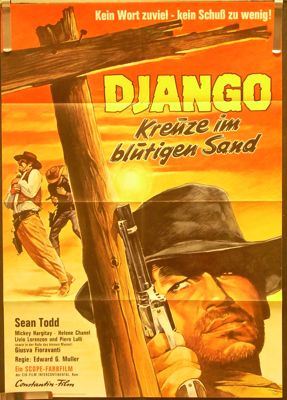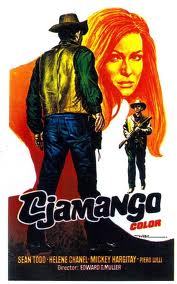 Cjamango hangs around, visiting each, and declares that he wants his gold. Don Pablo sends a quartet after him and they jump him in the saloon, quickly dying in a shootout. Cjamango finds himself helped by a mysterious stranger, Clint(Mickey Hargitay), who has been nosing around, claiming to be a liquor salesman. He has a black bag with samples. But he's pretty good with a gun.
There's a beautiful woman, Pearl(Helene Chanel), daughter of the town drunk, who's on the periphery just trying to survive.
There's also a small boy, Manuel, all alone after Do Pablo pulled a trick on the town, grabbing the boy's father, declaring him with the plague, and burning him alive. It empties out the town, they never give a reason why Pablo wanted the town free of any but his men and himself, and no one whats to help the boy, fearing the plague. Pearl is the only one who cares,
paying one farmer money to take the boy to a convent. he swears he will, only to dump the boy outside of town. The boy constantly follows Cjamango around begging for help and gets right annoying at times. Cjamango shows he's not quite the stoic loner that he presents in these sequences.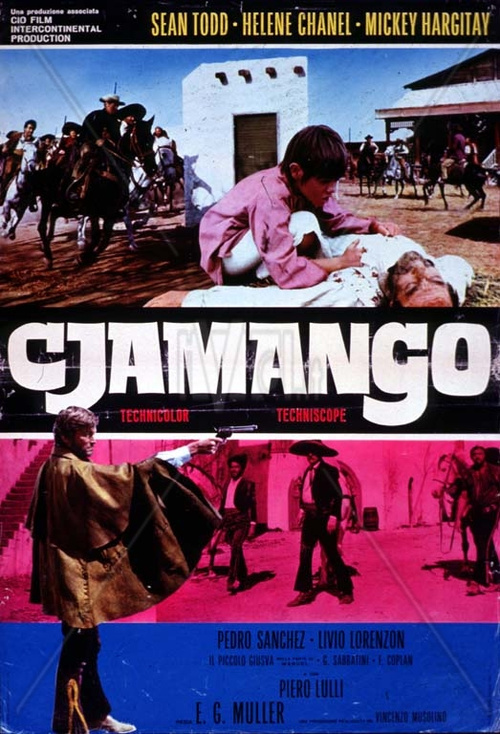 Cjamango sets up El Tigre, spilling to Don Pablo about a shipment of guns, and while they attack the wagon and El Tigre rushes to get his guns back, he finds his gold in El Tigre's locked building, hiding it.
Everyone is after him, Don Pablo finally grabbing him. Clint shows up to inform that information to El Tigre, who grabs him to check that out. Once he rescues Cjamango, he plays the boy off for the location of the gold. The only way he can get the location is to tie the boy to a fence post with a bundle of dynamite roped into his hands and lighting a long fuse.
It all sets up a battle royal with Don Pablo's men, who raid the ranch, bodies falling everywhere. Cjamango and Clint escape, working together to get at the gold. Don Pablo and two men take off with it, followed by El Tigre and two of his gang, the six ending up back in town for the final showdown. Cjamango and Clint are not far behind for the final showdown. There we learn who Clint really is, certainly not a liquor salesman.
Quite enjoyed this one, but one must be a fanatic about the genre(I am).
A few thoughts.
This was Ivan Rassimov's first lead role and he has a certain style that serves him well. He appeared in a number of cult films later in his career.
Shot on a shoestring budget, there wasn't a drop of blood shed anywhere despite the large number on men shot to death. No red blotches on shirts or the woman shot in the back. Another hilarious thing was most of the males wore bell bottom pants(a brief fashion rage for a couple of years in the mid-sixties). It jumps around quite a bit also, the editing sloppy, as Cjamango is seen lying on the saloon floor at the beginning, then next scene riding up to Don Pablo's ranch.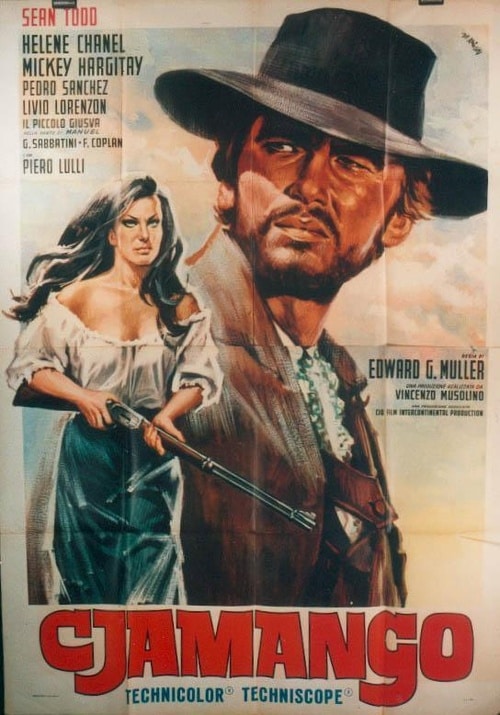 Direction was by Eduardo Mulgaria and a decent music score by Felice Di Stefano.
One final note. The actor playing the kid, Valerio Fioravanti, grew up to be an Italian terrorist that was accused of the Bologna training bombings, though he denied being involved.

Add items to section
Trinity Is My Name(Lo Chiamavano Trinita')
Trinity Is My Name
Bud Spencer,Terence Hill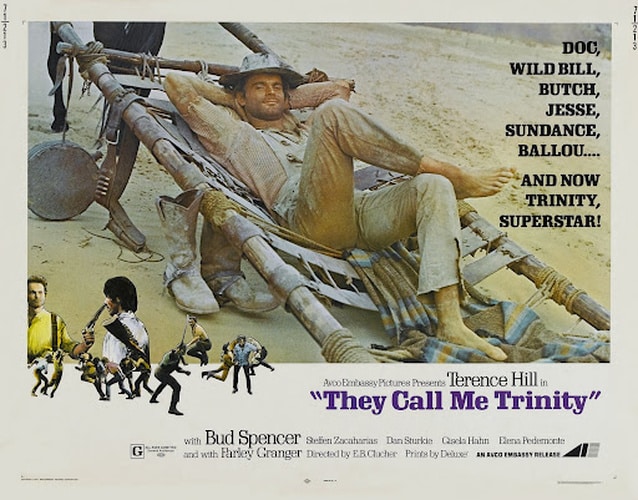 From 1970, TRINITY IS MY NAME(THEY CALL ME TRINITY) did several things. It revitalized spaghetti western films, creating a new sub-genre, the comedy western, while making a star of Terence Hill, blond, blue-eyed Italian, and really sparked my interest in the group of movies. Oh, I'd seen the Eastwood/Leone Dollar trilogy, but my interest hadn't hit yet. This one did it.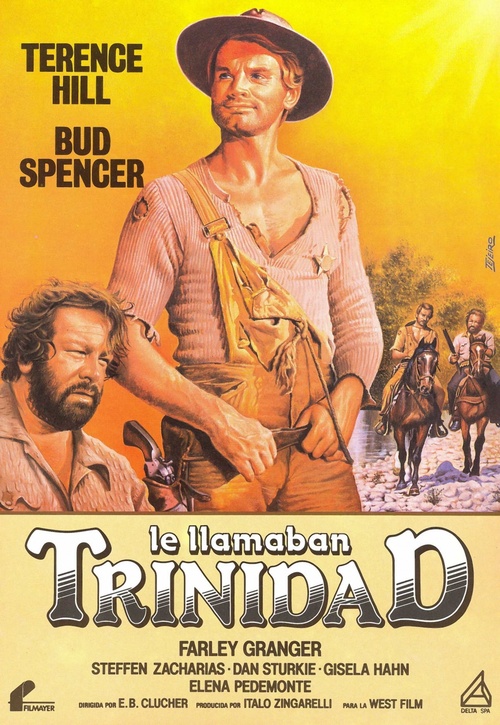 Trinity(Hill) and Bambino(Spencer) are brothers, lazy, dirty, petty thieves. Trinity smiles all the time, Bambino wears perpetual gloom like another piece of clothes. Trinity has a gun on his right hip, Bambino on his left. We learn early on, when Trinity accosts a couple of bounty hunters with a wounded Mexican, that he has a nickname when introduced. "The right hand of the devil!" spoken in awed tones. Naturally later, when Bambino draws and kills three men, he's "the left
hand of the devil!"
The story here is not new: the greedy rancher, Major Harriman(Farley Granger), wants to drive the community of farmers building in a valley out so that his own horse herd has more grazing land, Never mind that there's plenty for all, he wants them out and he doesn't care how it's done.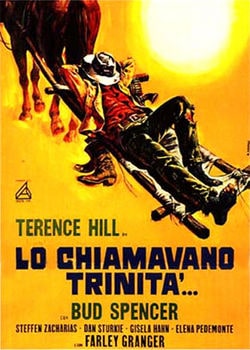 Bambino is hiding out in town as the Sheriff while waiting for his men to find him. He came by that job as he was fleeing his escape from Yuma prison and shot a man he thought was after him. Turns out he was just the new Sheriff, to replace the former killed in the line of duty, headed in the same direction. So he takes the badge and poses as Sheriff in order to hide out.
He reluctantly offers Trinity the job of deputy, just wanting things to remain quiet. Their relationship as brothers is one of amusement on Trinity's part, tolerance on Bambino's. Refusing at first, Trinity's eye is caught by a pair of attractive blonds in need of aid.
The farmers are Mormons and Harriman is not their only trouble. A Mexican bandit, Mezcal, and his outlaws drop in frequently, amused at the non-violence of the Mormons, taking great delight in smacking them around. Nothing more violent. For now anyway.
Throw in a plot where Bambino plans to steal the Major's horse herd when his men show up and it makes for some interesting hi-jinks. Weasel and Timmy show up and Trinity has to convince his brother to help the farmers. Of course that involves getting them to realzie that self-defense wouldn't be against the Lord's teachings. No killing though.
Funny sequences with the four of them teaching the men to fight with hands, feet, a piece of lumber, table, whatever's handy fuel the humor.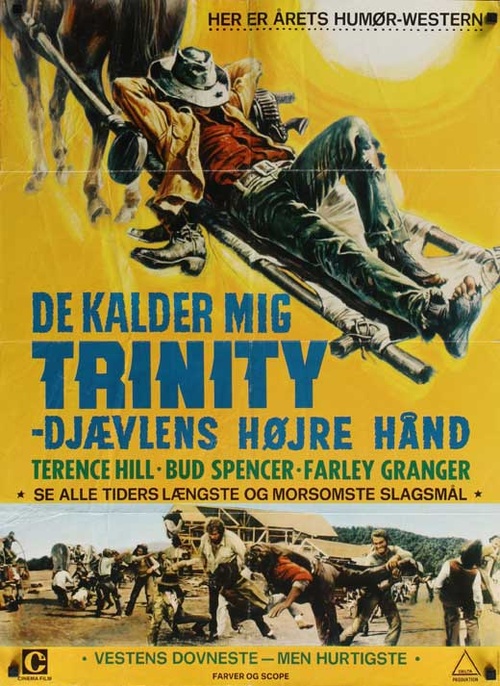 One of my favorite spaghetti westerns. It sparked a sequel and a host of lame imitations infringing on the Trinity name.

Add items to section
Death Rides A Horse(Da Uomo A Uomo)
Death Rides A Horse
John Phillip Law, Lee Van Cleef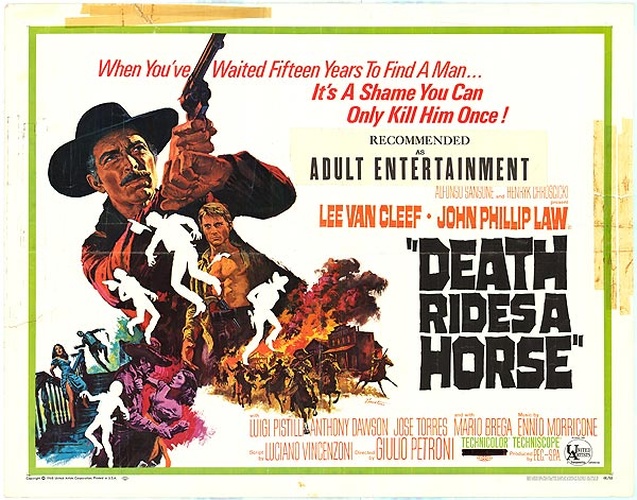 Lee Van Cleef and John Phillip Law star in this 1968 film that is, at heart, a revenge plot, though it rises above that to become one of the better spaghetti westerns of the era. The opening section sets the tone as an outlaw band attacks a ranch where a shipment of money, $200,000, is being guarded during a thunderstorm. Some sort of layover I suspect. Everyone is killed, including the family, the women raped before
being murdered.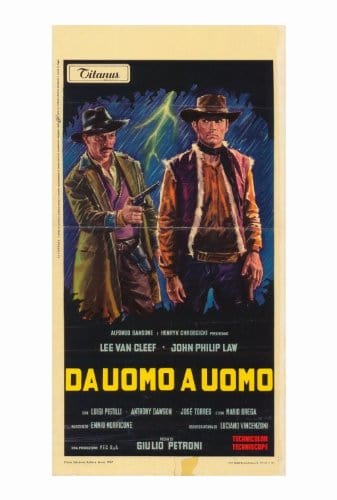 It's particularly effective around the thunderstorm, with Morricone's score playing, the gunfire, the house set on fire as the gang finishes off any witnesses.
They miss one though, a six year old boy, who sees everything as the carnage follows. A man with four aces tattooed on his chest, an oddly shaped earring, a man with a scar running from his hairline by one eye to his jaw. As the gang leaves, the boy is pulled by the fire from someone. All he sees is a silver skull dangling from a necklace.
The last we see of the boy he's picking up a spur, a specially designed one, lost by one of the gang members as they race away.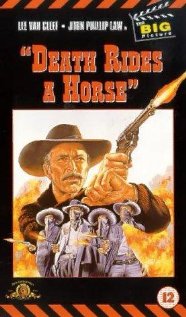 Next we see an earnest faced young man named Bill Meceita practicing with guns. The entire sequence has him working with various pistols, sharpening both his aim and draw, rifles, and working on moves to avoid returned fired, diving and rolling while keeping up gun play of his own. We just know it's that small boy grown up.
At the same time, Lee Van Cleef's character, Ryan, is getting out of prison after fifteen years. As he leaves, two men are following him. After he ditches them, he turns up at Bill's ranch looking at the three graves. The two meet and converse a bit.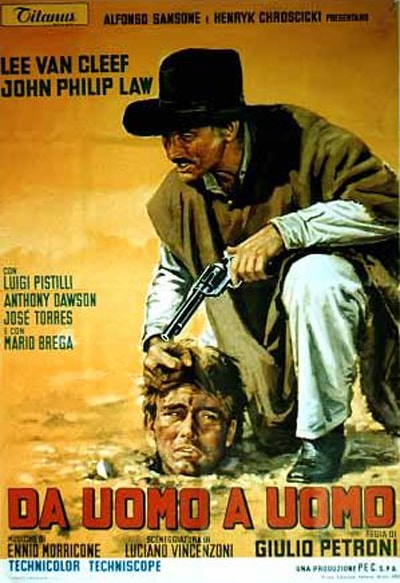 The two men soon learn they are after the same men after the two he'd lost try to murder Ryan and the sheriff finds one dead man wearing unusual-styled spurs and shows them to Bill.
The main men have become important people in the fifteen years Ryan was in prison and Bill was growing up with a festering hate in him. A banker and a saloon owner in their towns. A bond grows between the pair in their pursuit, Ryan becoming almost a father figure to Bill, dispensing badly needed advice to the young man. Although now good with any weapon, he's sadly naive about the ways of those he pursues. Ryan wants money from each because of some betrayal in the past and Bill just wants them dead.
It's almost amusing as each takes turns leaving the other afoot to get a leg up. it never works as Bill has to rescue Ryan from an arrest for a robbery and murder charge, then Ryan finds Bill buried up to his neck in the hot sun.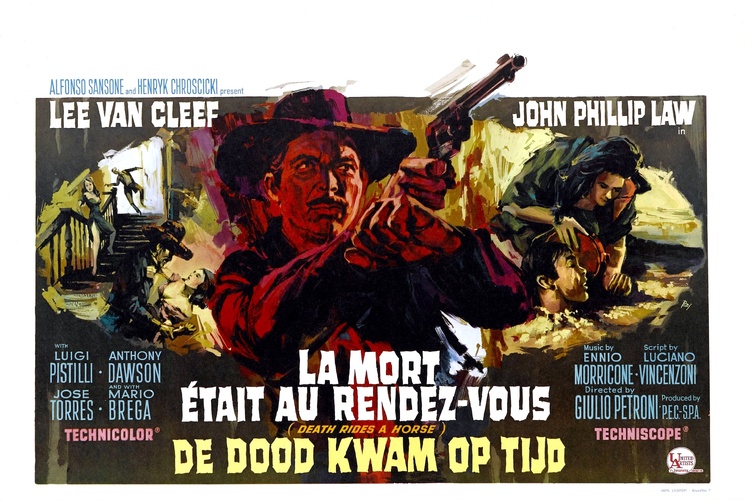 The final showdown between the gang and the two is well done down to the final surprise revealed at the end about both men's motivations.
Recommended.

Add items to section
Dead For A Dollar(T'ammazzo! Raccomandati A Dio)
Dead For A Dollar
George Hilton, John Ireland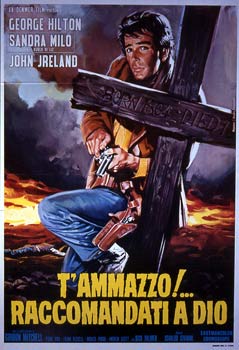 John Ireland stars as the Colonel in this 1968 western. As the movie opens, he's looking for his two partners in a bank robbery that double-crossed him and disappeared with $200,000 in loot. One, Roy Fulton(Gordon Mitchell), had been shot in the gut in the heist and Ireland finds him being buried. That leaves the third partner, Il Portoghese, to find.
When the Colonel tracks him down, he learns that the funeral had been faked and the fat man knows where Fulton is hiding. That's where the pair head.
The priest that had done the burial, Glenn(George Hilton), was a fake and Fulton's new partner. The coffin held the bank loot. He goes for a doctor and when he returns, Fulton is gone and Glenn believes he's been double-crossed. Digging the coffin up, he's surprised to find the money gone and Fulton's body there instead.
This was an okay movie, but it was filled with coincidence and double-cross. The Colonel crosses the Portoghese and leaves him afoot, barefoot, and takes the money. Along comes Glenn, who stops when he sees a man lying in the road. It's a trap and now Glenn is left afoot. The fat man catches up and is ready to kill his ex-partner until he finds that the money has been hidden. They slug it out until both are worn down, then decide-what the hell?-let's split the money, each heading for the "only" woman they trusted. Turns out to be the same woman, Liz(Sandra Milo).
Meanwhile Glenn goes to town, only having a description of Fulton's two partners: a fat Portoghese and the Colonel who wears a heavy ring. He wanders into the wrong room, it's dark, and gets invited to bed by a woman who thinks he's her man. When her man arrives, a fight breaks out, disturbing the one in the next room, who just happens to be the Colonel.
Liz is the next double-cross, who grabs the money and leaves town. A gang shows up, lead by the banker who wants his half of the money for the robbery he arranged. He's then double-crossed by the gang and teams up with the three men and Liz to take them on.
Everyone is out for themselves in this one and the double-crosses are not through yet. A decent western, but not outstanding. About a B-, maybe a C.
The silliest thing happens near the end of the movie when Glenn and Liz are enjoying a turkey dinner in her rooms. Why we were subjected to extreme close-ups of their lips gnawing and chewing the bird, I have no idea. I suppose it was some sort of sexual innuendo as it ended with Liz licking her lips, her forefinger, and extinquishing a candle with the damp digits.
Really strange.

Add items to section
A Reason To Live, A Reason To Die!(Una Ragione Per
A Reason To Live, A Reason To Die!
Bud Spencer, James Coburn, Telly Savales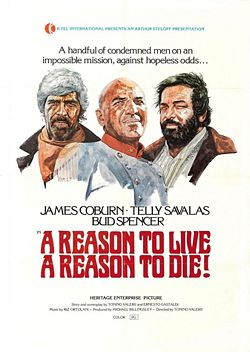 This 1972 western starred James Coburn, Telly Savalas, and Bud Spencer in the main roles. Set in the middle of the Civil War, it revolves around Fort Holman, a fortress in the Southwest that commanded the Santa Fe Trail.
The film opens with the arrest of two men for looting. The commander of the Union forces recognizes one of them as an old friend, Colonel Pembroke(Coburn). The second was Eli Sampson(Spencer). Pembroke had commanded Fort Holman, only to surrender to Confederate forces led by Major Ward(Savalas) without a shot being fired.
No one knew why Pembroke had done such a thing, but he'd been through a court-martial, found guilty, and now that he'd been captured, was due to be hanged. His friend wants to know why he surrendered so easily, but instead of telling, he puts forth a plan to retake the fort and convinces the Major he can have all the credit and possibly a promotion to General for it.
His choice of men is limited to a group scheduled to be hanged of charges ranging from horse stealing to poisoning a number of soldiers with bad drugs to murder of an officer and the rape of his wife. They are given the choice of hanging or risking their lives for a pardon of all crimes. The only one he seems to be able to trust is his old co-looter,
Sampson.
They are no sooner away from the fort than they are already talking of taking off for Mexico. Along the way, Pembroke drives off the horses when they are asleep with the excuse that they are entering Confederate territory and the horses are U.S. branded. Then he tells them the real reason they are after the fort.
Five hundred thousand in buried Confederate gold that Ward doesn't know about and a hidden entrance to the fortress that only Pembroke knows.
Spencer is to be their inside man when they find a dead Confederate with papers identifying him as a Rebel spy ordered to the area.
This film doesn't have much action until the climactic battle where we learn Pembroke's REAL reason for attacking the fort. But it builds so nicely and good acting jobs all around that it's a very good watch.
A simple revenge tale with fine music(By Riz Ortolani) of fuzz guitars and a small orchestral arrangement.
Directed by Tonino Valerii from a script by Rafael Azcona and Ernesto Gastaldi, he handles the action sequence well with Gatling guns and dynamite heavily used. Some have called this a spaghetti western Dirty Dozen and I can see that.
Recommended. It has also appeared in the U.S. under the title Massacre At Fort Holman.

Add items to section
Pancho Villa(El desafio de Pancho Villa)
Pancho Villa
Anne Francis, Chuck Connors, Clint Walker, Telly Savales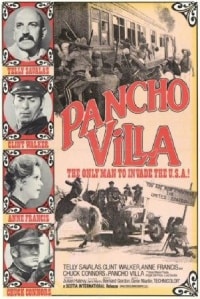 Can you imagine Telly Savalas as historical Mexican figure Pancho Villa? Neither could I. This 1972 Spanish production had a quartet of American actors and the rest of the cast was Spanish. In addition to Savalas, the film also starred Anne Francis, Clint Walker, and Chuck Connors.
They accounted for Savalas' bald head early in the picture. He was a prisoner due for execution the next day being transported on a train and a Mexican general wanted him to look like a convict. Along comes American gunrunner Scotty (Walker), dressed like a sea captain in pea coat and hat with an anchor emblem on the front, on an engine pushing a flat car loaded with Villa's men from behind and rescues him. He likes the new look, thinking he looks professorial.
They had to be making a comedy here. If not, they failed miserably with one of the oddest things I've seen in a long while. The overacting reached new heights in ridiculousness. What it looked like was that the four American actors lent their names strictly for a paycheck. All of them had done much better work both before and after this terrible little film.
PANCHO VILLA shows a new version of why Villa raided the New Mexican town of Columbus and killed a number of soldiers and civilians. His gunrunner friend, Scotty, had gone to buy weapons and been double-crossed by a dealer named McDermott.
Anne Francis plays Flo, Scotty's wife, and the pair seem to hate each other. In a scene with Savalas, both have conflicting stories of how they ended up together.
Chuck Connors plays spit-and-polish Colonel Wilcox, an insane officer who commands the American garrison at Columbus. He wants everything by the manual at the expense of efficiency and there's one ridiculous scene in the mess hall where he has all his officers pursuing one lone fly, destroying the whole room in doing it. His bug-eyed expression says it all.
The final sequence has two trains rushing at each other on a single track, Savalas in the engine of one, Connors on the other, both exhorting full speed ahead. Both come together, then stop, the picture frozen. Next, the wreckage all around. Savalas is not shown bailing out, but proudly riding to his doom.
Next Connors, in full body cast, is receiving a medal for his heroic actions from Black Jack Pershing just before his pursuit of Villa into Mexico. On the train, he's served dinner by none other than Villa himself. Right at end, he seems to recognize the Mexican leader and allows him to leave.
An altogether silly movie that is good for maybe one viewing, But no more.

Add items to section
A Town Called Hell(Una Ciudad Llamada Bastarda)
A Town Called Hell
Martin Landau, Robert Shaw, Stella Stevens, Telly Savales
A TOWN CALLED HELL( alternately, A TOWN CALLED BASTARD) seemed like a good bet when I picked it out to watch. It had a stellar Hollywood cast with Telly Savalas, Robert Shaw, Martin Landau, and Stella Stevens in the main roles. Filmed in Spain and released in 1971, it didn't seem like it could miss.
But watching, I couldn't help but wonder if I was watching different movies cobbled together. It jumped around a lot with clumsy changes of time.
The movie opens in 1895 Mexico. A peasant revolution is going on led by Robert Shaw and Martin Landau. They raid a garrison in a small town, shooting up the army and a church there with some sort of service going on. They slaughter the congregation and the priest.
Then the movie jumps ten years and the same little town is run by a man named Don Carlos(Telly Savalas). The priest is Robert Shaw(no reason is ever told for this change). A widow(Stella Stevens) arrives there wanting to visit her husband's grave. She has a hearse driven by a deaf mute servant and sleeps in the back in a coffin(no explanation for this is ever given). She's also offering $10,000 when the body of her husband's killer, a man known only as Aguila, is delivered to her in the States. No, she explains, she doesn't carry that amount around with her. Don Carlos has already been established as loving money from an early incident. He gets the idea that if she will pay that amount for the dead, how much will she pay for her life?
Here's where the movie takes an incomprehensible turn. Savalas' character has already set up in perfect villain mode.
When he attempts to grab her, she and the servant take refuge in Shaw's church, who refuses to hand them over. In the battle that follows, one of Savalas' men turns on him, shooting him and stringing him up on a cross, offering him to the priest as he seems to dies. We're not sure, though he's never seen again.
Here comes another strange twist. The army rides in at that moment led by the Colonel, Martin Landau, now part of the army. He's looking for a revolutionary named Aguila. Delighted at first to see his old comrade, he offers him a position as an officer and seems less than pleased to be refused. Shaw prefers to remain a priest.
Landau is as much a sadist as Savalas was and threatens to torture the information from his old partner, only to realize he'd never tell. Then he demands of the town that Aguila be handed over, hanging five of the townspeople and promising to do the same every morning until Aguila is found.
The rest of the film is awkwardly handled. There is a flashback sequence badly done(we're not even sure for a while) that shows Shaw in a third identity. He's dressed like a gunfighter down to low slung pistol, chasing a man that had been sent to the States to buy weapons and ammunition, only to blow it on liquor and whores.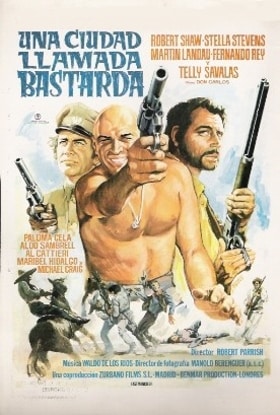 Finally, out of nowhere, a battle breaks out between the villagers and the army with Shaw and Landau setting it out in the church and betting on the outcome. The ultimate identity of Aguila and his fate I won't mention in case anyone wants to find this one and watch.
I can't recommend it.

Add items to section
The Ruthless Four(Ognuno per se)
The Ruthless Four
George Hilton, Gilbert Roland, Klaus Kinski, Van Heflin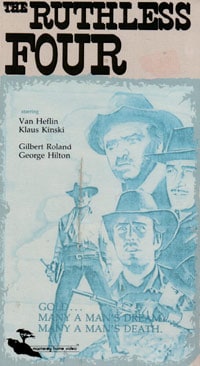 THE RUTHLESS FOUR is a 1968 western that starred Van Heflin, Gilbert Roland, Klaus Kinski, and George Hilton as four partners after gold.
Sam Cooper(Van Heflin) is a prospector that had spent twenty years looking for gold only to be double-crossed by his partner when he finally made a strike. Forced to kill him in self-defense, he tries to pack all the gold they had mined out by himself. Deep in the Nevada Desert, he nearly dies trying to get out, then drinking at the river he finally eaches, is waylaid by desperate bandits who take his horses, weapons, and food, leaving him alive but knocked out with his gold.
It's never explained why these men don't take the gold as well. But then we wouldn't have a movie, I guess, if they had. Cooper caches the bags and takes only a couple that he can carry out safely.
Once he gets back to town, after hiding the two bags he brought with him, he starts planning an expedition to the mine. Trusting no one, he sends for his adopted son, Manolo Sanchez(Hilton) who he hasn't seen for years since he got tired of traipsing through the desert after the old man.
The young man comes and, as the plan is shaping up, reveals Brent the Blond(Kinski), insisting he's going along. The relationship between the pair is never fully explained, but Manolo seems afraid of him and there is something else. Kinski plays his usual cold-blooded role, though he dresses as a priest and has that death-like start that he does so well.
Cooper suddenly wonders if he can trust the boy and hires Mason(Roland), an ex-army buddy, former friend who believes Cooper turned him in after they deserted for the reward, leaving him with several years in a prison in the Florida swamps and a case of malaria.
The four men never fully trust each other. Manolo and the Blond hang together, Mason makes it plain he's really along to make Cooper pay for turning him in. Cooper insists he didn't.
Cooper is the only one who can get them to the mine and, once there, greed starts to overwhelm the four men. If this all seems familiar, and I'm sure it does, the movie reads like a spaghetti western THE TREASURE OF THE SIERRA MADRE.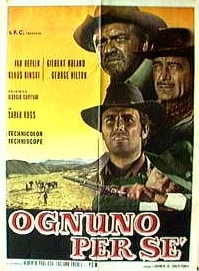 As opposed to a lot of these genre, it has a nice, tight script by Augusto Caminito and Fernando Di Leo and was directed by Giorgio Capitani with some nice acoustic guitar work in places. Highly recommended.

Add items to section
Blood Money(La Dove non Batte il sole)
Blood Money
Lee Van Cleef, Lo Lieh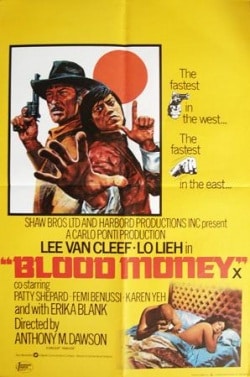 Lee Van Cleef and Lo Lieh star the this 1974 mix-up of martial arts and spaghetti western, with a dash of comedy even thrown in. Van Cleef is Dakota, a thief, and Lieh is Ho Chiang, a young karate master.
Dakota pulls an after hours bank heist, breaking into a series of safes, only to find a single picture of different naked women in each. When he puts dynamite on the fifth safe, the bank owner, an old Chinese named Wang, rushes in to stop it and is killed in the explosion. All he finds in that one is a stale fortune cookie.
The sheriff and his deputies appear to arrest him and he's put on trial for murder.
Meanwhile in China, the Emperor is highly displeased to learn of Wang's death. He'd sent the old man to America with a fortune to invest. Wang's dead and the fortune is missing. Ho Chiang is brought in and threatened with death, along with his family, bringing on a martial arts fight straight out of that genre, complete with all the sound effects.
After the battle ends, the Emperor gives him one year to find and return his money or the family will be killed.
When Chiang arrives in town, several months have passed. Dakota has used all his wiles to drag the trial out, but he's now been convicted and scheduled to hang the next day.
Needing to talk to Dakota, Chiang hatches a plan to get thrown in jail. He spots a sign above a saloon that says "No Negroes, no Chinese, or unaccompanied dogs allowed." He walks in leading a dog on a leash, a fight starts, the sheriff arrives, only to be punched. Instant arrest.
Dakota reveals that the old Chinese's death was an accident. He'd tried to stop him before he rushed up just as the safe door exploded open. The uncle's lawyer bails him out, giving him the old man's legacy: a thousand in an account, the four pictures, and the fortune cookie.
What he does is break Dakota out and take him on as a partner. He needs a guide as there is an address on the back of each photo. The fortune in the cookie says "At the bottom of every woman is a treasure. "Four women: An American, a Russian, an Italian, and a Chinese.
As the two men find each of the women, they have to contrive to look at each woman's butt because there is a piece of a puzzle tattooed on each. A former gunfighter turned slightly insane preacher, a gambling hall owner, a British aristocrat touring the west, and the young Chinese returned to her family are the men they have to convince.
The insane preacher is pursuing them, having figured it out, a Mexican bandit and his men get involved, and Chiang falls for the young Chinese woman.
This movie was entertaining, I laughed out loud several times, enjoying the whole thing pretty much. One thing I didn't xpect, though I should have, is that Van Cleef is not the main player here. It was 1974, near the end of the spaghetti reign, and he was getting a bit of age on him after about ten years of many films.
The film was a co-production of Carlo Ponti and the Shaw Brothers out of Hong Kong and was directed by Antonio Margeriti.

Add items to section
And God Said To Cain(E Dio disse a Caino)
And God Said To Cain
Klaus Kinski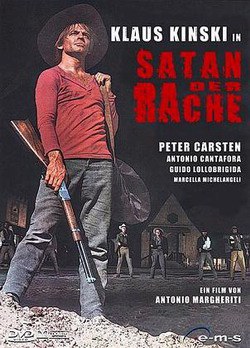 Klaus Kinski played parts in a lot of spaghetti westerns, usually a slightly off kilter killer, hamming it up utrageously sometimes. He had some of the most bug-eyed expressions I've ever seen in these things.
This one is a little different. For the first time, at least that I've seen, Kinski is the wronged man, the main player, a man imprisoned for ten years for a crime he didn't commit.
Director Antonio Margheriti was well known in Italy for his horror films and it shows in this one. He has all the tropes of a good horror film. The main sequence is set at night, a storm is brewing, wind blowing heavily(a tornado has been predicted), resulting in a lot of doors/windows slamming loudly, curtains flapping, a church bell constantly tolling. There's even a priest playing spooky music on an organ.
Gary Hamilton(Kinski) is pardoned by the President after ten years for his service during the war and he's returning home by stage. A young man in an army uniform is talking with a couple of women about visiting home during a break from West Point. When he mentions his name, Dick Acombar, Hamilton reacts and we know there is a connection. He tells the boy to mention his name, Gary Hamilton, and tell dad that he will come by to see him later tonight.
You know this is the man that framed him and Hamilton is out to exact revenge for that bit of betrayal.
The bulk of the story from that point is one long sequence during the storm, dark, with Hamilton stalking Acombar's men. He's presented as some sort of spirit, first appearing as a silhouette on the horizon, then the horse galloping through town riderless.
Where did he go?
An unusual western. Kinski is very good at those over the top villains. But I noticed one thing watching this movie. Most face shots of the actor, sometimes full, sometimes just the eyes. he's remarkably calm. Still, with those eyes, he presents a scary look, more so than a lot of more animated faces I've seen.
Worth a look.
Here is a list of some Spaghetti Westerns that may have flown under your radar. I know that Lee Van Cleef, Klaus Kinski, and Terence Hill are well known stars in this genre, but there are a few lesser-known stars and movies you may not have had a chance to check out yet.

Source of List: Posted by Randy Johnson in movies @ worldpress.com
Added to
People who voted for this also voted for
Post comment