30 New Facial Expressions!!
Sort by:
Showing

30

items
Well, I'm here again with this thing! lol
I like to find different expressions in celebrities faces, it wasn't easy because I didn't want to repeat actors... and there's some actores that have no expressions! always the same faces! (at least in pictures)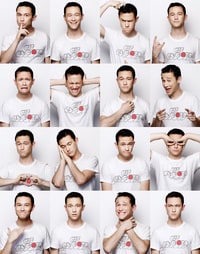 I hope you like this one, as the other ones.
Special Mention to
Mejo ♥♫

Thanks for your help!
Added to
82 votes
Listal Members With Most Over 100 Votes of Lists
(712 lists)
list by imanshole
Published 4 months, 2 weeks ago

4 comments
22 votes
All Facial Expressions in 1 List!
(12 lists)
list by Gaby
Published 3 years, 10 months ago

1 comment
23 votes
Favorite Lists
(27 lists)
list by maddiee
Published 4 years, 10 months ago

3 comments
Comments
Post comment